This discography is a non-commercial labor-of-love and is in no way associated with any business firm.
All I know about the resp. artist's / label's musical output is shown on this page. To purchase out-of-print records I recommend an ebay, gemm or google search. And - sorry for that - I have not the time to answer any e-mails asking me about further information, let alone duplicating out-of-print recordings I happen to own.

Stefan Wirz www.wirz.de
Bill Williams LPs / CDs
Anthology
'These Blues Is Meant To Be Barrelhoused'
Blue Goose 2003
Bill Williams on side A, track 9:
John Henry
(P.D. arr. Williams)
(3:04)

Notes on Bill Williams:
Bill Williams, a 72-year old bluesman from Greenup, Kentucky, will be featured on a forthcoming Blue Goose LP. The previously unrecorded Williams ranks among the most polished and proficient living traditional bluesmen, and has a large repertoire embracing ragtime, hillbilly, and even pop material. He is also the only known living associate of Blind Blake, his own favorite guitarist. John Henry, a blues "standard" that was widely recorded by country artists of the 1920's, is performed in the key of G.
#
year
of release
title
label # / notes
1970


Blue Goose Records, 54 King Street, New York, N.Y. 10014


These Blues Is Meant To Be Barrelhoused@ youtube (full album playlist)

Graham Hine with John Lewis
- No Place To Go @ youtube
John Lewis
- East Village Rag @ youtube
Larry Johnson & Woody Mann
- Bad Feeling Blues @ youtube
Graham Hine
- Have You Had Your Look, Mush? @ youtube
John Lewis
- U.S.A. Blues @ youtube
Larry Johnson
- Seabord Train Blues @ youtube
Larry Johnson & Rob Fleder
- Keep A Knockin' An' You Can't Come In @ youtube
John Lewis
- I Waited @ youtube
Bill Williams
- John Henry @ youtube

John Lewis
- Beggin' Woman @ youtube
Stephen Calt & Kenneth McNichol
- Wimp Wompin' Blues @ youtube
John Lewis
- Sociology Rag @ youtube
Graham Hine with John Lewis
- Walking Blues @ youtube
Larry Johnson & Woody Mann
- Barrelhouse Blues @ youtube
Graham Hine with John Lewis
- Rocks In My Bed @ youtube
Roy Bookbinder
- He's In The Jailhouse Now @ youtube

prod. by Nick Perls

more info about this LP

notes by
'Maggie de Miramon'

Blue Goose 2003

notes by
'Maggie de Miramon'


Blue Goose Records, 245 Waverly
Place, New York, N.Y. 10014





Blue Goose 2003 (repress)


Blue Goose discography
Bill Williams 'Low And Lonesome'
Blue Goose 2004
side A
side B
1
The Chicken (3:41)
(Williams) @ youtube
1
I'll Follow You (3:32)
(Williams) @ youtube
2
Banjo Rag (2:18)
(Williams) @ youtube
2
Up A Lazy River (2:24)
(Carmichael) @ youtube
3
My Girlfriend Left Me (3:16)
(Williams) @ youtube
3
Too Tight (2:34)
(Arthur Blake) @ youtube
4
Bill's Rag (2:06)
(Williams) @ youtube
4
Low And Lonesome (2:52)
(Williams) @ youtube
5
St. Louis Blues (3:02)
(Handy) @ youtube
5
Total Rag (2:20)
(Williams) @ youtube
6
Pocahontas (2:54)
(Williams) @ youtube
6
I Know What It Means To Be Lonesome (2:47)
(P.D. - arr. Williams) @ youtube
7
Lucky Blues (2:47)
(Williams) @ youtube
7
Frankie And Johnny (2:55)
(P.D. - arr. Williams) @ youtube
20:04
19:24
musicians
Bill Williams (vocal, guitar)
notes
A 73 -year old guitarist can be forgiven for losing the sureness of touch and loose co-ordination demanded in the lost art of blues-playing, particularly if he offers original or authentic material to an audience which has been largely denied the chance to hear yesterday's greats in person. If he is 73 and yet betrays no hint of his age in his approach to the most complicated and diverse guitar styles, one can only marvel in disbelief.
Disbelief is the inevitable reaction to incredible Bill Williams, a former partner of Blind Blake who is without doubt the most technically accomplished living country blues guitarist. Nothing about his effortless playing suggests the now familiar relic of the remote past who must be patronized to demonstrate that country blues are alive and well (they aren't). His present day skills not only put most other oldsters to shame, but are sufficient to have made him a stand- out in any era.
Yet at this writing Williams is practically unknown beyond the confines of Greenup, Kentucky, a small town near the Ohio border whose locale figures as background in the writings of novelist Jesse Stuart. In his very obscurity, Williams is a cherished but little-encountered blues archetype - the unsung great who outplays most of his more prestigious contemporaries.
In every other respect, however, Williams is a refreshing departure from blues tradition. While the most familiar species of bluesman shamelessly exaggerates his musical feats before anyone gullible enough to listen, the unassuming Bill Williams is horrified by even favorable notoriety. He derives greater satisfaction from the placid virtues of solid citizenship (he is a Kentucky Colonel and an election supervisor) and rugged self-sufficiency (he built his own home and raises much of his own food) than his unsolicited position as the blues' most exciting "find" in a long time. Perhaps because he is by now taken for granted in a community where, as one performer puts it, "You're practically a foreigner if you don't play some kind of instrument", he can't quite believe the furor he has begun to generate among blues enthusiasts. "If someone as dumb as me can play," he insists, "anybody can."
His career is no less exceptional than his selfdeprecating attitudes. He came by all of his dazzling technique without any instruction while living sixty miles in the country beyond his native Richmond, Virginia, where he was born in 1897. His brother James. a ragtime guitarist, took pains to safeguard his instrument from Bill's curious hands by tuning his strings so slack that they were unplayable before leaving for work each morning. One day Bill seized the guitar and managed to figure out the chords for Yankee Doodle Dandy, a song he knew from school and still delights in performing, with ragtime embellishments.
Bill subsequently met few guitarists in the Richmond area, but his style nevertheless developed the ragtime emphasis and smooth picking patterns one associates with the East Coast musician. He was first exposed to blues through an old recording of St. Louis Blues a 1914 hit which received wide contemporary pop treatment and would, for the general white audience, practically define the entire blues form. Another early acquisition was the Lucky Blues, which Bill adapted from the work of a local guitarist. He also played pieces like John Henry with a bottleneck in open E tuning (a method he has since discarded). Its strongest inclinations, however, were towards the key of C, the one he considered best suited for his voice. This preference was to favor his development as a ragtime virtuoso, for C is the usual key of guitar rags.
Although Bill must have displayed phenomenal ability in his youth (when, he says, he was at his true peak), he never played music professionally, and never earned money for entertaining at parties and dances. Unlike most contemporary blues singers, he actually preferred manual labor to the idea of playing for a living, even though his jobs were often so fatiguing as to preclude off-hours practice. At the age of fourteen he became a waterboy on a railroad in Wilmington, Delaware. Then he was packed off to relatives in the small town of Lester, Colorado, in his family's old-fashioned belief that labor in the mines would steady his delicate "nerves". But mine conditions proved so unnerving that he virtually fled to Pensacola, Florida, where he became a timber-cutter.
While living in Bristol, Tennessee in the early 1920's Bill met the peerless Blind Blake who was then living with an elderly woman (perhaps a relative) in a desolate nearby country area. For four months Bill worked as Blake's regular second guitarist, always picking his accompaniments instead of strumming in the usual fashion of the back-up musician. Blake was particularly taken with Low and Lonesome, but never borrowed Bill's blues motifs, although his own repertoire was then limited to a few basic pieces. When they parted company Bill worked out arrangements of Blake's trademark songs (including My Girlfriend Left Me and Too Tight) in a nostalgic recollection of his friend, for whom he had both personal and professional regard. Today he ventures only the just criticism that "my man Blake", as he calls him, tended to repeat himself too often in the key of C.
In 1922 Bill left Bristol with no special destination and jumped off a freight train in Greenup. He accepted a job with the C&O Railroad in nearby Russell, Kentucky, and has lived in the area ever since. His railroad routes - to Covington, Ky. and Columbus, Ohio - have largely circumscribed his subsequent career. As the population of this region is almost exclusively white, Bill hasn't played for any Negro dances since coming to Greenup. Not surprisingly, his material betrays this immersion into the white musical community. However, by applying the inventive and vigorous picking techniques of the true blues or rag guitarist to whatever songs he chooses to adapt, he is able to enhance even the most commonplace pieces.
To assuage his audience on those occasions when his usual accompanists failed to keep playing dates, Williams transposed a number of traditional fiddle tunes to guitar: Mockingbird, Long Way To Tipperary (a pop song of World War I vintage) Turkey In The Straw, and Old Joe Clark. These guitar interpretations are unique. Other songs were taken from the popular recordings of Charlie Poole and Riley Puckett, a skilled hillbilly guitarist who once expressed personal admiration for Bill's playing. There is also some Merle Travis influence on Bill's techniques, but this influence may be mutual, since he recalls meeting the younger Travis after his own style matured.
Some of Bill's most arresting pieces are too exotic to fit into any known category, and ultimately make the labels "ragtime" or "blues" guitarist inadequate to describe him. He learned one of his real showpieces, the minor-keyed Pocahontas, from an Italian railroader he met in the 1920's and in turn tutored in blues-playing. (Although the man spoke no English, his version had English lyrics.) Bill's exquisite arrangement of Lazy River far removes it from its usual bland pop moorings and his own picking style, and would have done credit to ultrasophisticated bluesmen like Lonnie Johnson. Even the "hard" blues, I'll Follow You, represents a total departure from all known East Coast blues-playing; but is surprisingly reminiscent of the mainstream Texas sounds of Willie Reed and Will Day. Besides these unconventional works, Bill offers finger-picked renditions of Christmas carols and the Star-Spangled Banner, demonstrating his professed ability to master any tune his listener can hum.
Perhaps as uncanny as Bill's versatility is his very preservation of the gifts that most country bluesmen have long since lost with time or disinterest. Within the last twenty years, or long after the commercial demise of country blues, Bill was figuring out classics like I'll Follow You and Chicken, a minstrel song probably dating to the turn of the century. Before his retirement from the railroad in 1958 his continued practicing was partly attributable to a Sunday morning shift as camp cook that often left him with free time on his hands and no company besides his guitar. Eight years ago a doctor told him that the exercise afforded by guitar-playing was perfect therapy for his arthritic wrist. This advice, coupled with constant local demands for his appearances at social gatherings, has probably kept Bill's music from declining. Today he shows no signs of slowing down, although he insists that the performing grind is undermining his health, and periodically announces his "retirement".
If Bill is increasingly reluctant to perform publically he is even more so to record. Despite a rare command of material that enables him to produce many perfect first takes in a recording studio, he would much prefer less formal performances for friends. But for the unselfish zeal of Charlie Parsons, a local guitar teacher and coauthor of a book on guitar technique, Bill would have remained forever in contented oblivion. A demonstration tape Parsons practically tricked him into recording proved so convincing that Blue Goose immediately scheduled a session - over Bill's protests that he would need three years to get in shape for recording. Once company officials arrived in Greenup, Bill asked: "What you fellows doin' here recording me?" His album should provide the best answer.
PRODUCED FOR BLUE GOOSE RECORDS,
a Div. of Yellow Bee Productions Inc.
by Nick Perls
Cover photo & Art: Nick Perls
Mastering & Recording: Nick Perls
Notes: Stephen Calt
SEND FOR FREE CATALOGUE
All compositions of Bill Williams on this LP are copyright to Yellow Bee Music, Inc. (BMI)
Reviews
SING OUT! (1971), S. 36

"Record reviews"

by Rob Fleder

Not since Mississippi John Hurt was rediscovered has there been a blues "find" of the magnitude of Bill Williams, from Greenup, Kentucky. Williams, an engaging performer who amazed audiences at the Smithsonian Festival, was once a close companion of the legendary Blind Blake, and his musical ideas certainly rival those of Blake's. Williams' playing is a trifle sloppy, but the ideas in his playing are unequaled in quality by any blues guitarist today, and considering his advanced 74 years, this is easily overlooked. He plays guitar faster than anyone I have ever seen, and his powerful voice is overwhelming. His repertoire includes blues, old time songs, ballads, etc.: after having learned to play blues, he moved (still a young man) to Greenup County and there remained -- he has played almost exclusively for white audiences and dances his whole life and quickly learned the tunes popular in his rural community. His first release (BILL WILLIAMS: LOW AND LONESOME, Blue Goose 2004) is a must for blues and old time fans alike; it doesn't convey the power of seeing him in person, but an important record nonetheless.

Blues World 45 (1973), S. 7

BILL WILLIAMS: THE KENTUCKY COLONEL

by Simon Bronner

Bill Williams, Kentucky Colonel, ragtime blues guitarist, interpreter of songs, teller of tall tales, and ageless character, was born in 1897 in Richmond, Virginia. He taught himself to play after surreptitiously taking his brother's guitar which his brother had safeguarded. He developed his ragtime style early but didn't work professionally but rather went to work on the railroad. While living in Bristol, Tennessee in 1922, Bill met the peerless Blind Blake. Williams worked as Blake's regular second guitarist, but picking his accompaniments instead of strumming as most would do. Today, Williams still does some of Blake's songs but arranged and altered to Williams' style. This style has been called by Nick Perls, on whose Blue Goose label Williams records, as the "most sophisticated" of all the blues guitarists he knows. This is because of his broad range. Like Mance Lipscomb, he knows a great number of negro folk songs but in addition, he delves into the white music scene with ragtime arrangements of pre World War I songs like Long Way to Tipperary, Old Joe Clark, and others. Besides these, he has adopted many fiddle tunes to the guitar with success. Another talent he has is to pick up tunes and immediately transpose them to guitar. To this day, he still picks up songs from many sources which he is in contact. At his concert at Binghampton, which was one in a series which included Montreal, New York City and Providence, it happened to be his birthday, so when he announced this backstage, his fans sang to him the obvious. Tired, but seemingly full of energy, he pulled out his guitar still another time and played the wildest ragtime version of Happy Birthday one has ever heard.
His intial recording was Low and Lonesome on Blue Goose, which actually Williams was tricked into doing. Williams' constant protests about quitting and his humility always made it difficult, even after Blue Goose had recorded him. However, Perls explained that a measure of a performer's talent is that when the best musicians find it so easy to play, they don't understand what all the fuss is about. But in Williams' case, at 75 and complaining of an arthritic wrist, his fingers move at an amazing rate. Low and Lonesome includes fine demonstrations of this including minstrel songs like The Chicken, several jazzy rags, arrangements of Blind Blake tunes, pop songs such as Up A Lazy River and Frankie and Johnny as well as his own material al.
Although this seems broad enough, Perls claims that this is mainly a blues album and does not represent the whole breadth and scope of his material. He has two more albums in the works, the next one will, hopefully, be released in the spring.
Now when I think of Bill Williams, I think of the Colonel humbly bowing to the wild standing ovation and finally having to stop only because the building was closing. "I'll be back, don't you worry none, I'll be back.
The Late Bill Williams 'Blues, Rags and Ballads'
Blue Goose 2013

This album in april 2007 has been reissued
on CD by (Japanese) Air Mail Recordings
(AIRAC-1341)
side 1
side 2
1
Salty Dog (4:37)
(P.D. arr. Williams) @ youtube
1
Darktown Strutter's Ball (4:59)
(Shelton Brooks, arr. Williams)
2
Corn Liquor Blues (3:18)
(Williams) @ youtube
2
Nobody's Business (2:01)
(P.D. arr. Williams)
3
Listen To The Mockingbird (3:05)
(Richard Milburn) @ youtube
3
Buckdance (2:10)
(Williams) @ youtube
4
Make Me A Pallet On The Floor (3:47)
(P.D. arr. Williams)
4
Some Of These Days (3:43)
(P.D. arr. Williams) @ youtube
5
That's The Human Thing To Do (4:00)
(Williams) @ youtube
5
Blake's Rag (2:51)
(Williams) @ youtube
6
Bubblegum (3:53)
(Williams)
6
Railroad Bill (3:06)
(P.D. arr. Williams) @ youtube
7
When The Roses Bloom Again (3:41)
(Williams)
22:40
22:31
musicians
Bill Williams (vocal, guitar)
notes
For a guitarist of such uncommon ability Bill Williams enjoyed an all-too brief period of public recognition. Within fifteen minutes of the time he first picked up an instrument in 1908 he was accomplished enough to play a song, but he was still completely unknown beyond his home town of Greenup, Kentucky before Blue Goose recorded him in the fall of 1970 and issued an album (Low and Lonesome) that brought him unqualified acclaim as a 73-year old folk find. A brief series of concert engagements (notably at the Smithsonian Institution and the Mariposa Folk Festival) followed, along with an extended recording session in New York, before a heart ailment brought about his musical retirement. In October of 1973, nearly three years to the day of his recording debut, he was fatally stricken in his sleep. This memorial album and its soon to be released sequel will constitute the remainder of Bill's musical legacy.
At the time of his death Williams unquestionably ranked as one of America's two or three finest traditional guitarists, and his passing serves as a bleak reminder that the forms he specialized in have all but perished in their original settings. Yet he would have sounded exceptional even in the heyday of country blues and ragtime, and the debut album that drew such comments as "incredible" from reviewers would have done credit to a far younger musician. It is difficult to eulogize Bill's musicianship, however, for there has never been a provision for anyone quite like him within the customary framework of blues or folksong research. Having made no 78 recordings in the Twenties, he had no status as a living or "lost" legend. Nor was he the product of any discernable blues tradition: the musician he most resembled was himself. He was sometimes labelled an "East Coast bluesman", but he had spent the last fifty years of his life in midwestern Greenup, far removed from his Richmond, Virginia origins.
Ultimately, Bill was not even a blues guitarist in the strict sense of the word. In the fashion of Leadbelly, Mississippi John Hurt, and Sam Chatmon, he worked within a myriad assortment of folk forms (blues, spirituals, ragtime, and hillbilly music) coupled with numerous adaptations of pop pieces. He was somewhat bewildered, in fact, by the disproportionate attention his blues received from younger listeners, and liked to chastize his New York admirers for their preoccupation with the form. "I know they're crazy about blues here in New York," he stated during his last recording session, "but if you go anywhere else in this country, you'll find people mostly like patriotic tunes."
A "patriotic" tune, in Bill's lexicon, was any pop or white folk standard. To the end of his life he enjoyed playing such diverse pieces as the Star-Spangled Banner (which he considered the most challenging piece in his repertoire) and Jingle Bells. Although he once recalled that in his native Richmond, "... all you hear ... was blues, because everybody down there played blues," his original guitar effort was the "patriotic" Yankee Doodle Dandy, and his teenage repertoire included such works as Casey Jones (a vaudeville hit from 1909) and Long Ways To Tipperary (an English import popular during World War One), both learned from his older brother James, who strummed his instrument. His Greenup audience, which often heard Bill at square dances accompanying a white fiddler and banjo player, "never paid no attention to blues ..." But for all his dutiful patriotism he was never basically a traitor to the blues idiom: he approached nearly all of his material from a blues perspective, rendering it with what he called "diminished chords" (partial chords), and always fingerpicking with a heavy rhythmic bounce. "There's songs that you could strum a guitar," he told Rob Fleder in an interview for Sing Out, "but I never did believe in the strumming ones so I didn't do much strumming. Once in a while I'd get tired of using my finger, and they'd be dancing and making a lot of noise so I'd strum it." Unlike most blues guitarists, however, he put an equal premium on key variations.
With the self-depreciation that was so typical of him, he said: "I never did like to see nobody play for no dancing or party or nothing and just play in one key. You can't call anybody no musician - course, I'm not really a musician as far as that goes - a person can't call himself a musician that plays in just one key."
As Bill never played professionally (or even for hire), there was no practical reason for his versatility or even his departures from blues norms. Most of his peers in Richmond, he noted, were limited to blues in the key of E, and in the course of his provincial existence, he met few guitarists of any stature. He recalled once seeing Blind Lemon Jefferson (as did, it would seem, nearly every performer of his generation) and the hillbilly great Riley Puckett, but only in passing. His oft-recounted association with the legendary Blind Blake meant much less to himself than to blues researchers, and there were only tenuous musical connections between them. He always seemed to have greater difficulty with the handful of given Blake motifs he played than with daredevil works like Pocahontas or The Chicken (both of which appeared on his first album).
Whether Bill's perfunctory recollections of Blind Blake were plausible or not is still open to question. For example, he once remarked that Blake had joked about wanting to marry his sister, and had begun a correspondence with her after moving to Chicago to make records. When the sister was located near Richmond she proved to have no knowledge whatsoever of Blake's existence.
Perhaps Bill's very claim to have known Blake in the first place was a figment of imagination or an elaborate private joke, for it was often difficult to tell when he was being serious. In order to produce groans from his listeners (whose eventual skepticism made no impression on him) he would make ominous threats to quit guitar-playing, or harp upon how much he despised the activity, even though it appeared to occupy most of his leisure time. Towards the end of his first recording session in Greenup, he made a dramatic announcement that a compelling appointment in nearby Vanceburg would make it impossible for him to complete his album. When first offered a tour of folk clubs in the east, he similarly pretended to balk at the prospect of traveling. With the air of a used-car salesman he would offer to teach his entire repertoire to younger guitarists for forty dollars, making progressively lower offers as his high- pressure sales pitch met with resistance. The purpose of this ruse (if anything, he would have given lessons for free) was never clear. He liked to be mildly scandalous in respectable company, as when he would suddenly recite a ribald toast or recount episodes of barnyard bestiality, giving the impression that it was his favorite outdoor sport. His assortment of quirks seemed no less formidable than his guitar techniques; one recalls his incurable habit of grinding his teeth while playing guitar (which posed a considerable engineering problem during his recording sessions, as it produced a squeaking sound), his perpetual insomnia, and his Spartan diet (he seemed to subsist entirely on cheese, crackers, and baking soda). Locally, it was rumored that Bill had become slightly "touched in the head" after having suffered a fall.
That Bill's musical faculties remained spectacularly intact at an age when most of his contemporaries had gone musically senile is amply illustrated by the songs on this album. Perhaps the true measure of his capabilities was his knack for converting a shopworn staple like Salty Dog into a guitar masterpiece instead of playing it in routine fashion.
The predominant key of Bill's works was C, and he usually tuned a half step (sometimes a full step) low on the guitar. Railroad Bill, a ragtime song in C, is a salute to a once-notorious Alabama train robber and one of the most famous pieces in black folk tradition. Bill's susceptibility to unabashedly sentimental songs (he was capable of shedding tears while listening to a maudlin lyric like Lonnie Johnson's There Is No Justice) is illustrated by his renditions of I'll Be With You When The Roses Bloom Again and Blue Eyes (a piece associated with A.P. Carter), two traditional white ballads in the key of C. While the prohibition era recalled by the former piece (which is said to actually date to the nineteenth century) now seems remote, Greenup County still bans the sale of liquor.
Darktown Strutter's Ball which is played in the key of F, was Bill's recapitulation of the famous ragtime hit by black composer Shelton Brooks, which originally appeared in 1917 and was popularized by Sophie Tucker. The spiritual Some Of These Days (not to be confused with another Brooks standard) ranks with the classic Jaybird Coleman recording I'm Gonna Cross The River Of Jordan (cf. Yazoo L-1022) and is played in the key of C. That's The Human Thing To Do, a pop vehicle, is played in the key of E. Blake's Rag was Bill's impression of an unrecorded Blind Blake instrumental and remains something of a curiosity because Blake never recorded any ragtime instrumentals in the same key (G). Bubblegum, a blues in D, is likewise an evocation of an unrecorded Blake theme.
Mockingbird, one of Bill's supreme instrumental efforts (he considered it almost as difficult to play as the Star- Spangled Banner) was an American pop song of 1855 vintage; though it became a white fiddle standard (from whence Bill derived it), its original composer was a black Philadelphian who played the piece on guitar. Bill's interpretation is played in the key of A. Salty Dog and Corn Liquor Blues (the latter was inspired by a Papa Charlie Jackson recording) are both in the key of G, while the twin ragtime standards, Pallet On The Floor and Nobody's Business, are played in their usual key of C. While many of Bill's songs are traditional, they ultimately illustrate less about blues traditions than about the wizardry that was once Bill Williams.
Produced For BLUE GOOSE RECORDS,
A div. of Yellow Bee Productions, Inc.
by Stephen Calt & Nick Perls
All songs writen by Bill Williams are copyright by Yellow Bee Music (BMI) ® 1974
Cover Design: Bob Aulicino
Notes: Stephen Calt
Engineering and recording: Nick Perls
SEND FOR FREE CATALOGUE
All Blue Goose LP's are available by writing to Blue Goose
Reviews
SING OUT! 23/4 (1974), S. 46

"Record reviews"

by Rob Fleder

Like so many folk artists the late Bill Williams from Greenup, Kentucky was best appreciated in person. Deprived of that opportunity forever, you can hear him to good advantage on The Late Bill Williams: Blues, Rags and Baflads (Blue Goose 2013). Williams' repertoire spanned blues, ragtime instrumentals, hymns and "patriotics" (a term he used for almost any white or pop standard), Bill played in an intricate guitar style with lots of syncopation and doubletiming, although it lacked the harmonic diversity or "contrapuntal" ideas of many blues musicians. Williams' voice had the edge and brilliance of the Memphis songbird, Frank Stokes, but with a richness all its own. This album captures the very best in his playing from the quickfingered treatment of "Salty Dog" and the lively instrumental "That's the Human Thing To Do" to the bluesy "Bubblegum" ("my tongue feels like Bubblegum!"). He even pulls off the sentimental country spoof "When the Rows Bloom for the Bootlegger." An added bonus is the fine cover art. A fine memorial album.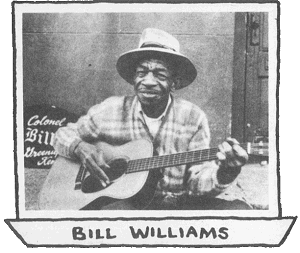 Bill Williams, New York City, February 1972
source: Blue Goose Records inner sleeve (cropped version); photographer: David Gahr
Intro to interview
Bill Williams:
Nobody Had To Ask Me To Play The Blues
in SING OUT! 21/1 (1971)
by Rob Fleder and Stephen Calt
(with thanks to Helen Scott)
Bill Williams is one of the most exciting blues "finds" in many years. His discovery came at a time when there was little hope left of finding quality musicians with a first-hand knowledge of the country blues guitar styles of the 'twenties and 'thirties. Charlie Parsons, a guitar teacher-player-enthusiast from Greenup, Kentucky sent Stefan Grossman a tape of Bill Williams, to see if Stefan, the author of three fine books on country blues guitar playing, could offer any help in getting him recorded. Stefan sent the tape to Nick Perls of Yazoo and Blue Goose Records. "Holy cow!" said Nick, "Do you hear that?" "The cat's a ringer for Blake!" Inside a week, Nick was speeding to Greenup for a recording session; the results appear on Blue Goose 2004 Bill Williams: Low and Lonesome. Stylistically, Bill is unique; he has the agility and speed of Blind Blake, and shares some of Blake's ideas, but by and large his style is completely personal and highly innovative; the early beginnings of the Merle Travis guitar style can even be heard in Bill's spectacular right hand thumb work.
Bill was born in 1896 in the country outside of Richmond, Virginia. He learned to play guitar while quite young, and in his teens he started to ramble around the country. In Virginia he had begun to play for rural black dances, at parties, juke joints, etc. In the course of his wanderings it was natural that he'd run into other musicians, and he says that he met Blind Lemon Jefferson (although, oddly enough, he never heard Jefferson play in person) and white guitarist Riley Puckett (of Skillet Lickers fame). Bill fell in with Blind Blake, about six years before Blake began to record, and the two "ran together" for about six months, Bill showed the legendary guitarist the now famed (and apparently misattributed) "Georgia Bound."
In 1922 Bill moved to Greenup, Kentucky where he has remained. He worked for the C&O Railroad, and is now a pensioner. He travelled to the 1971 Smithsonian Folklife Festival and his able guitar playing and remarkably powerful voice amazed and captivated the crowds.
Despite Bill's constant avowal to "quit playing cause I'm too old," few men have lived for their music as much as Bill: his whole life is entertaining people who drop into his house for a chat, or audiences - anyone, anywhere who can share his joy of music. Bill complained that we wore him out with too many questions, that he was too tired to play anymore for us - but he'd be smiling all the while, and already have started playing some tune he thought we'd like to hear.
In questioning Bill, we did not seek to trace his life history or the history of particular pieces too carefully: the Blue Goose album notes supply much useful information that need not be duplicated here. We were interested, rather, in the relocation of a blues singer and guitarist from Virginia to the predominantly white hillbilly area of Kentucky that is Greenup County. Did Bill play differently for white audiences? Did he stay with the blues? How much did the white rural music affect his style? Read on ...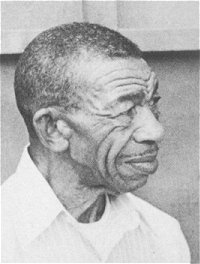 Lazy River
Bill Williams
Jazz and Blues, August/Sept. 1971

by Paul Oliver

Throughout the Sixties, it seemed there was one 'discovery' or 'rediscovery' of a blues singer after another; a succession of methodical searches, happy accidents and dramatic events which brought not only a number of legendary figures to life, but also revealed that the wealth of talent in the black traditions had been even greater than might have been supposed. Already though, the circumstances which brought about these discoveries seem to have passed and the events themselves slipped into history. Not many collectors would be sanguine enough to expect any major discoveries to occur now. And so, just to challenge any incipient pessimism, along comes Bill Williams.
Bill Williams is not just the shadow of a tradition, a lone survivor whose longevity has preserved a relatively minor talent after his greater contemporaries have passed on, as is sadly the case in New Orleans today. On the contrary, he is a find of outstanding importance who makes a few more pieces fit into the complex jig-saw puzzle of blues history, and who is, in his own right, a musician of outstanding ability. Kentucky is a State which, on the evidence of records, has contributed relatively little to the blues, though in the groups of Clifford Hayes, Earl McDonald and the anonymous Whistler there was apparently a fairly strong jug band tradition, centred perhaps, in Louisville. A solitary field trip made by Victor in June 1931 resulted in quite a few unissued titles, some recordings of a contingent from St. Louis including Roosevelt Sykes, Walter Davis, and probably Clifford Gibson and Henry Townsend, a couple of items by Kid Coley, and very little else. With not much to go on the blues enthusiast might be forgiven for assuming that 'My Old Kentucky Home' had killed off any tradition that might have been in the State.
It's inappropriate to consider Bill Williams as essentially a Kentucky musican anyway, although he has lived in that State for almost fifty years. He was born in Richmond, Virginia, on 28 February 1897 and lived out in the country some sixty miles from the city in his youth. His brother, James Williams, appears to have been his first inspiration. A ragtime guitarist, he was an unwilling tutor; Bill nevertheless picking up the rudiments of a ragtime technique which has remained in his music to the present day. At the age of fourteen he began a life of manual work, first as a waterboy at Wilmington, Delaware, for the railroad company, and subsequently far out west in Colorado where he worked in the mines at Lester and lived with relatives. Eventually, after a spell in Bristol, Tennessee, he dropped off a freight train at Greenup, Kentucky, and took a job with the C & 0 Railroad in Russell. Greenup, and that region has been his home stomping ground for half a century, a sector in the extreme west of the State in the loop of the Ohio River where Kentucky, Ohio and West Virginia all meet. It's a region which has had quite a part to play in the story of country music in the white traditions - Merle Travis, Ike Everly - the father of the Everly Brothers, Don and Phil - and lesser known musicians came from that area. It also produced Arnold Schultz, a Negro guitarist of considerable local repute who would probably have remained unknown to us if it hadn't been for the fact that he played for country dances around Rosine, and was the first important influence on Bill Monroe. And it produced Jim Mason from Webster County, a guitarist just two years Bill Williams' junior, though it's doubtful if we would have known about him if it didn't just happen that he was the man who shaped the guitar styles of both Merle Travis and Ike Everly in Muhlenberg County and neighbouring parts. Bill Williams didn't have the luck to be an influence on a famous white country or hillbilly guitarist, at least by name. He was one of the several black guitarists and fiddle players who played their boxes in the region where, across the river from Greenup, Kentucky, the towns of Coal Grove, Ironton, Franklin Furnace and Scioto Furnace betray their mining, industrial character.
It's coal mining country right through that region, at the knuckle of a great finger of bituminous coalfield which stretches from western Pennsylvania through the intersecting corners of Ohio, West Virginia and Kentucky, down through Tennessee to probe the northern part of Alabama. Maybe the pay wasn't high but there was work in the coal mines and Bill Williams went after it. Shift work too, which meant that, as in the lumber industry of the piney woods further south and west, there was always a shift looking for recreation: to a musician, a naturally attractive situation where he could earn a little money on the side from his fellow workers, or if he was exceptionally good, so inclined or handicapped, could make a living from his music. As a fit man in his mid-twenties - he's still vigorous and looking ten years younger than he is - Bill worked in the mines of Pike County. But after the day's work he'd sit and jam on the porch of his house with one of the guitar-pickers who came into the region, attracted by the opportunities for entertaining, a smiling oval-faced man who wore a suit with broad revers but whose extensive travelling was hinted at by the high, lacedboots he wore. He was sightless and one of the best guitar-pickers to hit that area, or indeed any other. They called him Blind Blake
Blind Blake came from Georgia. According to his friend Blind Willie McTell he was named Arthur Phelps, but it seems his name was Arthur Blake. He travelled a lot - to Jacksonville, Florida, where he had a home and may have died, and as far west as Dallas, Texas. He was well-known in Chicago where, fortunately, he was extensively recorded for Paramount in the later Twenties. Five years before his first session in September 1926, he was in Kentucky and he proved to be the strongest influence on Bill Williams. He had met him earlier in Bristol and had worked with him there as his regular second, accompanying him and learning from him. Listening to Bill today he seems at times to be Blind Blake reincarnate; he has the same ease and facility, the same dexterous thumb-roll, the same rapid picking. But he's not a carbon copy of Blind Blake, though he readily admits that the famous guitarist was, and still remains, his favourite musician. At times Bill Williams recalls Mance Lipscomb - whom he may never have heard, even today - and at other times he reveals hints of Big Bill or Mississippi John Hurt, both guitarists whom he admires and whose early records could conceivably have had some influence on his style. Like many of the 'eastern' guitarists (to the blues enthusiasts all musicians from east of Mississippi tend to be called 'East Coast'), he clearly admires technical skill and places more importance on a sweetflowing instrumental line than on any deep emotional involvement in the words of his songs and blues.
Back in 1921, when he was playing with Blake, Bill Williams would have earned the name of a 'songster'. It has been suggested by Eddie Lambert in an article a while ago in this magazine's predecessor that the songsters did not precede the blues singers, but that recording has tended to give an undue importance to blues. There is a lot of truth in this, I think, but nevertheless blues singers tend to talk of their guitar-playing fathers as old-time songsters, and not as blues singers, suggesting that the songsters of the past fifty years have been the tall end of a much older tradition. Generally I think it is still fair to assume that the songsters preceded, as well as overlapped, with the blues singers. They have been poorly documented and the chances of doing so adequately get less and less virtually with every passing month. One clear characteristic is that they had a very wide range of repertoire with dance tunes, instrumental rags, minstrel and medicine songs, all included in a spectrum of song and music which took in the blues as that music began to appear.
Bill Williams, then, is a songster rather than blues singer and his music contains examples of all the types mentioned above. Recently he was recorded by Nicholas Perls, the proprietor of the important reissue label Yazoo, for his subsidiary Blue Goose. A collection has now been released on Blue Goose 2004 which gives a remarkable indication of this hitherto 'unknown' talent. Included are three ragtime pieces called simply 'Banjo Rag', 'Bill's Rag' and 'Total Rag'. Guitar rags have been recorded by the eastern songsters to a far greater extent than by Mississippi and Texas men, although the latter were geographically as near to Missouri. His rags may refer back to his brother's repertoire. Nevertheless, Williams has long been a Kentucky man and the two States meet at Cairo and share a short stretch on the Mississippi River. Perhaps this is a misleading trail to follow, but the relationship of piano rags to guitar rags has been so little explored that the point might be worth making. The first two of Williams' rags have stop-time elements which relate them to country dances of this title in which the action is momentarily suspended or the foot is slid to its partner as an unexpected pause in a faster movement. 'Bill's Rag' is a buck and wing dance quite close to Mance Lipscomb's 'Buck Dance' and appears to be of the kind that might well have been performed on the Ohio waterfront in his younger days.
Typical of the songster is his version of a minstrel song which he calls 'The Chicken'. It is the same song as that recorded by the Negro Frank Stokes and the white Clayton McMichen under the title of 'Chicken, You can Roost Behind the Moon'. This fact serves to emphasize the manner in which these early songs crossed the colour line. It makes an excellent vehicle for Williams's scintillating technique. He slightly rushes the playing and fractionally slows up to sing, not as did Little Hat Jones as a stylistic characteristic, but presumably because the concentration required slightly inhibits singing. I find it instructive because it is quite obviously the speed at which he must have played it in his younger days, and doubtless sung it too, and one can imagine the startling effect of this tremendous finger-work when he was a young man.
Catholicity of taste is common among songsters. It's the quality they admire and one which separates them from blues singers. Bluesmen have a dislike of published standards; try for instance, to count the number of versions of 'St Louis Blues' recorded by bluesmen, compared with those recorded, endlessly, by jazz groups. Can you count Bessie Smith's as a blues? Well, yes of course, but not one from the folk tradition. Or Jim Jackson's? For Jim Jackson was himself a songster. You'd be hard pressed to think of others. Bill Williams plays it in a straight version which he appears to have learned at an early age. Unashamedly he settles for 'Up a Lazy River', as engagingly as Big Bill Broonzy playing and singing 'Shanty in Old Shanty Town' (and annoying the purists in so doing). I was slightly surprised to hear Bill Williams singing 'Frankie and Johnny' by this name and with the verses he chose, for to most songsters this semi-pop song is known by its earlier ballad title of 'Frankie and Albert'. It suggests that he may have learned it rather later in his career than some of his songs.
'Frankie' is played with a confidence and freshness which makes the over-familiar song very acceptable. Williams' dazzling playing makes every track of great interest and is specially evident on 'I Know What it Means to be Lonesome', a theme which has the descending phrases and structure that relate it to 'Ella Speed' as played by Lipscomb, and to a certain extent to other favourites like 'Salty Dog'. Several of Williams' tunes are original re- workings of some older blues melodies. His 'Lucky Blues' is on an eight-bar framework which is closely related to the 'Trouble in Mind' 'Key to the Highway' complex. Apparently he learned this in Virginia which suggests, in view of the popularity of the theme with eastern musicians, a local traditional 'tune family'. Such tune families ask for more thorough examination than they have so far received. After writing the chapter on 'The Forty-Fours' in Screening the Blues, I received many letters pointing out that I had missed this or that recording of the theme. But instead of labouring this it would have been valuable if other writers pursued other complexes in greater detail. One of them must surely be the 'Highway'-'Trouble in Mind' family and someone interviewing Bill Williams might ascertain whether his 'Lucky Blues' is, in his view, a separate song or one derived from the others mentioned. Similar thoughts come to mind in listening to his recording of 'Pocohantas', which is reminiscent of a very fast, virtuoso guitar performance of 'St. James Infirmary Blues'. Perhaps specialists in New Orleans jazz might comment on whether this is the same theme as the tune of 'Pocohantas' which was, I believe, a fairly popular parade and Mardi Gras tune. According to Stephen Calt, Williams learned it from an Italian railroad man.
It is clear that if Bill Williams was influenced by Blind Blake he was certainly not dependent on him. One is impressed by his individuality, though of course, it is not the kind of single-mindedness that encourages a blues singer to compose his own blues. On present evidence Williams is not an innovator of blues as such, which presumably Blind Blake was. Bill's voice is quite different from Blake's. Where Blake could be smooth and wistful he is inclined to rasp; where Blake sang from the front of the mouth, Williams sings from the back of the throat in a somewhat constricted manner which links him aurally with that Virginia songster thirty years his junior, John Jackson. But there are echoes of Blake's musicianship in a number of items, the instumental rags recalling 'Blind Arthur's Breakdown', and being by no means eclipsed by that classic. More evidently influenced by Blake is 'Too Tight' which was twice recorded by the blind singer himself and which also had a rough-and-ready treatment from Peg Leg Howell and His Gang. And there are the blues items, with 'My Girlfriend Left Me' being very obviously based on Blind Blake's 'Georgia Bound'.
Apart from a demo tape made by a local guitar teacher, Charlie Parsons, these are the first recordings that Bill Williams has ever made, but hopefully, they won't be the last. In the summer of 1970 he played at the Mountain Heritage Festival at the County Fairgrounds in his home town of Greenup and received a standing ovation from the crowd. True songster, he played the National Anthem in response. Soon after, he performed at the Community College in Ashland some fifteen miles up river, appeared on John Skagg's Coffee House show on WIRO and even on the Kentucky Educational TV network. All pretty local, but he had his biggest adventure when, in the winter of 1970, he played at the University of Chicago Folklore Society Festival. There'll be many demands for Bill Williams in the future, and one of them will be this summer when he plays at the Festival of American Folklife which Mack McCormick is directing in the Buckminster Fuller Dome on St. Helen Island, Montreal, Quebec. It will be Bill Williams' first international performance. Wherever he goes, he'll doubtless be following the pattern established by his fellow West Kentuckians, Jim Mason and Arnold Schultz - showing the young white guitar-pickers how to tease the frets.

Bill Williams died Greenup, Kentucky, 6 October 1973.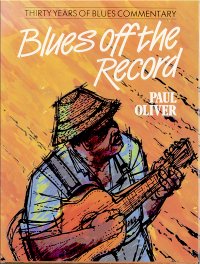 Paul Oliver: Blues off the record - Thirty years of blues commentary.- 1984
thanks to Donald Adkins for additional info



Please feel free
to complete,
to correct
or to comment
my writings



=
Link to own page !!!

Back to 'American Music'

Back to starting page [www.wirz.de]
---
© responsible for contents: Stefan Wirz
(latest date of editing: 12/17/2017)