This discography is a non-commercial labor-of-love and is in no way associated with any business firm.
All I know about the resp. artist's / label's musical output is shown on this page. To purchase out-of-print records I recommend an ebay, gemm or google search. And - sorry for that - I have not the time to answer any e-mails asking me about further information, let alone duplicating out-of-print recordings I happen to own.

Stefan Wirz www.wirz.de
www.VON'S Works.com
(emphasis on Eric von Schmidt's work as painter)
Eric von Schmidt 7 inch 45 rpm
#
year
of release
title
label # / notes
1
1969
ERIC von SCHMIDT

- Living On The Corner
- Catch It




Smash 2238
2
1972
ERIC VON SCHMIDT

- Fat, Fat, The Water Rat
- Believer


Poppy 90118
Eric von Schmidt LPs / CDs
#
year
of release
title
label # / notes
1
1961
ROLF CAHN & ERIC VON SCHMIDT

- Grizzly Bear
- Lazarus
- Columbus Stockade
- Buddy Bolden Blues
- You Got To Hurry
- 2:19 Blues

- Nobody Knows You
- Wasn't That A Mighty Storm
- Frankie And Albert
- Who's That Yonder
- Make Me A Pallet
- He Was A Friend Of Mine


Folkways FA 2417
2
1963
DICK FARIÑA & ERIC VON SCHMIDT
with Ethan Signer & occasionally Blind Boy Grunt [= Bob Dylan]

- Johnny Cuckoo
- Jumping Judy
- Glory, Glory *
- Old Joe's Dulcimer (Old Joe Clark, Swing And Turn, Darlin' Corey, etc.)
- Wobble Bird
- Wildwood Flower
- Overseas Stomp *

- Lonzo N'Howard
- You Can Always Tell
- Xmas Island *
- Stick With Me Baby
- Riddle Song
- Cocaine *
- London Waltz

- Old Paint #
- Lemonade Lady #

rec. at Dobellís Jazz Record Shop, London, 14th and 15th January, 1963;
* Blind Joe Grunt, backup voc, hca; prod. by Tom Costner

CD including the LP material plus all outtakes, which contain two songs not selected for the original release (#)

notes by Margaret Baker
and Ron Gould



Folklore Records F-LEUT/7
more info

2 CD set
notes by Dick Farina
and Tom Costner

Solano CD 1722 (2007)
www.farinacd.com

77 Records discography

3
1963
the folk blues of ERIC VON SCHMIDT
(with Geoff Muldaur, guitar
Robert L. Jones, guitar & vocal
Fritz Richmond, washtub bass)

- Crow Jane
- Gulf Coast Blues
- Brave Wolfe
- Junco Partner
- De Kalb Blues
- Lolita

- Champagne Don't Hurt Me, Baby
- Buffalo Skinners
- Jack O'Diamonds
- He Was A Friend Of Mine
- Cocoa Beach Blues
- Down On Me
- Titanic


Prestige/Folklore 14005


= Prestige 7717

= Blues Interactions PCD-5146
1997 (Jp)

4
1964

Eric sings von Schmidt
(with Geoff Muldaur and Mel Lyman)

- Kennedy Blues
- Light Rain
- Joshua Gone Barbados
- Edward Teller
- My Love Come Rolling Down

- Florida Woman Blues
- Kay Is The Month Of May
- Cold Gray Dawn
- Just To See You Stand That Way
- Acne
- Rattlesnake Preacher



Prestige 7384

Transatlantic PR 7384

reissued: PVINE CD 5305

5
1969
ERIC VON SCHMIDT: Who Knocked The Brains Out Of The Sky?

- Who Knocked The Brains Out Of The Sky? (4:04)
- Beanum And Barley (4:55)
- Three Miles (0:46)
- Living On The Corner (3:46)
- Sudden Garden (4:39)

- Catch It (3:27)
- Bitter City (3:25)
- Lucky Mrs. Ticklefeather (4:45)
- Hundred Acre Wood (2:56)
- Weep For The Wood Man (4:38)


Smash/Mercury
SRS 67124
6
1972
Eric Von Schmidt: 2nd Right 3rd Row

- Turtle Beach
- If I Ever Catch Old Perry
- My Love Come Rolling Down
- Believer
- The Letter
- If I Had A Good Dog (The Male Chauvinist Possom Song)

- Fair And Tender Ladies
- Loop The Loop
- Wet Birds Fly At Night
- Salute To China
- Fat, Fat, The Water Rat
- My Country 'Tis Of Thee


Poppy PYS-5705
7
(1972)
Living On The Trail

- Living On The Trail
- Envy The Thief
- Lost In The Woods
- Thunder Heads Keep Rollin'
- Carpenter's Boy (Icarus)

- Lightning, They Say
- Joshua Gone Barbados
- Stick To Rum
- Stewball
- Fast Acne (Zorba the Greek)

rec. 1971

<!a href="vonschm/grafik/trailpo4.jpg"><!IMG SRC="vonschm/grafik/trailpo1.jpg" width="150" height="150" border="0">
Poppy PP-LA080-F
(never released because of 1972
demise of Poppy Records)

(re)issued 2002 Tomato 2053

8
1977
eric von schmidt and the cruel family

- You Get Old, You Get Wise
- Ring Around The Moon
- Bunch Of Roses
- Debt I Owe
- It's The Doing
- Make It Last

- Champagne Don't Hurt Me, Baby
- Sudden Garden
- Sweet Margarita
- Briar Patch
- Lonzo & Howard
- Icarus


Philo PH 1052
9
1995
ERIC VON SCHMIDT: Baby, Let Me Lay It On You

- Baby, Let Me Lay It On You
- Lucky Man
- Goin' Down To Melbourne
- De Kalb Blues
- Envy The Thief
- My Love Come Rollin' Down
- Joshua Gone Barbados
- Rule The Road
- Fat, Fat, The Water Rat
- Can The Serpent Be Housebroken?
- Wet Birds Fly At Night
- Just To See You Stand That Way
- Light Rain
- The Letter
- Foolish Pleasure
- The Captain


Gazell GPCD2013
10
2002
ERIC VON SCHMIDT: Living On The Trail

- Living On The Trail
- Envy The Thief
- Lost In The Woods
- Thunder Heads Keep Rollin'
- Carpenter's Boy (Icarus)
- Lightning, They Say
- Joshua Gone Barbados
- Stick To Rum
- Stewball
- Fast Acne (Zorba the Greek)

produced by Jim Rooney
featuring Paul Butterfield, Bobby Charles, Jim Colegrove, Rick Danko, Amos Garrett, Garth Hudson, Geoff & Maria Muldaur, Chris Parker, Billy Rich, Jim Rooney


(re)issue of 1971 recordings
then supposed to be Poppy
PP-LA080-F (1972)


Tomato 2053
Anthologies / Compilations / Samplers
containing songs performed by Eric von Schmidt
#
year
of release
title / songs performed by Eric von Schmidt
label # / notes
1
1963

Come For To Sing
Folksongs sung by Eric von Schmidt, Carolyn Hester, Jackie Washington, Jack Elliott, Rolf Cahn

- Cotton Eye Joe - Jackie Washington
- The Car Song - Rambliní Jack Elliott
- Grizzly Bear - Eric von Schmidt
- Rock Island Line - Rolf Cahn
- The Virgin Mary
- John Henry - Eric von Schmidt
- Billy Barlow - Jackie Washington
- Hush Little Baby
- Froggie Went Courting - Rolf Cahn
- Night Herding Song - Rambliní Jack Elliott
- Go Tell Aunt Rhody - Carolyn Hester
- The Gray Goose
- How D'ye Do?
- Taddle-O-Day
- Haul On The Bowline - Rambliní Jack Elliott
- Hambone
- The Boll Weevil
- My Good Old Man - Carolyn Hester & Eric von Schmidt
- Candy Man - Rambliní Jack Elliott
- Old Howard

from liner notes: "This is a record of all the songs of Eric von Schmidt's book COME FOR TO SING" (Houghton Mifflin Boston 1963); "Produced and directed by Joe Berk and Eric von Schmidt"; "Artwork and Design by Eric von Schmidt"


Pathways of Sound POS 1033
(local label run by Boston Folk impresario Joe Berk)

4
03/64
the BLUES project
A compendium of the very best on the urban blues scene

- Fixin' To Die (Dave Ray)
- Blow Whistle Blow (Eric von Schmidt)
- My Little Woman (John Koerner)
- Ginger Man (Geoff Muldaur)
- Bad Dream Blues (Dave van Ronk)
- Winding Boy (Ian Buchanan)
- I'm Troubled (Danny Kalb)
- France Blues (Mark Spoelstra)

- Don't You Leave Me Here (Dave van Ronk)
- Devil Got My Woman (Geoff Muldaur)
- Southbound Train (John Koerner)
- Downtown Blues (Geoff Muldaur)
- Leavin' Here Blues (Dave Ray)
- Hello Baby Blues (Danny Kalb)
- She's Gone (Mark Spoelstra)
- Slappin' On My Black Cat Bone (Dave Ray)

assisting musicians: Bob Landy [Bob Dylan], Doug Pomeroy, Fritz Richmond, John B. Sebastian, Tony Glover; prod. by Jac Holzman & Paul A. Rothchild
cover artwork by Eric Von Schmidt
back cover notes plus
5 page foldout booklet
by Barry Hansen, Harold
Courlander & Paul Nelson













Elektra EKL-264 (mono)
Elektra EKS-7264 (stereo)

5 CD set





(=) Elektra CD 8122795661-2
(EU 2015) "The Greenwich
Village Folk Scene"
(five original Elektra albums from the
1960s, including "The Blues Project")

3
1964
Folklore Jamboree

Bill Keith and Jim Rooney - Livin' On The Mountain
Tom Rush - Diamond Joe
Bonnie Dobson - Dear Companion
Eric Von Schmidt - Champagne Don't Hurt Me Baby
Ramblin' Jack Elliott - Howdido
Jesse Fuller - San Francisco Bay
Dave Van Ronk - Ace In The Hole

Bonnie Dobson - She's Like A Swallow
Brownie McGhee & Sonny Terry - You Don't Know
Dave Van Ronk - He Was A Friend Of Mine
Ramblin' Jack Elliott - Roll In My Sweet Baby's Arms
Peggy Seeger - The Chickens They Are Crowing
Geoff Muldaur - Sleepy Man Blues
Charles River Valley Boys - Rocky Island

prod. by Samuel B. Charters
notes (Jan. 1964)
by John D. Monroe





Prestige/Folklore FL 14023
4
1965
The Newport Folk Festival 1965
The Paul Butterfield Blues Band
- Mellow Down Easy
The Lilly Brothers (with Tex Logan & Don Stover)
- Black Mountain Rag
Son House
- Sundown Blues
Ishangi Dance Troupe
- Washwoman
Moving Star Hall Singers
- Been In The Storm So Long
Eric Von Schmidt (with Fritz Richmond, Mel Lyman, Geoff Muldaur & Maria d'Amato)
- My Love Comes Rolling Down

Bill Keith & Jim Rooney
- Banjo Medley
John Koerner (with Tony Glover, hca)
- Duncan And Brady
Maria d'Amato (with Geoff Muldaur, g)
- Trick Ain't Walkin' No More
Son House
- Death Letter Blues
Chambers Brothers
- Bottle Music
- I Got It
Mel Lyman, hca
- Rock Of Ages

rec. July 24/25, 1965 Newport, Ri.





Vanguard VRS 9225 (mono)
VSD 79225 (stereo)
5
1967
Take A Trip With Me
Psychedelic Hits

Lightnin' Hopkins
- Take A Trip With Me [Bluesville 1029/1081]
Dave Van Ronk
- Cocaine Blues
Eric von Schmidt
- Champagne Don't Hurt Me
Holy Modal Rounders
- Black Eyed Suzie
Eric von Schmidt
- Lolita
- Edward Teller

Eric von Schmidt
- Acne
Dave Van Ronk
- Talkin' Cancer Blues
Holy Modal Rounders
- Euphoria
Eric von Schmidt
- Kay Is The Month Of May
Tom Rush
- Cocaine
Holy Modal Rounders
- Junko Partner

cover design by Irving Riggs







Prestige 7539 (mono)
= PRST 7539 (stereo)
6
1984
Bleecker & McDougal:
The Folk Scene Of The 60s,
[The Jac Holzman Years]
- Blow Whistle Blow

Elektra 60381
7
1988
Blues In The Bottle

Holy Modal Rounders - Blues In The Bottle
Tom Rush - Baby Please Don't Go
Ramblin' Jack Elliot - Pretty Boy Floyd
Dave Van Ronk - Sometimes I Feel Like A Motherless Child
Eric Von Schmidt - He Was A Friend Of Mine
Tracy Nelson - The House Of The Rising Sun
Dave Van Ronk - House Carpenter
Holy Modal Rounders - Junco Partner

Tom Rush - Duncan & Brady
Geoff Muldaur - Aberdeen Mississippi Blues
Tracy Nelson - Candy Man
Hold Modal Rounders - Fiddle In A Dram
Eric Von Schmidt - Joshua Gone Barbados
Dave Van Ronk - Death Letter Blues
Tom Rush - Barbry Allen
Ramblin' Jack Elliot - So Long It's Been Good To Know You

CD bonus tracks:
Dave Van Ronk - Long John
Eric Von Schmidt - Down On Me
Hold Modal Rounders - Sail Away Ladies
Tom Rush - Alabama Bound
Ramblin' Jack Elliot - The Cuckoo
Geoff Muldaur - Good Gin Blues

compiled by Brian Hogg





Big Beat WIK 71 (Ger)
8
1992
Troubadours Of The Folk Era Volume One

- This Land Is Your Land - Woody Guthrie
- Silver Dagger - Joan Baez
- Tomorrow is a Long Time - Ian & Sylvia
- Violets of Dawn - Eric Andersen
- John Henry - Odetta
- Reno, Nevada - Richard & Mimi Fariña
- Four in the Morning - Jesse Colin Young
- Wasn't That a Mighty Storm - Eric Von Schmidt
- The Universal Soldier - Buffy Sainte-Marie
- Cocaine Blues - Dave Van Ronk
- Morning Dew - Bonnie Dobson
- San Francisco Bay Blues - Ramblin' Jack Elliott
- I'll Fly Away - Carolyn Hester
- Well, Well, Well - Bob Gibson, Bob Camp and Dick Rosmini
- Mean Old Frisco - John Hammond
- The First Time Ever I Saw Your Face - Ewan MacColl and Peggy Seeger
- Mr. Spaceman - Holy Modal Rounders
- Catch the Wind - Donovan

<!A HREF="antholog/grafik/trouba14.jpg">
Rhino R2 70262
9
1993
Blues with a feeling
- Grizzly Bear

<!A HREF="">Vanguard 77005
(Recorded live at the
Newport Folk Festival)
10
1994
The Prestige / Folklore Years Vol. 1:
All Kinds Of Folks

- New York Town - Ramblin' Jack Elliott
- Railroad Bill - Ramblin' Jack Elliott
- Roll In My Sweet Baby's Arms - Ramblin' Jack Elliott
- Duncan And Brady - Tom Rush
- Rag Mama - Tom Rush
- Barb'ry Allen - Tom Rush
- Wagoner's Lad - Peggy Seeger
- Chickens They Are Crowing - Peggy Seeger
- Green Rocky Road - Dave Van Ronk
- Whoa, Back, Buck! - Dave Van Ronk
- Maggie Lauder - Jean Redpath
- Fife Overgate - Jean Redpath
- Joshua Gone Barbados - Eric Von Schmidt
- She's Like A Swallow - Bonnie Dobson
- Irish Exile Song - Bonnie Dobson
- Long Chain - Maxine Sellers
- Single Girl - Maxine Sellers
- Jesus Met The Woman At The Well - Len And Judy
- This Life I'm Living - Len and Judy

Prestige CD 9901
11
1995
The Prestige/Folklore Years
Vol. 2: The New City Blues
- Crow Jane
- Light Rain
- Kennedy Blues

Prestige PRCD 9902-2
Ace/Big Beat CDWIKD 135
12
1996
The Acoustic Highway Collection:
The Road To Country Rock
- Fair And Tender Ladies

EMI CD 53302
13
1996
Blues Blue, Blues White The Bluesville Years Volume Seven


Dave Van Ronk
- Fixin' To Die
- Come Back Baby
- Jesus Me The Woman At The Well
- Statesboro Blues
Tom Rush
- Baby Please Don't Go
- Alabama Bound
Danny Kalb
- Nobody Knows You When You're Down And Out
Geoff Muldaur
- Jelly Roll Baker
- Trouble Soon Be Over
- Motherless Chile Blues
- Everybody Ought To Make A Change
Tracy Nelson
- Grieving Hearted Blues
- Ramblin' Man
- House Of The Rising Sun
- Long Old Road
Eric Von Schmidt
- Champagne Don't Hurt Me
- Gulf Coast Blues
- Light Rain
- Just To See You Stand That Way
The New Strangers
- Ramblin' On My Mind
- Keys To The Highway

rec. between April 1962 and May 1963; originally released on Prestige/Bluesville albums; original sessions produced by Samuel Charters or Paul A. Rothchild
notes by Samuel Charters



Prestige PRCD 9915-2
14
1997
Blues with a feeling, part two
- Grizzly Bear

Vanguard CD 73134-2
(Recorded live at the
Newport Folk Festival)
15
2001
3-CD box
Washington Square Memoirs: The Great Urban Folk Boom (1950-1970)

- Joshua Gone Barbados
<!A HREF="antholog/grafik/memoirs4.jpg">
Rhino R2 74264
(Guest) Appearances on other Artist's recordings
#
year
of release
artist / title / songs featuring Eric von Schmidt
label # / notes
1
1963
Geoff Muldaur:
Sleepy Man Blues
(Eric von Schmidt on mandolin and harmonica throughout)

Prestige/Folklore 14004
= Prestige 7727
reissued on Big Beat WIK 78 [UK]
partly reissued 1996
on Compilation "The Bluesville Years"
Prestige PRCD-9915-2
2
1993
Joan Baez:
Rare, Live And Classic
- Low Down Chariot
[Baez & von Schmidt]

Vanguard VCD 125/127
(3 disk compilation)
3
1995
Davis Coen:
Cryin' The Blues
- How Long Blues
- Trouble In Mind
[Coen, g/v & von Schmidt,
harmonica]
EvS also wrote liner notes

Davis Coen homepage
4
1996
Washboard Slim and the Blue Lights

harmonica and backing vocals on "No More Bada Boom Bada Bing"
5
1998
Nancy Griffith: Other Voices Too: A Trip Back to Bountiful



Elektra 62235-2
Thanks to: Scott Alexander, Mark Sironi



Other artist's Covers of Eric von Schmidt songs
#
year
of release
Artist:
Record Title
- featured Eric von Schmidt song
label # / notes
1
1965
Jackie DeShannon:
In The Wind

- Baby Let Me Follow You Down

Imperial LP 12296
2
1966
Tom Rush:
Take A Little Walk

- Joshua Gone Barbados
- Turn Your Money Green

Elektra EKL-308
3
1967
Bob Dylan:
The Basement Tapes Outtakes Woodstock, New York

- Joshua Gone Barbados
<!A HREF="/grafik/4.jpg"><!IMG SRC="vonschm/grafik/croker1.jpg" width="150" height="150" border="0">
bootleg
4
1970
Tom Rush:
Classic Rush

- Joshua Gone Barbados

Elektra EKS-74062
5
1970
Geoff & Maria Muldaur:
Pottery Pie

- Catch It

Reprise RS 6350
= Carthage CGLP 4428 (1987)
6
1973

The Paul Butterfield Blues Band:
Better Days

- Rule The Road

Bearsville 2119 more info

7
1977
Rosalie Sorrels:
Moments Of Happiness

- See You Stand That Way

Philo 1033
8
1978
Hans Theesink:
Slow And Easy

- Joshua Gone Barbados



Autogram ALLP-230
9
1980
Howard Bursen:
Cider In The Kitchen

- Joshua Gone Barbados

Folk Legacy FSI-074
10
1984
Gove Scrivenor:
Shady Gove

- Make My Love Come Rollin' Down

Flying Fish FF-048
11
1989
Brendan Croker & the 5 o'Clock Shadows:
Boat Trips In The Bay

- Joshua Gone Barbados

Silvertone CD ND74571
12
1990
Buick 6:
Cypress Grove

- Joshua Gone Barbados

Taxim CD TX 1003-2 TA
13
1994
Greg Kihn:
Mutiny

- Joshua Gone Barbados

Clean Cuts CD 714
14
1994
Dave van Ronk:
To All My Friends In Far Flung Places

- Joshua Gone Barbados

Gazell GPCD 2011/12

Dave van Ronk discography

15
1995
Martin Simpson:
Special Agent

- Joshua Gone Barbados

Fledgling Records FLED 3005
16
1996
Greg Kihn:
Horrorshow

- Kay Is The Month Of May
<!A HREF="/grafik/4.jpg">
Clean Cuts CD 716
17
1996
Peter Keane:
Walkin' Around

- Blow Whistle Blow
<!A HREF="/grafik/4.jpg">
Flying Fish CD 652
18
1998
Gove Scrivenor:
Solid Gove

- Make My Love Come Rollin' Down

Flying Fish CD 672
19
1998
Jerry Jeff Walker:
Cowboy Boots & Bathin' Suits

- Champagne Don't Hurt Me Baby
<!A HREF="/grafik/4.jpg">
Tried & True CD 5551
20
1999
Chris Smither:
Drive You Home Again

- Rattlesnake Preacher

Hightone HCD 8098
21
1999
Johnny Cash:
Johnny 99

- Joshua Gone Barbados
<!A HREF="/grafik/4.jpg">
Koch Records CD 7980
22
1999
Tom Rush:
The Best Of: No Regrets

- Joshua Gone Barbados

Legacy CD 65860
23
2000
Brendan Croker:
Not Just A Hillbilly... More Like A Best of ...

- Joshua Gone Barbados

Essential ESMCD826
24
2000
Ramblin' Jack Elliott
Ballad of Ramblin' Jack
(Soundtrack)

- Acne (duet with Bob Dylan)
<!A HREF="elliott/grafik/ballad4.jpg">
Vanguard CD 157079575-2

more info on soundtrack

more info on movie


25
2000
EP
Jon Langford and Sally Timms
Songs of False Hope and High Values

- Joshua Gone Barbados
<!A HREF="vonschm/grafik/langfor4.jpg">
Bloodshot EP BS 072
26
2000
Mother Vineyard's Jugband

- Joshua Gone Barbados
<!A HREF="/grafik/4.jpg">

27
2000
Geoff Muldaur
Password

- Light Rain

Hightone HCD 8125
Eric von Schmidt - Biography
by Craig Harris, All-Music Guide
at CDNOW
Album Review
"Baby Let Me Lay It On You"
by Nick Crews, Dirty Linen
at CDNOW
Performance Review
"Eric von Schmidt, Roy Book Binder & Paul Geremia
at Skipper's Smokehouse, Tampa, FL, February 29, 1996"
by Nick Crews, Dirty Linen


is member of the population of
Humbead's Revised Map of the World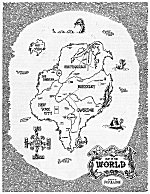 Other artists' record covers
illustrated by Eric von Schmidt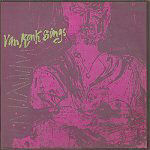 Van Ronk Sings .- Folkways FA 2383 (1961)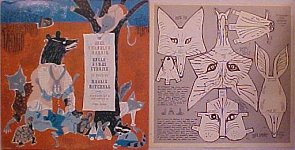 "Uncle Remus Stories" Pathways of Sound POS 1028 (1961)
Uncle Remus tales by Joel Chandler Harris being read by Morris Mitchell. Includes an insert for making puppets to go along with the story-telling. Cover was designed by Eric von Schmidt, who also co-designed the puppets with Foy Van Dolsen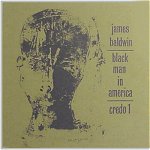 James Baldwin Interview LP.- Credo 1 (1962)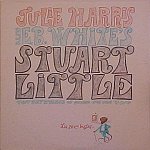 "Stuart Little" Pathways of Sound POS 1036 (196?)
Julie Harris reads from classic E.B. White children's tale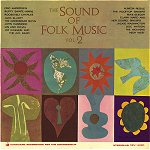 The Sound Of Folk Music Vol. 2.- Vanguard SRV-140SD (1964)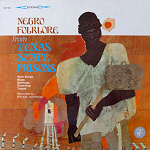 Negro Folklore from Texas State Prisons.- Elektra EKS-7296 (1965)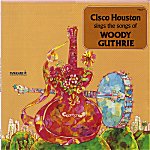 Cisco Houston Sings The Songs Of Woody Guthrie.- Vanguard VSD-2131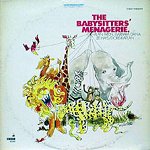 The Babysitter's Menagerie.- Vanguard VSD 79288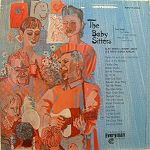 The Babysitters.- Vanguard SRV 73002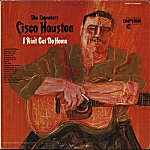 The Legendary Cisco Houston "I Ain't Got No Home".- Vanguard SRV 73006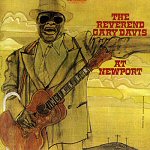 The Reverend Gary Davis at Newport.- Vanguard VMD-73008 (1967)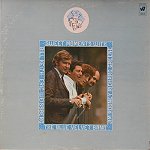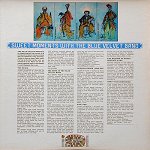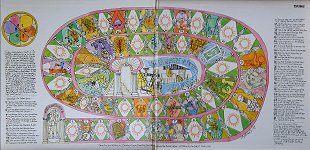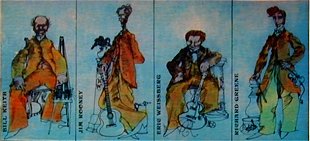 The Blue Velvet Band: Sweet Moments With ...
(Bill Keith, Eric Weissberg, Jim Rooney, Richard Greene).- Warner Bros. 1802 (1969)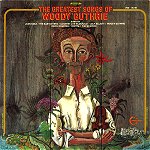 V.A.: The Greatest Songs Of Woody Guthrie.- Vanguard VSD 35/36 (1972)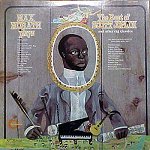 Max Morath Plays The Best Of Scott Joplin.- Vanguard VSD 39/40 (1972)
<!A HREF="vonschm/grafik/baezbal4.jpg">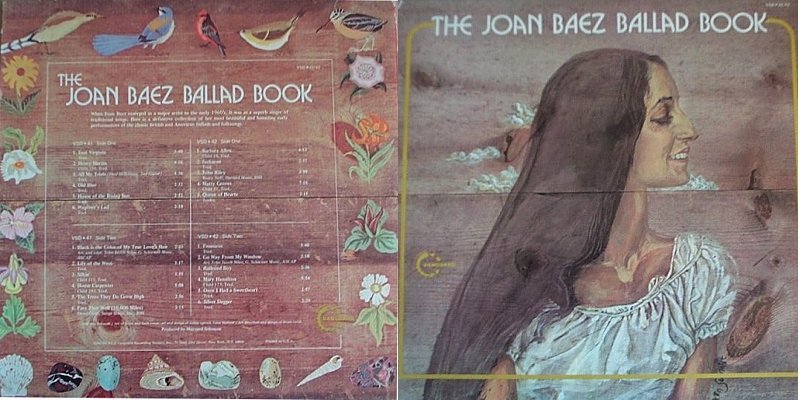 The Joan Baez Ballad Book.- Vanguard VSD-41/42 (1972)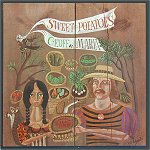 Geoff & Maria Muldaur: Sweet Potatoes.- Reprise MS-2073 (1972); more info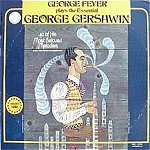 George Fyer Plays The Essential George Gershwin.- Vanguard VSD 61/62 (1974)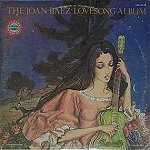 The Joan Baez Lovesong Album.- <!A HREF="">Vanguard VSD-79/80 (1976)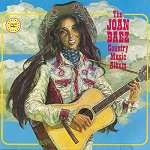 The Joan Baez Country Music Album.- Vanguard CVSD-105/6 (1979)
<!A HREF="vonschm/grafik/seeger14.jpg">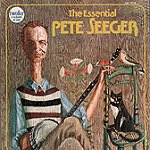 The Essential Pete Seeger.- Vanguard VSD 97/98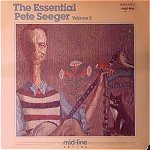 The Essential Pete Seeger Vol. 2.- Vanguard 73112 (1987)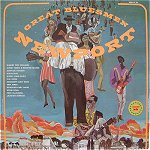 V.A.: Great Bluesmen Newport.- Vanguard VSD 77/78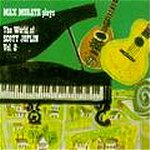 Max Morath: The World Of Scott Joplin, Vol. 2.- Vanguard 351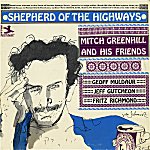 Mitch Greenhill (And His Friends): Shepherd Of The Highways.- Prestige 7438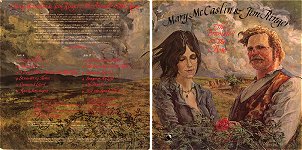 Mary McCaslin & Jim Ringer: The Bramble & The Rose.- Philo 1055 (1978)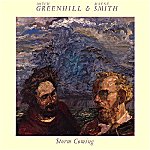 Mitch Greenhill & Mayne Smith: Storm Coming.- Bay Records Bay 215 (1979)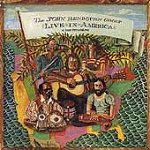 John Renbourn Group: Live In America.- Flying Fish 70103 (1982)
<!A HREF="vonschm/grafik/kruth4.jpg">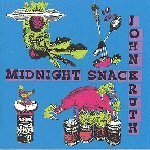 John Kruth: Midnight Snack.- Hopewell Records HW06 (1987)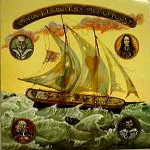 John Renbourn's Ship Of Fools.- Flying Fish FF-466 (1988)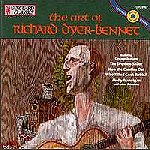 The Art Of Richard Dyer-Bennet.- Vanguard OVC-6007 (1991)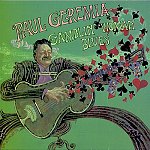 Paul Geremia: Gamblin' Woman Blues. Shamrock 1016-1 (1992)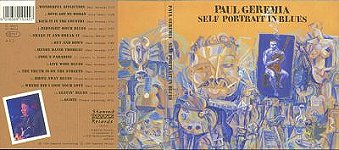 Paul Geremia: Self Portrait In Blues.- Shamrock 1024-2 (1994)

Mary Flower: Blues Jubilee.- Resounding Records RRCD 408 (1994)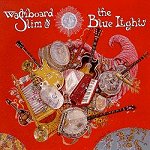 Washboard Slim and the Blue Lights (1996)

Paul Geremia: Live From Uncle Sam's Backyard.- Red House RHR 101 (1997)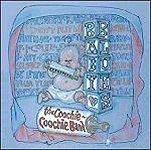 The Coochie-Coochie Band (Carl Fospero): Baby Blues.- Joonbug Records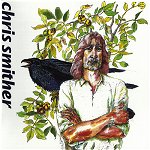 Chris Smither: Live As I'll Ever Be.- High Tone Records HCD8120 (2000)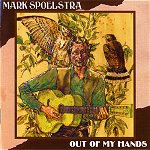 Mark Spoelstra: Out Of My Hands.- Origin Jazz Library OJL 2001 (2002)
Eric von Schmidt record covers on other artists' record covers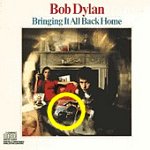 Bob Dylan: Bringing It All Back Home.- CBS 62515
Eric von Schmidt - Bob Dylan - links: 1, 2
Book written by Eric von Schmidt & Jim Rooney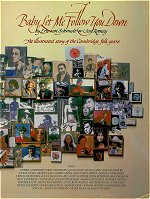 von Schmidt, Eric and Jim Rooney: Baby Let Me Follow You Down:
The Illustrated History Of The Cambridge Folk Years.
Garden City, New York: Anchor Press / Doubleday & Co. 1979 (2nd edition 1994: Univ. of Massachusetts Press; ISBN: 0-87023-925-2
[order]
Books written / illustrated by Eric von Schmidt
[in print]
[out of print]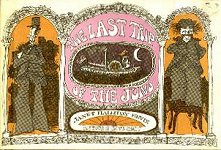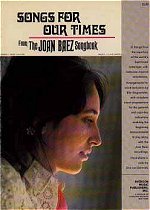 Joan Baez Songbook
Reyerson Music Publishers, 1964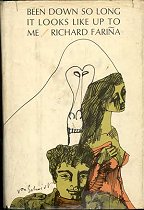 Richard Farina: Been Down So Long It Looks Like Up To Me
Random House, 1966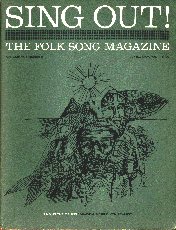 Cover of Sing Out Magazine April - May 1967 Vol 17, No.2
"Singing The Fishing"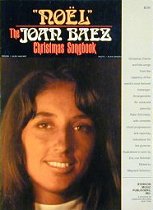 Noel The Joan Baez Christmas Songbook
Ryerson Music Publishers, 1967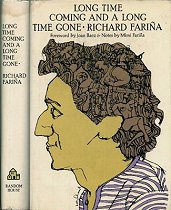 Richard Farina: A Long Time Coming And A Long Time Gone
Random House, 1969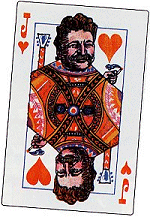 Paul Geremia rendered as Jack of Hearts for a promotional deck of cards
from Red House Records (Source: Sing Out! Vol. 42 #4)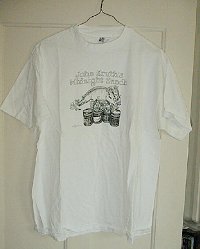 T-Shirt for John Kruth to promote his 1987 CD "Midnight Snack"

Eric von Schmidt's reflections on
Jack O'Leary 1918 - 1982 American Ceramist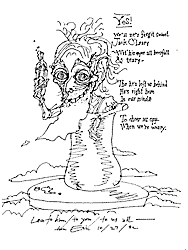 Eric von Schmidt contributed to the booklet included in the reissue of
Anthology Of American Folk Music
edited by Harry Smith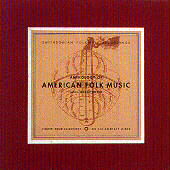 ANTHOLOGY OF AMERICAN FOLK MUSIC won the 1998 Grammy Awards for Best Album Notes and Best Historical Album !!!

<!A HREF="vonschm/grafik/custer4.jpg">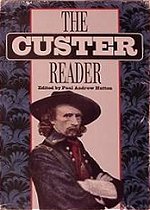 Paul Andrew Hutton (ed.): The Custer Reader
University of Nebraska Press, 1992
Americaís most famously unfortunate soldier has been the subject of scores of books, but 'The Custer Reader' is unique as a substantial source of classic writings about and by him. Here is George Armstrong Custer as seen by himself, his contemporaries, and leading scholars. Those steeped in Custeriana will discover new insights in these pieces, some published for the first time, some difficult of access, assembled for easy reference. Those led by Custerís legend to make a fuller acquaintance will find here a reliable and complete introduction to his controversial personality and career and their transmogrification into myth. Combining first-person narratives, scholarly articles, photographic essays Ė as well as original selections by Robert M. Utley, Brian Dippie, Gregory J. W. Urwin, and Eric von Schmidt. 'The Custer Reader' contains four sections, each introduced by Paul Andrew Hutton. Jay Monaghan, Brian Dippie, Charles King, and Chief Joseph White Bull are among those who illuminate Custerís Civil War years; his role in the Indian wars, particularly the Battle of the Little Big Horn; and the evolution of the Custer myth.
Eric von Schmidt painting "Here Fell Custer"
(picture sadly missing ;-)
<!A HREF="vonschm/grafik/wildwes4.jpg">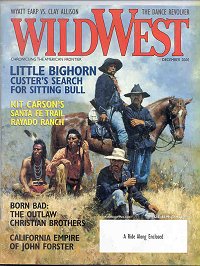 Inside is a great article by Eric von Schmidt on the Sitting Bull's village at the time of the battle. A bonus for the article is a shot of an Eric von Schmidt painting. Another painting of the fight is used as the cover for the National Park brochure, which is also reproduced in the article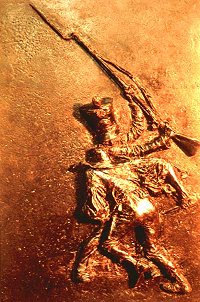 Eric von Schmidt's
wax bas relief "Alamo", 1985
more info

" ... "The Storming of the Alamo," a 10- by 23-foot epic painting of the historic scene by Eric von Schmidt. It's considered the most accurate ever produced. Well-known historians have acclaimed it. Kevin R. Young, president of the Alamo Battlefield Association, was quoted in an article about the painting in the Express-News on December 23, 1996 as saying that the painting was his favorite depiction of the Alamo battle. He said that "all the elements that you always read about, you see them. And there are little fine details and touches." (Frank Jennings)
Eric von Schmidt
designed the monument on Sleepy John Estes' grave
(Elam Baptist Church 3543, Durhamville Rd. Ripley, Tn. [not Brownsville!])
(Blues Access Fall '98, p. 106)


Sunday, June 11 2000
Eric von Schmidt
honored with
ASCAP Foundation Lifetime Achievement Award

Stellar Lineup of Acoustic Music Legends for Cambridge Folk Pioneer at Club Passim on 6/11

Eric von Schmidt to be Honored with ASCAP Foundation Lifetime Achievement Award and Musical Salute by Folk Greats:
Tom Rush, Maria Muldaur, Jim Kweskin, Chris Smither, Geoff Muldaur, Peter Wolf, Jim Rooney and Surprise Guests in Folk Event of the Year

ASCAP member Eric von Schmidt, a pioneering figure in the folk music explosion of the late '50s and early '60s, will be presented with The ASCAP Foundation Lifetime Achievement Award in Folk Music. The Award will be presented to von Schmidt at a special afternoon reception at Club Passim in Cambridge, Massachusetts on Sunday, June 11. In a salute to von Schmidt, who served as friend and mentor to many of the leading folk and blues artists who emerged from the Cambridge folk scene, a number of these performers will gather at Club Passim to perform songs written or popularized by von Schmidt. Among those participating in what promises to be an historic folk music event are Bill Keith, Jim Kweskin, Geoff Muldaur, Maria Muldaur, Jim Rooney, Tom Rush, Chris Smither, Peter Wolf, as well as surprise guests.

Eric von Schmidt, who also befriended and inspired Bob Dylan and Joan Baez early in their careers, is the writer of such songs as "My Love Come Rolling Down," "Light Rain," and the frequently recorded "Joshua Gone Barbados." He also popularized many once-forgotten traditional songs that are now folk and blues standards, including: "He Was a Friend of Mine," "Wasn't That a Mighty Storm," "Grizzly Bear" and "Baby, Let Me Follow You Down." von Schmidt is also a noted painter, muralist and illustrator whose art has adorned countless album covers as well as children's books and printed music collections. In addition, von Schmidt is the co-author, with Jim Rooney, of the definitive history of the Cambridge folk years, Baby, Let Me Follow You Down, (published by University of Massachussets Press). Club Passim, the center of the New England folk scene, is the successor to the legendary Club 47, where the careers of von Schmidt, Baez, Kweskin, Rush and many others were launched into success.

Previous recipients of The ASCAP Foundation Lifetime Achievement Award include: Guy Clark (country), Red Norvo (jazz), Rufus Thomas (R&B), George Rochberg (concert music), Ella Jenkins (children's music), Buddy Baker (Film & TV music) and Dave Van Ronk (folk). The ASCAP Foundation has, for more than twenty-five years, been a resource for the music community through the myriad programs it funds and/or administers, including scholarships, grants, awards, commissions, classroom and summer camp music education programs, and senior community service. The ASCAP Foundation was established in 1975 and is a publicly supported charitable organization exempt from federal taxation under IRC § 501 (c) (3).


A Few of the
The World's Hippest Geezers
Return to Harvard Square to Celebrate
Eric von Schmidt's
A.S.C.A.P. Lifetime Achievement Award
Intro and Photos by Chris Yeager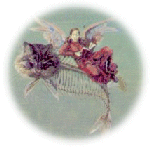 Interview with Caitlin von Schmidt (Eric's daughter)
"I was there the night Dylan went electric and the only thing I remember is my sister and me sitting in the back of the van eating all of the marshmallow things out of a box of Lucky Charms"

MP3 soundclip of Caitlin von Schmidt's "To the Ocean" (from 1990 CD "Fish")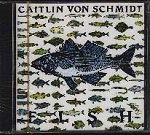 at San Jacinto Records
RA soundclip of Caitlin von Schmidt's "Waiting For Rain"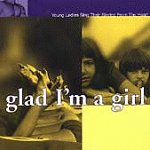 (from 1997 soundtrack CD "Glad I'm A Girl")
---
Harold von Schmidt (Eric's father)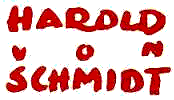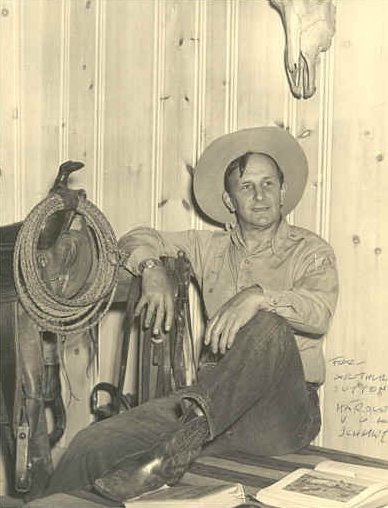 "Harold von Schmidt (1893-1982) grew up in the West a generation after Remington and Russell, but had a close kinship with them and the old West throughout his painting career. A native Californian, von Schmidt was orphaned at age 5 and reared by his grandfather who had been a Forty-niner. His grandfather's stories together with his own experiences as a construction worker, lumberjack and cowhand gave him an authentic insight into the earlier era. He became a leading magazine illustrator with his work appearing mainly in The Saturday Evening Post for 20 years. Founder of the Famous Artists School in Westport."
<!A HREF="http://www.cashi.com/webbios.htm">http://www.cashi.com/webbios.htm (meanwhile out of function!)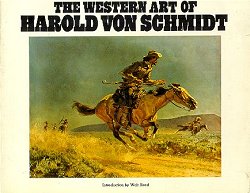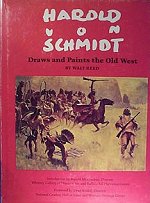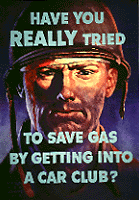 Sources / Further reading:
- own record collection
- eBay auctions
- diverse internet resources
source of left column picture: Detail of front cover of Philo 1052
thanks to Fritz Schuler (Golden Ring Music) for additional info



Please feel free
to complete,
to correct
or to comment
my writings



=
Link to own page !!!