This discography is a non-commercial labor-of-love and is in no way associated with any business firm.
All I know about the resp. artist's / label's musical output is shown on this page. To purchase out-of-print records I recommend an ebay, gemm or google search. And - sorry for that - I have not the time to answer any e-mails asking me about further information, let alone duplicating out-of-print recordings I happen to own.

Stefan Wirz www.wirz.de
Arvella Gray 45 rpm / LPs / CDs
#
year
of release
title
label # / notes
1
1961
Blues From Maxwell Street

Blind Arvella Grey [sic] *
- Corrine Corrina
James Brewer *
- I'm So Glad Good Whiskey's Back
Blind Arvella Grey [sic] *
- Have Mercy, Mr. Percy
- Railroad Work Song & John Henry
- Have Mercy, Mr. Percy No. 2

King David (rec. Chicago, July 1960
by Donald R. Hill)
- Fannie Mae ["Don't Start Me Talkin'"] @ youtube
- Sugar Mama @ youtube
- Good Mornin', Little Schoolgirl @ youtube
- 38 Pistol @ youtube
- 44 Blues @ youtube
Daddy Stovepipe (rec. Chicago, July 1960
by Donald R. Hill)
- Tennessee Waltz
- South Of The Border
- Old Time Religion
- Monkey And The Baboon

* rec. July 11, 1960 in Chicago

James Brewer discographyDaddy Stovepipe discography

notes by Paul Oliver

Heritage HLP 1004 (1962)

Heritage discography



<!a href="collissu/grafik/c5527b4.jpg">




= Collector's Issue C-5527
(Austria 1989?)


Collector's Issue discography

notes by Paul Oliver, Rien
Wisse & Gary Atkinson

= Document DOCD 5692
(UK 2012)

2
1965
Conversation With The Blues
A Documentary of Field Recordings by Paul Oliver

LP tracks:
Boogie Woogie Red - So Much Good Feeling (spoken, with own piano)
Willie Thomas - A Little Different spoken
James Butch Cage & Willie Thomas - Kill That Nigger Dead (Cage, vocal and fiddle; Thomas, vocal and guitar)
Lil' Son Jackson - The Onliest Way (spoken)
J. B. Lenoir - My Father's Style (guitar solo)
J. B. Lenoir - So It Rocked On (spoken)
J. B. Lenoir - Move To Kansas City (vocal and own guitar)
Otis Spann - When She Comes Back (spoken)
Otis Spann - Poor Country Boy (vocal, with own piano)
Lightnin' Hopkins - Ain't No Easy Thing (spoken)
Mance Lipscomb - Evil Heart Blues (vocal and own piano)
Blind Arvella Gray - A Roughneck (spoken) #
Roosevelt Sykes - West Helena Blues (vocal and guitar)
Will Shade - Days Of Nineteen-Hundred (spoken)
Will Shade - Newport News Blues (vocal and own guitar)
Whistling Alex Moore - Chock House Days (spoken)
Whistling Alex Moore - Come and Get Me (vocal and own piano)
Whistling Alex Moore - Chock House Days (spoken)
Brother John Sellers - Move Back For What? (spoken)
J. B. Lenoir - I Been Down So Long (vocal and own guitar)

Jasper Love - Santa Fé Blues (vocal and piano)
John Lee Hooker - Somewhere Down The Line (spoken)
Robert Curtis Smith - I Hope One Day My Luck Will Change (vocal and own guitar)
Otis Spann - Only Places They Can Go (spoken)
Otis Spann - People Calls Me Lucky (vocal and own piano)
Henry Townsend - What Have I Committed (spoken)
James Butch Cage - Tween Midnight And Day (vocal and own guitar)
Little Brother Montgomery - Walking Basses (spoken)
Little Brother Montgomery - Dud Low Joe (piano solo)
Little Brother Montgomery - It's A Barrelhouse Blues (spoken) []
Little Brother Montgomery - Vicksburg Blues (vocal with piano)
Little Brother Montgomery - They Beat Me To Chicago (spoken) []
Roosevelt Sykes - They All Called Him 'Pork Chops' (spoken)
Roosevelt Sykes - Forty-Four Blues (vocal and own piano)
Robert Junior Lockwood & Sunnyland Slim - Doctor Clayton And Me (spoken) []
Robert Junior Lockwood & Sunnyland Slim - Take A Little Walk With Me (vocal with own electric guitar, with Sunnyland Slim, piano) []
Edwin Buster Pickens - To Have The Blues Within (spoken)
Mance Lipscomb - Blues In The Bottle (vocal and own guitar)

CD tracks:
- So Much Good Feeling - Boogie Woogie Red
- A Little Different - Willie Thomas
- Kill That Nigger Dead - James "Butch" Cage & Willie Thomas
- The Onliest Way - Lil Son Jackson
- My Father's Style / So It Rocked On / Move To Kansas City - J.B. Lenoir
- When She Come Back / Poor Country Boy - Otis Spann
- Ain't No Easy Thing - Lightnin' Hopkins
- Evil Heart Blues - Mance Lipscomb
- A Roughneck - Blind Arvella Gray #
- West Helena Blues - Roosevelt Sykes
- Days of 1900 / Newport News Blues - Will Shade
- Chock House Days / Come and Get Me - Whistling Alex Moore
- Move Back! For What? - Brother John Sellers
- Been Down So Long - J.B. Lenoir
- A Place They Call Boots' - James "Stump" Johnson []
- Henry Brown Blues - Henry Brown []
- They Called Us Gandy Dancers / Work Songs / John Henry - Blind Arvella Gray with Blind James Brewer # []
- Santa Fe Train - Edwin "Buster" Pickens
- Most Reason I Sing - Robert Curtis Smith
- Santa Fe Blues - Jasper Love
- Somewhere Down The Line - John Lee Hooker
- I Hope One Day My Luck Will Change - Robert Curtis Smith []
- Only Places They Can Go / People Call Me Lucky - Otis Spann
- What Have I Committed? - Henry Townsend
- 'Tween Midnight And Day - James "Butch" Cage
- Walking Basses / Dud Low Joe / The First Vicksburg Blues - Little Brother Montgomery
- They Call Him "Pork Chops" / Forty-Four Blues - Roosevelt Sykes
- Blues In The Bottle - Mance Lipscomb
- To Have The Blues Within - Edward "Buster" Pickens
- Colorado Springs Blues - Edwin "Buster" Pickens []


# rec. Chicago, July 9, 1960; LP resp. CD accompanying Paul Oliver's book by the same title

[] = not on LP resp. CD !!!




Decca LK 4664
3
1965
Arvella Gray
(Blind Street Singer)

- Freedom Riders (A)
- Freedom Bus (B)

rec. Chicago, c. 1965; Arvella Gray, voc, g
7 inch 45 rpm



Gray 100
4
1965
Arvella Gray
(Blind Street Singer)

- You Are My Dear (G-1313)
- Deborah (G-1314)

rec. Chicago, c. 1965; Arvella Gray, voc, g with James Brewer, g
7 inch 45 rpm



Gray 13
5
1965
Arvella Gray
(Blind Street Singer)

- John Henry (G-1315)
- The Walking Blues (G-1316) @ youtube

rec. Chicago, c. 1965; Arvella Gray, voc, g with James Brewer, g
7 inch 45 rpm



Gray 14
6
1972
Blind Arvella Gray: The Singing Drifter

- There's More Pretty Girls Than One
- John Henry
- Arvella's Work Song
- Take Your Burden To The Lord
- When The Saints Go Marching In

- Standing By The Bedside Of A Neighbor
- Join in with Arvella (instr.) (with The Three Honkies) #
- Those Old Fashioned Alley Blues
- Gander Dancing Song
- Stand By Me
- What Will Your Record Be

rec. September 22, 1972 in Harvey, IL by Dave Wylie

# not on 2005 CD reissue


PR material to Birch 60091 ???

notes by Cary Baker





Birch 60091
[David Wylie's label]

Conjuroo CD 001 (2005)

7
1999
And This Is Maxwell Street

CD One
- The Sun Is Shining- Johnny Young
- Can't Hold Out Much Longer - Big John Wrencher
- Juke Medley - Carey Bell
- That's All Right - Robert Night Hawk
- Red Top/Ornithology - Little Arthur King
- Maxwell Street Jam - Carey Bell
- Lucille - Big John Wrencher
- Corinna, Corinna - Arvella Gray
- Power To Live Right - Carrie Robinson
- Cheating And Lying Blues - Robert Night Hawk
- Honky Tonk - Robert Night Hawk
- Dust My Broom - Robert Night Hawk
- Peter Gunn Jam - Robert Night Hawk
- I Need Love So Bad - Robert Night Hawk
- All I Want For My Breakfast - Johnny Young
- Take It Easy, Baby - Robert Night Hawk
- Long Gone John - Unknown Harpist


CD Two
- Mama, Talk To Your Daughter - Big Mojo Elem
- I'm Ready - Carey Bell
- Carey'n On - Carey Bell
- When The Saints Go Marching In - James Brewer Group
- Back Off Jam - Robert Night Hawk
- John Henry - Arvella Gray
- Anna Lee/Sweet Black Angel - Robert Night Hawk
- Love You Tonight - Big John Wrencher
- The Time Have Come - Robert Night Hawk
- Cruisin' In A Cadillac - Carey Bell
- Honey Hush - Robert Night Hawk
- I'll Fly Away - James Brewer Gospel Group
- I Shall Overcome - Fannie Brewer

Street recordings made for 1964 documentary film 'And This Is Free'
2 CD set
notes by Colin Talcroft



P-Vine PCD-5527/28 (Jp)
= Rooster CD ROO2641
(US)
= Catfish CD (UK)
8
2000
I Blueskvarter Chicago 1964, Volume Two

CD One
Paul Butterfield
- Help Me
- Going Back Home
- Everything's Gonna Be Alright
- Poor Boy
- Last Night
- Got My Mojo Working
Washboard Sam
- Mountain Blues
- All By Myself
- Booker T Blues
- I'm A Lonely Man
- I'm Been Treated Wrong
John Lee Granderson
- Death Valley Blues
- Easy Street
- Bumble Bee Blues
- That's All Right
- Minglewood Blues
Avery Brady (& John Lee Granderson)
- Bad Weather
- City Of New Orleans
- Gangster Blues
- I Have A Woman Who Lives Down By The Sea


CD Two
Little Brother Montgomery (& Mike Bloomfield)
- West Texas Blues
- Up The Country Blues
- Cow Cow Blues
- Mama, You Don't Mean Me No Good
- Suitcase Blues
Arvella Gray *
- John Henry
- Corrine, Corrina
- Have Mercy, Mister Percy
- Captains A Hollering
St. Louis Jimmy (& Sunnyland Slim, Mike Bloomfield and Washboard Sam)
- Can't Stand Your Evil Ways
- Complete This Order
- Poor Boy Blues
- The Girl I Love
Interviews (& Olle Helander)
John Lee Granderson 2:43
Avery Brady 3:30
Little Brother Montgomery 2:21
Arvella Gray 5:25 *

* rec. May 16, 1964 in Chicago, IL by Olle Helander for the Swedish Radio Corporation
2 CD set



Jefferson Records
SBACD 12655/6
9
2005
Blind Arvella Gray: The Singing Drifter

- There's More Pretty Girls Than One
- John Henry
- Arvella's Work Song
- Take Your Burden To The Lord
- When The Saints Go Marching In
- Standing By The Bedside Of A Neighbor
- Those Old Fashioned Alley Blues
- Gander Dancing Song
- Stand By Me
- What Will Your Record Be

- If I Could Hear My Mother Pray Again °°
- Motherless Children Have A Hard Time °°
- Take My Hand Precious Lord °°
- Cryin' Holy Unto The Lord °°
- What Would Your Record Be (partial outtake) °°

remastered from acetate reference discs of original 1972 session, because master tapes were lost after Arvella Gray died

°° CD bonus tracks remastered from tape
Birch 60091 (1972)

notes by David Wylie
and Cary Baker

Conjuroo CD 001
Sources:
- own record collection
- Lawrence Cohn: Nothing But The Blues.- New York, London, Paris (Abbeville Press) 1993
- Mike Leadbitter & Neil Slaven: Blues Records 1943 to 1970 - A selective discography, Vol. one, A to K.- p. 479
- https://www.findagrave.com/cgi-bin/fg.cgi?page=gr&GRid=143304624
- eBay auctions
- diverse internet resources
source of left column picture: Blues Unlimited 137/138 (1980), p. 10; photographer: Bill Greensmith
thanks to Flemming Nielsen and Fernando Goin for additional info / scans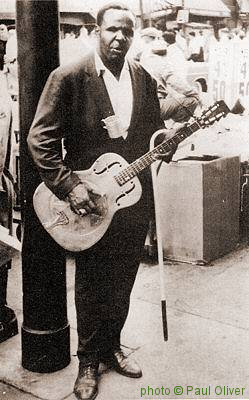 source: Larry Cohn: Nothing But The Blues, p. 307
photographer: Paul Oliver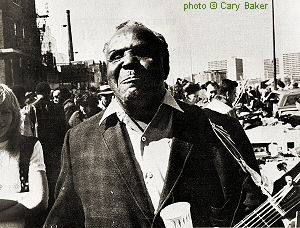 Arvella Gray on Maxwell Street, Chicago, IL
source: Blues World 45 (1973), back cover; photographer: Cary Baker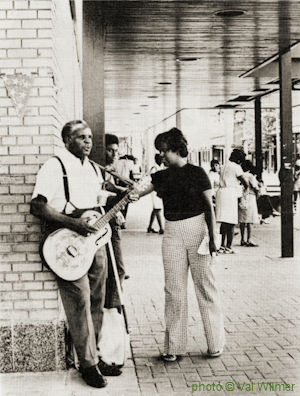 Arvella Gray source: Blues Link #2, p. 19
photographer: Valerie Wilmer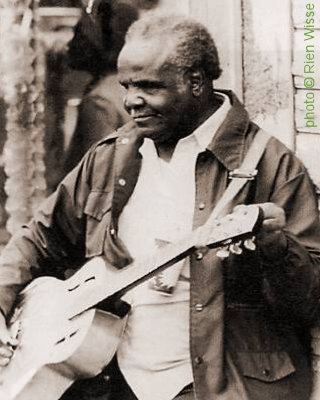 Arvella Gray 1978 source: Block 96 (1995), p. 19
photographer: Rien Wisse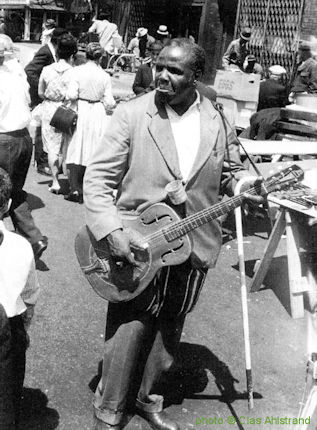 Arvella Gray source: Notes to Jefferson Records SBACD 12655/6
photographer: Clas Ahlstrand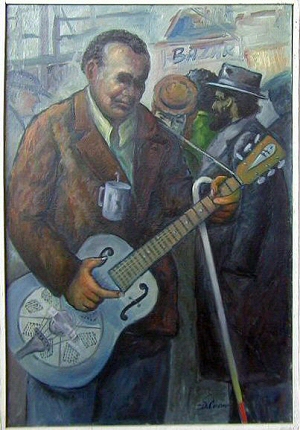 Arvella Gray painting by Dusan Ciran
[picture kindly provided by current owner Chris Wawer, Chicago]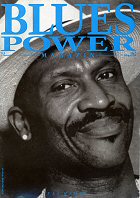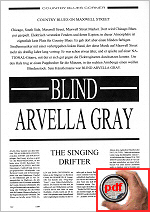 Blind Arvella Gray - The Singing Drifter.- Blues Power Magazin #6 (1994), pp. 22-24
The article above (in German !) is 'published' here for private research only. While of historical interest, it may contain factual errors only revealed by later research. Be advised that more recent reference works should be consulted regarding factual points such as spelling of names, dates of birth, dates of recordings.


Jas Obrecht: Arvella Gray:
Half A Century Of Street-Corner Blues
Guitar Player vol. 14 # 2 (Febr. 1980), p. 70-77

Cary Baker: Obituaries: Blind Arvella Gray
Living Blues 47 (summer 1980), p. 32

Jas Obrecht: Arvella Gray, 1906-1980
Rolling Stone 330 (Nov. 13, 1980), p.26-27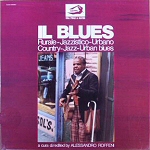 Albatros ALB 8
3LP = VPA 8187/88/89
"Il Blues Rurale/Jazzistico/ Urbano"


Albatros discography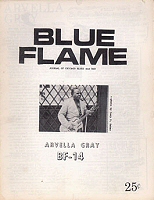 Blue Flame # 14 (1971)
Cary Baker's Chicago area blues fanzine
with Arvella Gray cover story
Arvella Gray bio, photos, sound and news clips
at Cary Baker's www. conjuroo.com


Cary Baker - "The Devoted Fan"



Please feel free
to complete,
to correct
or to comment
my writings



=
Link to own page !!!