This discography is a non-commercial labor-of-love and is in no way associated with any business firm.
All I know about the resp. artist's / label's musical output is shown on this page. To purchase out-of-print records I recommend an ebay, gemm or google search. And - sorry for that - I have not the time to answer any e-mails asking me about further information, let alone duplicating out-of-print recordings I happen to own.

Stefan Wirz www.wirz.de

"Here's what I know so far: He played in Greenwich Village in the late 60's in a five night a week gig at a place called Club Bizarre. His bass player was a guy named Ritchie Jenkin. The band was called the Traditional Blues Quartet" (Johnny Warner (Widell) at groups.google.de)

"I saw Ian Buchanan play at the Metro...a little wine/beer bar big during the 70s in the Borough of Queens in New York City. [...] My stepbrother, an excellent guitarist in his own right, studied with Ian and introduced me to his work and to him, actually. A very nice man, but very obviously melancholy at the stage that I met him. My stepbrother had actually had a lesson with Ian just a short time before he threw himself out a window for the second time. Ian had attempted suicide years before. He unfortunately, or fortunately, broke his fall on an awning. This rendered him a paraplegic and relegated him to a wheelchair for the last years of his life. The second attempt, several years later was, however, successful. Ian died, I believe, in 1973 or 1974. Hell of a player. I still play Gary Davis stuff in Ian's style, and I use "Sportin' Life Blues," Ian-style, as a warm up prior to playing before audiences." ('Blind Rickie' at www.guitarseminars.com)
Ian Buchanan LPs / CDs
#
year
of release
title
label # / notes
1
1964
the BLUES project
A compendium of the very best on the urban blues scene

- Fixin' To Die - Dave Ray
- Blow Whistle Blow - Eric Von Schmidt
- My Little Woman - John Koerner
- Ginger Man - Geoff Muldaur
- Bad Dream Blues - Dave Van Ronk
- Winding Boy - Ian Buchanan @ youtube
- I'm Troubled - Danny Kalb
- France Blues - Mark Spoelstra

- Don't You Leave Me Here - Dave Van Ronk
- Devil Got My Woman - Geoff Muldaur
- Southbound Train - John Koerner
- Downtown Blues - Geoff Muldaur
- Leavin' Here Blues - Dave Ray
- Hello Baby Blues - Danny Kalb
- She's Gone - Mark Spoelstra
- Slappin' On My Black Cat Bone - Dave Ray

assisting musicians: Bob Landy [Bob Dylan], Doug Pomeroy, Fritz Richmond, John B. Sebastian, Tony Glover; prod. by Jac Holzman & Paul A. Rothchild
cover artwork by Eric Von Schmidt
back cover notes plus
5 page foldout booklet
by Barry Hansen, Harold
Courlander & Paul Nelson













Elektra EKL-264 (mono)
Elektra EKS-7264 (stereo)

5 CD set





(=) Elektra CD 8122795661-2
(EU 2015) "The Greenwich
Village Folk Scene"
(five original Elektra albums from the
1960s, including "The Blues Project")

2
1969
The Pigmeat Blues Band
What Ever Happened To Ian Buchanan?

- Pigmeat Theme
- New Fort Worth Blues
- Kind Hearted Woman
- Like A Circle Around The Sun
- Come Back
- Desert Blues

- Sweet, Sweet Marie
- Don't You Lie To Me
- Tombstone
- Down The Highway
- Me And The Devil

Ian Buchanan, g, voc
Marty Brennan, b, voc
Steve Witchell, d, voc
Kurt Braunstein, g
Buddy Lucas, harm
Richie Gottherer, p




GRT 10013

3
2002
Davis Style - The Legacy of Reverend Gary Davis

- I'm Throwin' Up My Hand - Ari Eisinger
- South Carolina Rag - Willie Walker
- Rag, Mama, Rag - Blind Boy Fuller
- Let Us Get Together - Ken Whiteley & Friends
- I Am The Light Of This World - Maria Muldaur
- Will There Be Stars In My Crown - Ernie Hawkins
- Pure Religion - Eric Noden
- Devil's Dream - Pat Conte
- I Heard The Angels Singing - William Lee Ellis
- United States March - Ellen Britton
- Sit Down On The Banks - Mary Flower
- Twelve Gates To The City - John Cephas & Phil Wiggins)
- Hesitation Blues - Ian Buchanin [!] with the Otis Brothers
- Gary Davis Style - Perry Lederman
- Samson & Delilah I - Peter, Paul & Mary
- Samson & Delilah II - Mitch Greenhill & Mayne Smith
- Gods Knows How Much We Can Bear - Penny Lang & Friends
- Where'd You Get Your Liquor From/Hesitation Blues - Jerry Ricks
- Soon My Work Will All Be Done - Dave Van Ronk & Friends
- I Will Do My Last Singing In This Land - Rick Ruskin)

Inside Sounds CD 508
4
2008
Ian Buchanan: Too Close to Heaven
A Retrospective Collection, 1957-1982

disc 1: Ian Buchanan & Friends: Yale Hoots 1957-1960
- 219 Blues
- Instrumental
- Betty And Dupree
- John Henry
- Pawn Shop Blues
- Sportin' Life
- Hardluck Blues
- Careless Love
- Woman At The Well
- Muddy Water
- Dear Old Dixie
- Rowan County Blues
- East Virginia Blues
- Banjo Tune
- I Ate The Baloney
- Mother's Not Dead
- Sweet Annie
- Sailor In The Deep Blue Sea
- Flower Garden
- The Butcher Boy

disc 2: Antioch College & Queens, New York
- Ramrod Daddy
- Too Close To Heaven
- True Religion
- How Long
- Keep On Truckin' Silver City Bound
- Candy Man
- Good Morning Blues
- Ride My Mule
- Everyday I Have The Blues
- Winding Boy

disc 3: Ian Buchanan Home Tapes: 1968-1980
- All Around The Water Tank
- Hard Luck Blues
- Roll Your Lemon
- Bad Feelin' Blues
- Lifesaver Blues
- Too Close
- Alberta (slower version)
- Alberta (faster version)
- No Education
- Cocaine Blues
- Civil War March
- Sportin' Life
- Ramrod Daddy
- Do Right Papa
- Careless Love #1
- Careless Love #2
- Bad Feelin' Blues (+ Bob Guida, b)
- Livesaver Blues (+ Bob Guida, b)

disc 4: Ian Buchanan 'Live' at Eagle Tavern, May 25, 1982
- Lifeboat Blues #
- Careless Love #
- When The Sun Goes Down #
- Cocaine Blues #
- Alberta #
- You Don't Know #
- Don't Lie To Me #
- Winding Boy #
- Too Close To Heaven #

compiled by Kirsten Dahl and Marty Brennan
# Ian Buchanan & Marty Brennan, voc, g; Pat Conte, mand; Bob Guida, b; Brian Moran, hca
boxed set of 4 CDs



5
2008
My Time Ain't Long
Ian Buchanan Sings Jimmie Rodgers

- All Arouind The Water Tank
- California Blues
- For The Sake Of Days Gone By
- Desert Blues
- TB Blues
- Old Pal
- My Carolina Sunshine Girl
- Jailhouse Blues (Maxine Rabinovitch, voc)
- Pistol Packin' Papa
- In The Jailhouse Now
- Never No Mo' Blues
- My Old Pal (acoustic)

rec. in 1970 at Peer-Southern (Peermusic) under the auspices of their A & R man, Roy Horton
notes by Marty Brennan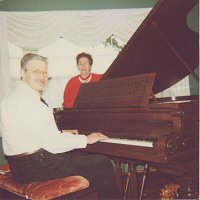 Memories of Ian Buchanan
By Harry 'Suni' McGrath, 2003
Ian Buchanan started a fingerpicking blues revival at Antioch College, Yellow Springs, Ohio in 1961. A very reticent man, he used the "Zen" way in that he did it mostly by NOT playing. He had at that time reportedly himself studied with the Rev. Gary Davis for 9 years and certainly sounded like it (when and if you ever got him to play) in that his playing was complex and flawless.
For many years people (including those who weren't musicians) sought after and fought over copies or even copies of copies of what was known as "the tapes", an hour and a half of reel-to-reel recordings of a large part of his rare repertoire of early blues, obtained by subtrifuge on the part of the local radio station (WYSO) in that they sent out two fellows with a bottle of whiskey and got him passing out drunk, then carried him bodily to the station, propped him up handing him a guitar, and turned on the mike. This story told to me by the then student manager of the station is by personal experience (Suni McGrath) largely true, it was close to impossible to get him to play even with his wife's help, unless he happened to be in a rare mood, or on a Friday night at a closed session known to those of us who were there as bakery night. To a great extent his playing on bakery night sparked, started, or energized the careers of such later recording artists as John Hammond Jr. (now known as John Paul Hammond), Jorma Kaukonen, Suni McGrath, and many others.
I remember my first experience of him well. He was sitting on the floor in the back room of a bakery holding his large Gibson jumbo guitar (it was kind of a group jam), just next to him was John Hammond. They were playing an "old blues" song which caught my ear immediately (if you like this kind of music, even though you have never heard it before, it still grabs you) with its strange chords, progressions, and rhythm.
He was a well known and very visible (although unapproachable) character on campus, usually attired in a black motorcycle jacket. On a campus where bohemian tendencies (long hair and beards) got a very early start, he was "clean cut". As many of his friends did, his preferred transportation was a large BMW motorcycle, the kind with opposing pistons sticking out each side. Like his teacher, the Rev. Gary Davis, his choice of guitars was a Gibson jumbo (j-200 N), very different from the Martins that most of the folk crowd around liked.
Many of us who knew him thought that after his first released cut (Whinin Boy, the Jelly Roll Morton song on "The Blues Project" anthology) he would zoom to prominence in an era when blues appreciation was growing greatly. He certainly deserved it for his innate talent, his diligence and time in study and pursueing it, and what could only be described as his "authenticity". Also, those of us who knew him hoped for an album entirely of him (solo) like the now well worn tapes (and copies as beforesaid) that we continued to listen to because Ian, playing solo, was quite a show in himself. To show how much he was appreciated, when my first wife, who was not a blues fan or musician left and got a divorce, one thing she demanded was a copy of "the tapes"!
About 1966 I personally lost track of him, for I was leaving New York for awhile while Ian was coming in with the purpose of studying at Manhattan School of Music and I never heard anything else from him.

What was Ian's music like? First, like many creative musicians that please others, Ian played for Ian! If no one else was around or listening, yet Ian was playing. Second, Ian played solo and this is very important in an era of tens of thousands of "groups". Did Ian ever play or "jam" with others? Sure, but he was a whole show in himself. Third Ian was primarily a fingerpicking guitarist, an artform largely hidden from the general public. When they do hear it they think "classical" or "bluegrass", but it is an orchestra in itself. Fourth, Jan was a blues guitarist. Most people think this means screaming electric a la B.B.King, not realizing acoustic (fingerpicked once again) blues came first and was played very commercially for years before electricity came along. Fifth, he was a student of the Rev. Gary Davis and played much if not most of Gary Davis' unusual repertoire and this at a time when it was very obscure. Sixth, he played many other "old blues" by other artists. The point of "old blues" is that in the twenties and thirties blues artists did not play in as limited a format as they did later (not just 12 bars, not just I,IV,V chords) and so there were many unusual songs in structure and chord changes, and also, unusual instrumentation like resonator guitars and even mandolins (Yank Rachell). In fact this is one of the main things that struck me on first hearing him play. I had never heard anything like it. It was certainly a part of his artistry that he sought out and put together quite a collection of these long passed, rare sounds for his repertoire. Seventh, I suppose it should be mentioned by me, an instrumentalist, that Ian sang the songs along with his terrific guitar playing. Last, a large part of Ian's unusual repertoire in the order as I experienced it from and with him:

Keep on Trucking Mama (Blind Boy Fuller)
Whinin' Boy (Jelly Roll Morton)
How Long Blues (Leroy Carr and Scrapper Blackwell)
That'll Never Happen No More (Blind Blake)
Bass E-blues chord descending run piece (sorry, although I play it and everyone who knew him got it from him, I don't remember more but it remains one of his best and most unique)
Candy Man (Rev. Gary Davis' version)
Silver City Bound (Blind Lemon Jefferson)
Rani Rod Daddy (Blake, I think)
Too Close (I always presumed Gary Davis on this one)
Hesitation Blues (W.C.Handy? or just New Orleans?)
Working Man Blues (Blake again I think)
Keep Your Lamp Trimmed and Burning (Rev. Gary Davis)
Existentialist .... It should be said Ian was an "existentialist", a philosophy not much heard of these days (2003), but much thought upon then (1960) when I might add, religion was not much in favor. How do I know Ian was this? Part of being an existentialist was that if you were, you never ever said anything about it, a person might know it by the presence of certain books around your place by authors like Jean Paul Sartre, Albert Camus, etc. Part of the creed or ethos of being an existentialist as understood by those around Antioch and other thinking circles was "authenticity". What you are in yourself (what you might do when alone) you don't go blowing off, least of all about being an "existentialist", not for image, praise of others, ideology, attainment, goals of institutional thought and standards, etc. This is part of the reason he and others liked "old blues" a form of music without pretensions, institutions, or standards, largely unknown even, outside of a dwindling obscure group of rural blacks. If a piece of "old blues" was intriguing or enjoyable even if it was unlike anything ever heard by anyone before, possibly braking all known rules of harmony, still, "it was". Its existence was its own justification with no apparatus of any kind of academia or commercial interest to organize or explain it..
The short essay above has been sent to me
by Harry 'Suni' McGrath for use "any way you think best".
I gladly post it here (scanned, OCRed and a tiny little bit edited ;-) - thanks a lot, Harry!
(see also Suni McGrath discography)
In Memory of Ian Buchanan
By Kirsten Dahl, May 19, 2005
I lived with and then was married to Ian from 1961 through 1967, when we divorced. We remained in touch with each other through 1974. Ian was a sweet, loving, complicated man whose closest friends were the guys he had grown up with in Queens. Although his best friend, Marty Brennan, was a guitarist, Ian's other friends were not particularly musical. They loved Ian and became interested in his music because of his passion. Ian loved them because they accepted him absolutely but did not put him on a pedestal.
Ian was born in Ontario, Canada on November 10, 1939 to a young single woman of a family of cabinet makers; his mother gave him up for adoption at birth. Ian was adopted through the Spence-Chapin adoption agency by the Buchanan family who lived in Forest Hills, Queens, New York City. The Buchanans had already adopted a two year older boy, named Richard. Mr. And Mrs. Buchanan were newspaper journalists (Ian jokingly always referred to them as "hard bitten") although by the time Ian was in his teens his mother had become the editor of Parents Magazine. From a fairly early age Ian felt that he was different from his adoptive family and this became more evident as he grew up. We learned his family background when we consulted the adoption agency because Ian had developed a very mild diabetes and wanted to know about his family medical history. The story of his mother's family gave him some explanation of why he had always felt so different from the other Buchanans. Ian's adoptive father died when Ian was in his mid-teens; Ian said he felt somewhat closer to his father than his mother, but experienced both as cold, distant strivers who didn't understand him or his interest in the blues.

Ian took up the guitar in his teens and developed an early interest in what was then called the country blues, becoming a passionate collector of old 78s pretty much unknown to anyone else, re-recording them on his professional reel to reel tape recorder. When I knew him (1961 - 1967) he had an enormous collection of tapes recording these then largely unknown old 78s of blues artists from the 30s. In his late teens he sought out Reverend Gary Davis (who lived in the South Bronx at that time) and began lessons with him; he studied with Davis off and on for maybe 5 years. Ian remained close to Davis for many years after he stopped studying with him and would visit him at his house and also occasionally attended church services when Davis was preaching. Davis was not his only influence, however. Ian's tastes in the blues were broad ranging from Lonnie Johnson, Blind Willie Johnson, Broonzy, Hopkins, Blind Lemon Jefferson and everyone in between. Although Ian was very musical he would concentrate for days or weeks on one musician, dissecting his style bit by bit until he felt he had mastered it.
Ian began college at NYU's engineering school but then in 1958 transferred to Antioch College in Yellow Springs, Ohio - a school that more closely matched his own unconventional style. At that time Antioch attracted a lot of kids from New York City talented in the sciences and the arts. It was politically left wing. Students at Antioch viewed themselves as an outpost of "the city" (NYC) both because so many were from there and because so many held co-op jobs in New York through Antioch's work-study program. When Ian began at Antioch, there was a lot of interest in bluegrass but very less in the blues; very few white acoustic blues guitarists. Ian quickly became a kind of legend of campus - partly because of his James' Dean style (black leather jacket, well worn blue jeans and engineer boots) and partly because of his brilliant blues guitar. Although very bright, Ian was not much interested in scholastic achievement nor in college life beyond music making. There was a lot of the latter at Antioch but not enough to keep Ian there for long; he dropped out in 1959. He moved back to his family home in Queens and began performing in Greenwich Village: Gerde's Folk City, Café Bizarre and Café Wha in particular. Ian like performing for an appreciative, knowledgeable audience but he found much of the club scene pretentious and irritating. One of his favorite stories was of a NY Times' critic who heard him play and said foolishly, "Wow that sounds like really old time Negro music, where did you learn it?" Ian's sardonic reply "From an old time Negro" cut short any further conversation with the critic. On the other hand the musical scene in the late 50s in Greenwich Village was exciting because other white blues guitarists were emerging as well, people like Dave Van Ronk and Spider John Koerner. There was a very active folk music scene as well (Bob Dylan also played at Gerde's which had a Monday night open mike policy) but Ian was never interested in folk music, although he enjoyed and could play bluegrass.
Ian returned to Antioch in the summer of 1961. Of course his legend proceeded him and everyone on the campus eagerly anticipated his return. He resumed playing Friday nights at the local bakery - he had an arrangement with the baker that Ian would play all night to entertain the baker as he baked. Anyone could come listen and occasionally others would join in. Ian was a very generous musician - he liked playing with others who were as serious as he was and he enjoyed teaching newcomers. This was how he came to teach Jorma Kaukonen (Jefferson Airplane and Hot Tuna) and John Hammond, Jr. Both of whom passed through Antioch as students while Ian was there.

As graduation loomed, Ian struggled to figure out what to do. He had not interest in continuing in mathematics (his undergraduate major) but also didn't want to return to the club scene in Greenwich Village which he felt was degrading. He was accepted in Guitar Performance at the Mannes College of Music; his plan was to study classical guitar with the idea he might be able to make a living performing and teaching. He was also eager to return to his hometown, Queens and pick up his old friendships. Ian lasted about a year at Mannes. He actually enjoyed it as much as he ever enjoyed any educational setting and he admired his guitar teacher. He developed a small cyst in his right hand, however, which compromised his ability to play classical guitar. He was told in a medical consultation that although the cyst could be removed the operation itself would probably also damage his playing ability. Ian was shattered. He briefly studied jazz guitar and then returned to his deepest passion, the blues. He continued playing the blues until his death.

Ian was a loving, generous man who, however, did not suffer fools kindly. He was never cruel or mean but would simply withdraw from social contact if he found the other person hard to bear. He liked performing as in playing with and for other musicians, but he had little interest in self promotion. His career in music always depended on his friends pursuing gigs for him and his reputation.
In May 1970, following his mother's death, Ian suffered his first psychotic break. He became very paranoid and although his friends tried valiantly to help him, he refused help. In the middle of this crisis, he jumped out the window of his apartment. He survived but was a paraplegic confined to a wheelchair for the rest of his life. He continued to play, occasionally perform, and teach, sustained by his oldest and closest friends, especially Marty Brennan who would carry Ian up and downstairs on his back.

This memory was kindly sent to me by Kirsten Dahl,
married to Ian Buchanan from 1961 until 1967



Please feel free
to complete,
to correct
or to comment
my writings



=
Link to own page !!!