"The Even Dozen Jug Band
Vocal and instrumental group, performers, and recording artists
During the recent [1977!] urban folk revival, the combined accomplishments of a group of artists have generally been more significant than the later individual efforts of those involved. One of the exceptions to this commonplace phenomenon is the Even Dozen Jug Band. Although many talented musicians were brought together by its formation,its members proved to be less productive as components of this group than might have been expected, and the talent of its members was not fully developed until after they had gone their separate ways.
The Even Dozen Jug Band was formed by Stefan Grossman and the old-timey guitarist Peter Siegel. The group was organized for "fun", and it had a nucleus of about seven players and five to seven other friends who frequently joined in to make up a dozen or so participants. They recorded one LP for Elektra (which was released in January 1964); they made a couple of television appearances; and they performed several times in concert, twice at New York's Carnegie Hall.
Some of the Even Dozen Jug Band's members included Dave Grisman, producer and mandolinist who plays with many artists today; Stefan Grossman, virtuoso solo country blues and ragtime guitarist; Steve Katz, later with Blood, Sweat and Tears and the Blues Projekt, Maria Muldaur, later with the Jim Kweskin Jug Band and now a well known solo artist; Josh Rifkin, arranger of Scott Joplin fame; John Sebastian, later with the Lovin' Spoonful and now a solo artist; and Peter Siegel; later an A&R head (artist and repertoire producer) for Elektra Records and Polydor Records and now [1977!] head of ATV Record offices in the United States.
The group finally disbanded after disagreement over its status as primarily a professional or a "fun" band, which left its members divided down the middle over the issue."
Kristin Baggelaar & Donald Milton:
The Folk Music Encyclopedia.
London / New York / Sidney 1977
John Sebastian's comment on the above encyclopedia entry:
"Hi, John Sebastian here with a few corrections. The EDJB didn't form for fun. The real impetus was the fact that Paul Rothchild was interested in producing a jug band, and if we got it together, we could be it. Also the band didn't disband about disagreements. We had lost our lead singer to the Kweskin band, who were in fact much better, so there wasn't much to keep us going. Small stuff, but fun for detail freaks.
Best wishes, John Sebastian" (08/31/2007)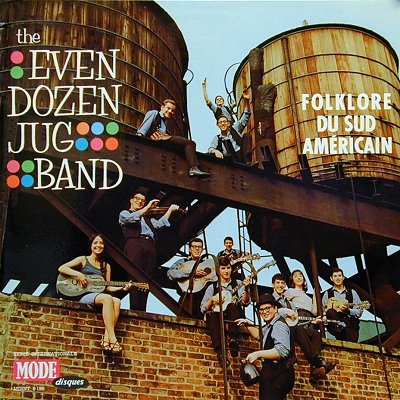 The Even Dozen Jug Band: "Folklore du Sud Américain" [sic! ="...of the south"]
Mode disques MDINT 9196; french issue of "Even Dozen Jug Band" Elektra EKS-7246 (1964),
= Bounty BY6023 (UK)
= Everest FS-339 (1978) "Jug Band Music & Rags of the South"
= Legacy LEG 119 (19??) "Jug Band Songs Of The Southern Mountains"
= Columbia 119 (19??)

reissued on CD by Collector's Choice Records WWCCM02632
and by Elektra Records (Jp 1998)

side 1
side 2
1
Take Your Fingers Off It
(W. Shade - C. Burke - J. Jones - C. Pierce)
1
Rag Mama
(traditional)
2
Come On In
(traditional)
2
France Blues
(traditional)
3
Mandolin King Rag
(traditional)
3
On The Road Again
(W. Shade - J. Jones)
4
Overseas Stomp
(W. Shade - J. Jones)
4
Original Colossal Drag Rag
(J. Rifkin)
5
Evolution Mama
(traditional)
5
All Worn Out
(traditional)
6
The Even Dozens
(J. Rifkin - G. Davis)
6
Lonely One In This Town
(L. Carter - W. Jacob)
7
I Don't Love Nobody
(traditional)
7
Sadie Green
(traditional)
musicians
Stefan Grossman (vocal, guitar, six-string banjo)
Pete Jacobson (vocal, guitar, six-string banjo)
Pete Siegel (vocal, guitar, five-string banjo)
Frank Goodkin (five-string banjo)
Dave Grisman (mandolin)
Fred Weisz (violin)

Steve Katz (vocal, washboard)
Josh Rifkin (vocal, piano)
John Benson [= John Sebastian] (harmonica)
Danny Lauffer (jug)
Peggy Haine (jug)
Maria D'Amato [later Maria Muldaur] (vocal)
Bob Gurland (vocal)
notes
In the early 1920s, in general response to a mild economic recession and in specific response to the competition of a new-fangled enemy, radio, the fledging American recording industry began looking for novel means to stimulate its lagging sales. An Atlanta businessman had an idea that untapped markets existed in the South for limited pressings of favorite local musicians, and soon location recording sessions in Atlanta, Nashville, and Memphis resulted in both "race" and country music records. While these records were recorded, they sold almost equally well, to everyone's surprise, in the larger Northern cities. Soon, a gigantic, recording movement was underway, and hundreds of rural folk artists were documented by the big record companies. Truly, here was a rare American phenomenon: the companies, although driven by a sheer profit motive, were accidentally fulfilling an inestimable service by preserving this music on disc; native industry and native culture met headon on grounds that were mutually beneficial. From this era, which continued until the Depression, came such famous names as Clarence Ashley, the Mississippi Sheiks, Grayson and Whitter, Gus Cannon, Ernest Stonemand, the Memphis Jug Band, and later, the Carter Family and Jimmie Rodgers. The every beginning of the Even Dozen Jug Band is a dramatic example of the similarities of style between old-timey and jug band music. In the late spring of this year, Pete Siegel, an extremely able and winning performer of both bluegrass and old-timey music, brought a sizeable group of his musician friends over to swap ideas and perform with an equal number of Stefan Grossman's blues singers. The group, after a few nights of playing together, found that the two forms of music complemented each other perfectly, and the Even Dozen Jug Band was born. Now, usually once or twice in every concert, they'll quip, this next one's from the album "Mountain Music Jug Band Style", or announce an upcoming "jug-grass" tune. I first heard the Even Dozen Jug Band about a month ago, and although their fine reputation had preceded them, I was still quite unprepared for the tremendous blend of musicianship and good fun that they presented in concert. Their daffy choreography, charming bashfulness, and hilarious ad-libs on the size of their group displayed a fine sense of natural and rambunctious showmanship, and after their first stomping number, "Take Your Fingers Off It", I sat back in my seat, a foolish grin on my face, and thought to myself, "I haven't had so much fun at a folk music concert since I first heard the New Lost City Ramblers". The Even Dozens, with the brilliant Josh Rifkin playing absolutely faultless rag-time piano, they had the audience (myself willingly included) in the palm of their hand. This record should win them many more friends.

Paul Nelson
additional information

"Her [Maria Muldaur's] first break came during the summer of her twenty-first birthday when Victoria Spivey organized [did she?] the Even Dozen Jug Band with David Grisman, Stefan Grossman, Steve Katz, Maria Muldaur [then Maria D'Amato], Josh Rifkin, and John Sebastian, to record an album of jug band music for her own label, Spivey Records. When Vanguard signed the Kweskin Jug Band, Elektra Records made a bid for the Even Dozen Jug Band in anticipation of a jug band music fad, and they switched labels and cut an album in two days. Before the group disbanded, they had performed two concerts at New York's Carnegie Hall and a Hootenanny television show."

Kristin Baggelaar & Donald Milton:
The Folk Music Encyclopedia.
London / New York / Sidney 1977

Even Dozen Jug Band
Elektra
EKS-7246
December '63 [?]

Brock Helander:
The Rock Who's Who.
New York / London 1982

"One of his [John Sebastian's] first formal associations in the early 1960s was with a group called Even Dozen Jug Band, which made one album - on which John performed - before breaking up."

Irwin Stambler & Gerlun Landon:
The Encyclopedia of Folk, Country & Western Music.
New York 2nd ed. 1984

"The Even Dozen Jug Band, released in January 1964, was their sole recorded legacy, ..."

"It should be noted, however, that not all of these artists appear on all of the songs."

Colin Larkin (ed.):
The Guinness Who's Who of Folk Music.
Enfield 1993
Reissues:

1978
Everest Archive of Folk & Jazz Music FS-339
"Jug Band Music And Rags Of The South"
(cover shows Jim Kweskin band!)

19??
Legacy LEG 119
"Jug Band Songs Of The Southern Mountains"
Anthologies / Compilations / Samplers
containing songs performed by The Even Dozen Jug Band
#
year
of release
title /
songs performed by The Even Dozen Jug Band
label # / notes
1
1971
3 LP
V.A.: Garden Of Delights

- Come On In

<!A HREF="antholog/grafik/garden4.jpg">
Elektra S3 10 (stereo)
= Elektra ESP 9001 (UK; DLP)
2
1984
V. A.: Bleecker & McDougal:
The Folk Scene Of The 60s,
[The Jac Holzman Years]

- On The Road Again

Elektra 60381-1-V

3
1992
Troubadours Of The Folk Era
Volume Three: The Groups

- Take Your Fingers Off It

Rhino CD R2 70264
4
2001
3-CD box
Washington Square Memoirs: The Great Urban Folk Boom (1950-1970)

- Take Your Fingers Off It
<!A HREF="antholog/grafik/memoirs4.jpg">
Rhino R2 74264


Please feel free to complete,
to correct or to comment my writings




Wanna have a closer look at them?

d'Amato
Goodkin
Grisman
Grossman
Gurland
Katz
Lauffer
Rifkin
Sebastian
Siegel