This discography is a non-commercial labor-of-love and is in no way associated with any business firm.
All I know about the resp. artist's / label's musical output is shown on this page. To purchase out-of-print records I recommend an ebay, gemm or google search. And - sorry for that - I have not the time to answer any e-mails asking me about further information, let alone duplicating out-of-print recordings I happen to own.

Stefan Wirz www.wirz.de
Dave Van Ronk 45 rpm / LPs / CDs
#
year
of release
title
label # / notes
1
1958
Our Singing Heritage Vol. 1

- Jack Went A-Sailing - Lori Holland
- Strawberry Roan - Pat Foster
- Rich Old Lady - Peggy Seeger
- Little Old Log Cabin In The Lane - Pegram and Parham
- Gypsy Lover - Lori Holland
- When I Was Single - E.G. Huntington
- Roll On Buddy - Paul Clayton
- The House Carpenter - Ellen Stekert
- Nobody Know [sic] You When You're Down And Out - Dave Van Ronk @ youtube

- Who's Going To Shoe Your Pretty Little Feet - Lee Charles
- Lakes Of Ponchartrain - E.G. Huntington
- Froggie Went A-Courtin - Ellen Stekert
- Goodbye, Little Bonnie, Goodbye - Paul Clayton
- John Riley - Myra Ross
- Johnny Runkins - Pat Foster
- Mary, What You Call That Pretty Little Baby - Dave Van Ronk @ youtube
- Yellow Rose Of Texas - Pegram and Parham
- Love Henry - Peggy Seeger


notes by
Kenneth S. Goldstein







Elektra EKL 151
2
1958
The Orange Blossom Jug Five: Skiffle in Stereo

- Just Because * @ youtube
- Camille Gaspegeau *
- You Gotta Like It (Dave Van Ronk) # @ youtube
- Keepin' Thin (instr)
- Salty Dog #
- Down By The Riverside #
- Trouble In Mind # @ youtube

- New Original Hello Alaska Statehood Joys (instr)
- Take Your Fingers Off It # * @ youtube
- Snake Rag (instr)
- Reckless Blues # @ youtube
- Ice Cream *
- Voice Of A Porkchop * @ youtube
- Long Time Man (Dave Van Ronk) #

Dave Van Ronk, g, # voc; Sam Charters, cornet, g, kazoo, washb, * voc; Russell Glynn, jug; Ann Danberg [later Ann Charters], washboard; Len Kunstadt, kazoo
front cover artwork by RAAS Studio - Learner




<!A HREF="vanronk/grafik/skiffll4.jpg">
Lyrichord LLST 773
[Peter Fritsch's label]
3
1959
Foc'sle Songs and Shanties@ Spotify
Sung by Paul Clayton and the Foc'sle Singers

- Ratcliffe Highway (Paul Clayton)
- Rio Grande (Roger Abrahams)
- Haul On The Bowline (Dave Van Ronk) # @ youtube
- Maggie May (Paul Clayton)
- Haul Away Joe (Bob Brill)
- Do My Johnny Booker (Paul Clayton)
- Roll The Cotton Down (Roger Abrahams)
- Haul Boys Haul (Paul Clayton)
- Leave Her Johnny (Dave Van Ronk) # @ youtube
- Paddy Lay Back (Paul Clayton)

- Fire Down Below (Paul Clayton)
- A Hundred Years Ago (Bob Brill)
- Santy Anno (Dave Van Ronk) # @ youtube
- Captain Nipper (Paul Clayton)
- Hanging Johnny (Roger Abrahams)
- Banks Of The Sacramento (Paul Clayton)
- Won't You Go My Way (Roger Abrahams)
- Good Bye Fare Thee Well (Paul Clayton)
- All Bound To Go (Roger Abrahams)
- The Black Ball Line (Paul Clayton)

# Dave Van Ronk, lead vocal
Dave Van Ronk member of chorus on all other tracks
Folkways FA 2429 front cover lithograph is American Clipper 'The Sovereign of the Seas'
Le Chant Du Monde FWX-M 52429 photography by Jean Bottin
notes by
Kenneth S. Goldstein









Folkways FA 2429






= Le Chant Du Monde
FWX-M 52429 (Fr)
"Chants de marins anglais"

= Smithsonian Folkways
FA 2429 (CD-R) (US 2007)

4
5/1959

Folkways FS 3818 back cover
(original espresso machine cover)








Dave Van Ronk Sings Ballads, Blues And A Spiritual

- Duncan And Brady @ youtube
- Black Mountain Blues @ youtube
- In The Pines @ youtube
- My Baby's So Sweet @ youtube
- Twelve Gates To The City @ youtube
- Winin' Boy Blues @ youtube
- If You Leave Me Pretty Mama @ youtube

- Backwater Blues @ youtube
- Careless Love @ youtube
- Betty And Dupree @ youtube
- K. C. Moan @ youtube
- Gambler's Blues @ youtube
- John Henry @ youtube
- How Long @ youtube

rec. & ed. by Kenneth S. Goldstein
Folkways FS 3818 front cover photo (Dave Van Ronk portrait) by David Gahr

Verve Folkways FV/FVS-9017 "Gambler's Blues" liner notes:

A Note From The Singer:
"Not infrequently I am taken to task for the manner in which I approach my material. Being of Northern white origin and stressing Southern Negro songs as I do is, in a way, difficult to justify. I first came into contact with Negro traditional songs through a chance encounter with a recording of 'Stackolee' made by Furry Lewis, a southern street singer about whom little seems to be known. Taking it to be a form of Jazz, in which I was primarily interested and involved, I made some further investigations and discovered a whole field of music which I had not previously known existed. At this point I don't think I had ever heard a white person sing a Negro song (with the exception of my grandmother who remembered some old cakewalk and ragtime songs from the 90's) and so, having only such singers as Furry Lewis, King Solomon Hill, and Leadbelly for models, when I tried to sing these songs I naturally imitated what I heard and, if I couldn't understand a word here or there, I just slurred right along with the singer. At that time, nobody listened to me anyway.
Since then I have learned that the term 'folk music' encompasses more than just 'Blue Tail Fly' and 'On Top of Old Smokey' and that there are quite a few white singers who sing the same material that I do with a very different approach from my own. Although I can appreciate the 'white approach' to Negro folksongs and enjoy the work of many of its adherents, I still reserve the right to sing these songs in the style in which I am accustomed, partly because of habit, and partly, I confess, because I feel that my way is the 'right way.'"

-- Dave Van Ronk






Folkways FS 3818








= Verve Folkways FV/FVS-
9017 (12/1965) "Gambler's
Blues" (mono / stereo)












= Folkways FTS 31020 (US
1968)"Black Mountain Blues" "Electronically rechannelled to simulate Stereophonic"




= XTRA 1081 (UK 1969)
"Black Mountain Blues"

(=) Smithsonian Folkways
CD 40041 (1991) "The Folkways Years 1959 - 1961

5
1960
The Unfortunate Rake@ Spotify
A Study in the Evolution of a Ballad

- The Unfortunate Rake - A.L. Lloyd and Alf Edwards
- The Trooper Cut Down In His Prime - Ewan MacColl and Peggy Seeger
- The Young Sailor Cut Down In His Prime - Harry Cox
- Noo I'm A Young Man Cut Down In My Prime - Willie Mathieson
- The Bad Girl's Lament - Wade Hemsworth
- One Morning In May - Hally Wood
- Bright Summer Morning - Viola Penn
- The Girl In The Dilger Case - D.K. Wilgus
- The Cowboy's Lament - Bruce Buckley
- Streets Of Laredo - Harry Jackson

- St. James Hospital - Alan Lomax
- Gambler's Blues - Dave Van Ronk @ youtube
- I Once Was A Carman In The Big Mountain Con - Guthrie T. "Gus" Meade
- The Lineman's Hymn - Rosalie Sorrels
- The Wild Lumberjack - Kenneth S. Goldstein
- A Sun Valley Song - Jan Brunvand and Ellen Stekert
- The Ballad Of Bloody Thursday - John Greenway
- Streets Of Hamtramck - Bill Friedland, Mark Newman, and Morris Howarth
- The Ballad Of Sherman Wu - Pete Seeger
- The Professor's Lament - Roger Abrahams


notes by
Kenneth S. Goldstein









Folkways FA/FS 3805

= Folkways CD FW03805
(CD-R 2007)

6
1961
Van Ronk Sings (Volume 2)

- Bed Bug Blues
- Yas-Yas-Yas
- See That My Grave is Kept Clean
- Tell Old Bill
- Georgie And The IRT
- Hesitation Blues (2:34)
- Hootchy Kootchy Man
- Sweet Substitute

- Dink's Song
- River Come Down
- Just A Closer Walk With Thee
- Come Back Baby
- Spike Driver's Moan
- Standing By My Window
- Willie The Weeper

Folkways FA 2383 front cover artwork by Eric Von Schmidt
Verve Folkways front cover photo (Dave Van Ronk portrait) by David Gahr

"The blues are common property. The most recent form, the most vital in contemporary American terms, grew from the suffering of the southern negro in slavery times, his frustrations in the bitter post-Civil War period, the movement first to the big cities, then north. The blues have several easily recognizable forms, 12 bar, 8 bar, etc., but now as the wealth of recorded country blues and songs from the southern prisons are becoming more widely known, the emphasis is shifting from the scholarly insistence on form to what might be called a 'blues approach'.
Dave Van Ronk sings many songs on this record besides songs in the accepted blues form, but with one or two exceptions the blues approach is there."

-- Eric Von Schmidt

notes (4 pages leaflet)
by Eric Von Schmidt

Folkways FA 2383
"Van Ronk Sings" (Vol. 2)

also announced as "Van Ronk Sings Earthy Ballads And Blues"

notes by Eric Von Schmidt







= Verve Folkways FV-9006
(1965) (mono) "Dave Van Ronk Sings The Blues"

notes by Eric Von Schmidt







= Verve Folkways FVS
9006 (1965) (stereo) "Dave Van Ronk Sings The Blues"

notes by Eric Von Schmidt







= Verve Folkways VLP 5007
(UK 1965) "Dave Van Ronk
Sings The Blues"

(=) Smithsonian Folkways
CD 40041 (1991) "The Folkways Years 1959 - 1961




= Folkways CD FS-3818
(2007) "Van Ronk Sings"

180 g LP
notes by Eric Von Schmidt



= DOXY DOY661LP (2012)
"Van Ronk Sings" (Vol. 2)

7
11/1962
Dave Van Ronk Folksinger

- He Was A Friend Of Mine @ youtube
- Motherless Children
- Stackalee
- Mr. Noah
- Come Back Baby
- Poor Lazarus

- Samson & Delilah
- Cocaine Blues
- You've Been A Good Old Wagon
- Fixin' To Die
- Hang Me, Oh Hang Me
- Long John
- Chicken Is Nice

rec. April 1962 by Rudy Van Gelder; Dave Van Ronk, voc, g, dulcimer, autoharp
front cover photo by Don Schlitten

Prestige PR / PRST 7527 has side A / side B interchanged, as compared to Prestige INT 13056 and Prestige FL 14012!

With this Prestige record, 26 year old Dave Van Ronk establishes himself without qualification as one of the best folk-blues singers in America today. Already a master of a growling, near-shouting way with American ballads and blues, Van Ronk new branches out into the softer shadings of meaning and tasteful use of humor which mark the consumate musician. Few other folk singers today can match this versatility, let alone the raw, driving power shown here to its best advantage. Van Ronk's career has been typical of the burgeoning school of city youngsters who adopt Negro blues and the southern folk idiom for their own. Yet there are basic differences. For one thing, his apprenticeship began not in folk but in New Orleans style jazz. Raised in the brick and asphalt wilds of deepest Brooklyn, Van Ronk early found himself singing with two local bands. But along with those down river sounds he was also discovering the parallel earthiness of old Negro and country blues - discovering it on scratchy records by Blind Boy Fuller, Blind Lemon Jefferson, Furry lewis, and inevitably, Leadbelly. Van Ronk's entry into the folk field was still slow. As a merchant seaman sailing to southern ports he learned more about the blues. Although a flat wallet forced him to other, really incongruous jobs - and God knows, working as an eyedot painter in a Mickey Mouse factory is pretty far out - he kept studying. Five years ago he finally let loose at a Greenwich Village folk concert. Odetta, singing in the same concert, like his gutteral sound so much she urged him to continue with the blues. Singing in coffee houses and colleges he soon found himself with a devoted group of followers - and not a few imitators. Not everyone liked him. Some critics wanted to know what business a Brooklyn lad of Dutch-Irish descent had singing Negro stuff. But tremendous audience response, plus two L.P. records, proved more agreed with his style than not. By 1960 New York Times critic Robert Sheiton was calling him 'one of the best city folk singers in the land'. By last fall however, Van Ronk had decided his approach to the blues was too limited. leaving the folk scene for the winter he began studying new possibilities for working with his classic material. He listened all day long to records by old timers like Mance Lipscomb or the ragtime men. He gave more consideration to voice dynamics, began transposing the intricate contrapunctal ideas of ragtime piano to his big Gibson guitar. When he showed up again this spring he did so with a more restrained but more mature style, its power undiminished but enhanced by new shadings, new warmth of feeling. Today Van Ronk concentrates on the depth of musical possibilities inherent in his material, with his young wife Terri his daily critic. A large, bearded young man who looks like a bear as he amibles around his apartment, he'll grab his guitar for hours to work out some new phrasing. The Van Ronks are also known among Village friends as boss poker players, and hopeless addicts of a whole bookcase of science fiction they refer to as 'mind rot'.
'He Was A Friend of Mine' shows at its best Van Ronk's deep understanding and compassion for the simplest folk material. A lament on a poor friend who died on the road, it has a genuine sense of the injustice of life without failing into the bathos of much contemporary folk music. 'Lazarus', a tremendously moving ballad of the unting down of a Negro, along with the classic 'Sampson and Delilah' seen through southern eyes, both show the singer in top form. As powerful folk myths these songs are done with slow-buildin drama, splendid guitar work, and artistic control. Two more songs - 'Stackalee' and 'Long John' - continue the themes of strife and violence Van Ronk handles so well. 'Stackalee' of course is the famous gun-totin' gambler who challenges the devil for control of hell (to Van Ronk's intricate guitar work). 'Long John', a simpler ballad, tells only of a convict escape from a chain gang. Unlike the singer's earlier versions of these songs in concerts, the present offerings are modified by gentle humor, and a refusal to overdramitize.
Whimsical humor has its place too. In the Liberian song of a man's search for a wife, 'Chicken Is Nice', Van Ronk lets his amusing, pleasantly repetitive material speak for itself. The Negro 'You Been A Good Old Wagon', a sexual reproach to a worn out lover, is similarly dramatized without ostentation. Again, the humerous and almost childlike 'Mister Noah', aided by really noteworthy guitar, gives the album a change of pace that bespeaks versatility.
The personal and intimate come in two more songs. One of them, 'Come Back Baby', has been recorded by so many singers it's become a fixture of the blues. Here it is done with wistful shadings that give the plea a highly lifelike effect. The other, 'Cocaine Blues', is a minor masterpiece of talking and singing. Van Ronk's junkie in his twilight world of fixes, nausea, and inevitable death, has a pathos about him rarely evoked on a record. Three more songs continue the personal touch. 'I'll Be Dead and Gone' gives voice to a man who has seen.enough of life and is ready to die. Yet there is no bitterness,only sad resignation. 'Believe I'rn Fixin' To Die' continues more frenetically this theme as its building crescendo. The classic 'Motherless Chidren' with the same slow, relentless drive, characteizes Van Ronk's unforgettable power."

-- J.R. Goddard

notes by J.R. Goddard









Prestige INT 13056 (11/1962)

notes by J.R. Goddard







Prestige FL 14012 (1963)
(mono)






= Prestige PR / PRST 7527
(1967) (mono / stereo)


(=) Fantasy DLP/CD 24710
(along with Prestige/Folklore 14025
"Inside Dave Van Ronk")

8
1963
Dave Van Ronk with The Red Onion Jazz Band
In The Tradition

- Cake Walking Babies From Home # @ youtube
- St. Louis Tickle @ youtube
- Death Letter Blues @ youtube
- If I Had To Do It All Over Again, I'd Do It All Over You # @ youtube
- Whoa Back Buck @ youtube

- Sister Kate # @ youtube
- Kansas City Blues @ youtube
- Green Rocky Road @ youtube
- See See Rider # @ youtube
- Rocks And Gravel @ youtube
- Hesitation Blues # (3:32) @ youtube

rec. August 1963 by Rudy Van Gelder; Dave Van Ronk, voc, g; # The Red Onion Jazz Band: Denis Brady, cl, ss; John Bucher, cornet; Dick Dreiwitz, tb; Steve McKnight, tuba; Hank Ross, p; Eric Hassell, banjo; Robert L. Thompson, dr, leader

Prestige PRT-7800 labels give the title as "In The Traditional"

Here is an album which will please jazz and folk fans alike. It combines on one record six examples of the superb jazz singing of Dave Van Ronk with the Red Onion Jazz Band and six fine examples of Dave's folk style. These songs show the unity between jazz and Negro folk songs, both swing and can be improvised on freely. It has been Van Ronk's ambition for a long time to cut some sides with a jazz group and, by the happy choice of Bob Thompson's band, he has fulfilled his desire. At one point early in the Red Onion recording session, Van Ronk said, 'This must be like the early days when jazz was fun'. He had not to belabor the point, the music here speaks vividly the truth of his statement. These sides are infectiously good humored; There is in evidence a rapport between artists that is reminiscent of earlier jazz classics. Jazz history is replete with examples of jazz band recordings made with female singers (notably the Smiths, and 'Ma' Rainey), but there are comparatively few male vocalists of traditional jazz songs. Louis Armstrong, naturally stands out. 'Jelly Roll' Morton; and contemporaries 'Turk' Murphy, Jack Teagarden, Clancy Hayes and Jimmy Witherspoon are outstanding examples of male singers. Of course six songs are not keys to immortality, but Dave Van Ronk's singing promises a brilliant future as a jazz singer just as the included folk songs present an exciting and maturing folk stylist.
The Red Onion Jazz Band, begun circa 1951, will soon be the longest lived 'revival' band ever. The Onions is the only traditional style band to survive in the East out of the many groups of the 1950's. The 'revival' or traditional style is the reflection of early jazz recordings and music in the mirror of present day technique without losing any affection for the sources -- ragtime, blues, spirituals and some popular songs of the 1920's. Started by Robert L. Thompson, the band has had at various times such respected musicians as Bob Hodes on cornet; Joe Muranyi, clarinet; Charles Sonnastine, trombone and Jirn Heanue, cornet. Originally called by New York born Thompson, The 'Dixieland Foolwarmers', they adopted the name 'Red Onions' while playing an engagement at Jimmy Ryan's old Blue Note. 'Red Onions' had also been the name of both an early New Orleans Band and a Crescent City nitery. Also it is no doubt worthwhile to note that the current R.O.J.B. is one of the biggest bands in jazz history . . . that is, they average close to six feet in height.
The lead horns are played by: John Bucher - cornet, (whose playing is a constant source of pleasure), Denis Brady, who plays both clarinet and soprano-sax and trombonist Dick Dreiwitz, the newest member of the band but who has absorbed fully the spirit of the Onions.
In the rhythm section on banjo is Eric Hassell, who played in his native England with 'Kenny Ball's Jazz Band'. Eric just showbd up one night where the Onion's band was playing about two years ago, sat in and was so good he was invited into the band. Much of the unique sound of the band is attributable to tuba player Steve McKnight who has been with the Onions six or seven years also having played with them trombone, piano, guitar and banjo. At the piano is the highly regarded Hank Ross, a veteran with the group on and off since its' inception. Hank recorded with Bob Helm of the Murphy Band in 1954 and with the 1955 version of the Onion... His playing is consistently tasteful and imaginative as you will hear.
The leader and drummer is Robert L. Thompson who is also an accomplished washboard player (listen to the above mentioned Helm set); a respected record reviewer and essayist (for years he wrote in the Record Changer under his own name and the pseudonym 'Aaron Harris'), he is also an Experimental Physcoinist at Columbia University Medical School. Bob is responsible for most of the arranging of the band's expanding repertoire of over two-hundred tunes. Fortunate to have heard many jazz greats, he says he has been most influenced as a drummer by 'Baby' Dodds, Ben Poilack and Bill Dart while his band reflects sympathetic listening to 'Jelly Roll' Morton, 'King' Oliver, Louis' Hot Five and Seven, the San Francisco 'Revival' Bands, 'Bunk' Johnson and various early white New Orleans recordings. Bob has taken their ideas, arranged them with his own conceptions and created a style all his own. We may even say he comes close to topping them all.
Now with great personal pleasure I write about Dave Van Ronk who is featured on this, his second Prestige Album. I have known Dave since the days when he bugged us with seemingly interminable verses of Frankie and Johnny, Stackolee, Sam Hall and other hoary folk standards. He and we, his friends, were also captived by jazz and at one time, by pooling our records had over 8,000 recorded examples of jazz and folk music. With a background like this, (as good as any city dwellers'), it was inevitable for a talented person like Dave to seek further influences and to evolve his own style. Dave's playing has been influenced by the recordings of such men as 'Leadbelly', Sonny Terry, Furry Lewis, Woody Guthrie and 'Blind Lemon' among others. Dave studied drums for awhile but his natural bent lay towards the guitar which he played in a jazz group he helped from called the 'Brute Force Jazz Band', but although his singing retained jazz shadings his guitar work took an more and more a folk blues style. He moved from Quees into the Village area and met and learned from such as Brownie McGhee and Reverend Gary Davis. He worked hard at playing guitar and was helped and encouraged by the understanding criticism of his wife, Terri. Van Ronk has played all over the country and is friendly with many other folk artists, all of whom recognize in Dave the continuation of the spirit of the blues. Dave's reputation has also been enhanced by his effective and moving guitar technique and his many popular arrangements of standard folk tunes. He is also at the time of writing working with his own Jug Band as well as performing alone. Van Ronk was a great success at the 1963 Newport Folk Festival and ii.gaining a deservedly large public.
The songs contained in this album reflect the various influences on Dave Van Ronk and Bob Thompson. The Jazz Band tunes are drawn from traditional sources like the blues and stomps as well as an original by Dave's friend the talented Bob Dylan. The folk background is further enriched by work song and ragtime.

Cake Walking Babies From Home is known best to jazz fans through the Louis Armstrong - Sidney Bechet recording of 1924. Its composition is partly credited to Clarence Williams. This was the first number recorded at the jazz session. It is highly suitable to Dave Van Ronk's singing and also features the soprano-sax breaks of Denis Brady.

Ace In The Hole is played in a good natured music hall style and has been a favorite of West Coast Revival Bands. Van Ronk's singing is exhilarating and the band arrangement delightful. Stave McKnight's tuba is heard to particularly good advantage on this number. (Thus backing up Bob Thompson's idea of a stylistic jazz band sound.)

St. Louis Tickle is credited to two persons named Barney and Seymour and was originally a roustabout tune. Dave plays it here in his own arrangement as a sensitive ragtime number. This is one of the most requested tunes in Van Ronk's repertoire and considering the difficulty in transcribing from piano recording to guitar deservedly so.

Dave Van Ronk has established himself as one of foremost compilers of 'Jury Texts" regarding traditional tunes. (Jury texts are when many verses are sung to one tune, usually with some new words appearing with each subsequent recording.) Here, in Death Letter Blues Van Ronk has arranged some of the most moving verses of this song into a dramatic slow blues.

If I Had To Do It All Over Again, I'd Do it All Over You is the second song by Bob Dylan that Dave has recorded, the other being opposite in mood titled He Was A Friend Of Mine, a standout on Dave's first Prestige Album. This is the first and only take of this song being one of those rare times when band and vocalist inspire each other to great heights. The delight that everyone felt on hearing the playback carried over for the rest of the session. Bob Thompson plays tasteful variations on the drums and Dick Dreiwitz and Hank Ross back up Van Ronk effectively.

Everywhere in New York City the many young guitarists influenced by Dave Van Ronk strive to play his arrangement of Whoa Back Buck. This Huddie Ledbetter song is currently the most popular song rendered by Van Ronk. It is known all over the South as a Negro ploughman's song and is based on an early while fiddlers tune.

Most jazz fans will probably say, 'What, again?' to another recording of Armand J. Piron's Sister Kate, but I feel that this version is merited. Starting with a vocal intro backed by Hank Rosa's piano and showcasing a 'Jelly Roll' Morton arranging speciality which the band calls the 'Jelly Turn Around', this tune swings. It also features a Van Ronk scat vocal break and John Bucher's cornet. John amazed us on every take of this song by constantly varying his break, each one being more exciting than the last. (A break, being when all band members but one are silent for a moment of time.)
Again Van Ronk's taste and arranging ability have brought new listeners to an early classic song. This one being Jim Jackson's Kansas City Blues, this was one of the most popular race recordings of the twenties and is still a favorite of many today. Van Ronk has selected some of the best verses for his recording from the four parts recorded by Jim Jackson.

Green Rocky Road, is a composition by Bob Kaufman and Len Chandler from whom Van Ronk learned it in 1960 at the Commons in Boston. Its background is that it was written from fragments of a New Orleans children's song by poet Kaufman. Dave plays it here in a "D" tuning.

See See Rider, is one of the best blues songs and was written by the 'Queen of Blues singers' Ma Rainey. This arrangement begins with a haunting plaintive verse played by coronet and banjo which then eases into an ensemble chorus and Dave's vocal. Particularly appealing is Dennis Barry's clarinet which sometimes reminds one of the playing of George Lewis or Wally Fawkes yet he exhibits a unique style in his solo chorus.

The work song Rock And Gravel is one of the many songs recorded and saved from obscurity by Alan lomax. It was issued with other selections on a record made by prisoners at Parchman Farm in Mississippi. Van Ronk has learned it from this record and by playing and replaying has given this song his own distinctive treatment.

The final number on this record is a jazz version of Reverend Gary Davis's Hesitation Blues. The song opens with Van Ronk singing a scat intro and closes with a tag ending by Bob Thompson that is designed to show critics exactly where the performers stand in jazz. This is a perfect example of a song which can be played equally well in either a folk or jazz style. Hank Ross's piano solo and Van Ronk's strong vocal are the highlights of this last selection.

The growth of public awareness to the beauty and value of their folk culture is an encouraging sign to artists like Dave Van Ronk. He is helping to make this heritage once again a vital meaningful factor in American life.

-- Daniel Frueh (Aug. 1963)

notes (Aug. 1963)
by Daniel Frueh







Prestige/Folklore FL 14001

notes by Daniel Frueh











= Prestige PRT-7800 (1970)


= P-Vine PCD-5306 (Jp 1997)
"More Songs From Coffee
House Folkies Series 2"


(=) Fantasy FCD-24772-2
(2002) "The Two Sides Of
Dave Van Ronk"
(along with "Your Basic")

8a
1963

notes (Oct. 1963)
by Walt Crane







Prestige/Folklore 14004
(mono)

Geoff Muldaur: Sleepy Man Blues

- Jelly Roll Baker °°° @ Spotify
- The Rain Don' Fall On Me @ Spotify
- Sleepy Man Blues °° @ Spotify
- This Morning She Was Gone @ Spotify
- I Have Had My Fun @ Spotify
- Good Gin Blues @ Spotify

- Motherless Chile Blues °° @ Spotify
- Georgia Skin Game @ Spotify
- Aberdeen, Mississippi Blues °° @ Spotify
- Trouble In Mind @ Spotify
- Everbody Ought To Make A Change °°° @ Spotify
- Drop Down Mama @ Spotify

Geoff Muldaur, voc, g; Eric Von Schmidt, hca, mandolin; Bill Keogh, p; Dave Van Ronk, g; Fritz Richmond, washtub b


notes (Oct. 1963)
by Walt Crane







Prestige/Folklore 14004
(stereo)

notes (Oct. 1963)
by Walt Crane







= Prestige PRST 7727 (1970)


= Big Beat WIK 78 (Ger 1988)

°° Prestige PRCD-9902-2
(1995) "The Bluesville Years Vol. 2
The New City Blues"

°°° Prestige PRCD-9915-2
(1996) "The Bluesville Years Vol. 7
Blues Blue, Blues White"

9
1/1964
The Folk Box

LP 1:
side 1: Songs Of The Old World And Migration To The New
side 2: Settling, Exploring And Growing In The New World

LP 2:
side 3: Work Songs
side 4: Many Worshippers, One God
LP 3:
side 5: Country Music - From Ballads To Bluegrass
Willy Clancy - Sligo Reel And Mountain Road
Eric Weissberg - Old Joe Clark
Clarence Ashley - Coo-Coo Bird
Tom Paley - Shady Grove
Eric Weissberg And Marshall Brickman - Flop-Eared Mule
Jean Ritchie - Nottamun Town
Doc Watson - Amazing Grace
Doc Watson - Cripple Creek
The Dillards - Pretty Polly
George Pegram And Walter Parham - Yellow Rose Of Texas
Dian And The Greenbriar Boys - Green Corn
The Dillards - Old Man At The Mill

side 6: Nothing But The Blues
Sonny Terry - Lost John
Big Bill Broonzy - I Wonder When I'll Get To Be Called A Man
Leadbelly - Black Snake Moan
Blind Lemon Jefferson - See That My Grave Is Kept Clean
Hally Wood - House Of The Rising Sun
Mark Spoelstra - France Blues
New Lost City Ramblers - Carter Blues
Dave Ray - Slappin' On My Black Cat Bone
Dave Van Ronk - Don't Leave Me Here [sic] [Elektra EKL-264 / EKS-7264]
Josh White - Southern Exposure

LP 4:
side 7: Of War, Love And Hope
side 8: Broadsides, Topical Songs, Protest Songs

Elektra R1 541146 bonus 7 inch:
Judy Collins - I'll Keep It With Mine
Tom Paxton - The Last Thing On My Mind

compiled by Robert Shelton; prod. by Jac Holzman; booklet illustrated by Moses Asch
4 LP box set
notes (48 page booklet)
by Robert Shelton







Elektra EKL 9001

= EUK 2512/2 (UK 1966)

= Elektra R1 541146 (US 2014)
"Record Store Day - 50th Anniversary Edition"
(limited to 2000 copies)

10
1964
Newport Folk Festival 1963 The Evening Concerts Vol. 2

Bessie Jones
- My God Is A Rock In The Weary Land
- The Buzzard Lope
Jackie Washington
- One Man's Hands
- Bill Bailey
Bob Davenport
- With My Pit Boots On
Judy Collins & Theodore Bikel
- Greenland Whale Fisheries
Theodore Bikel
- Little Star
- Coplas

Dave Van Ronk
- Candy Man #
- Hold On # @ youtube
Jean Redpath
- The Muckin' O' Geordie's Byre
- Song Of The Seals
Jean Carignan
- Le Violon Monte En Viele
- Le Reel Du Diable
- Le Reel De Rimouski
Pete Seeger
- Cripple Creek; Old Joe Clark; Leather Britches
Festival Finale
- This Land

# rec. July 26-28, 1963 live at the Newport Folk Festival in Newport, Rhode Island; Dave Van Ronk, voc, g
design by Jules Halfant; photo by Norman Vershay

Newport Folk Festival discography

notes by Stacey Williams











Vanguard VRS-9149 (mono)
= VSD-79149 (stereo)

Fontana discography


= Vanguard SH-114 (stereo)
(Jp 1964)

= HMV MCLP 6176

11
5/1964
Blues At Newport
Recorded live at the Newport Folk Festival 1963

Brownie McGhee & Sonny Terry
- Long Gone
- Key To The Highway
Mississippi John Hurt
- Candy Man
- Trouble, I've Had It All My Days
- Frankie
John Hammond
- No Money Down
- Me & The Devil
- Tallahassee Woman

Rev. Gary Davis
- Samson And Delilah
- You Got To Move
John Lee Hooker
- Sometimes You Make Me Feel So Bad
- Bus Station Blues
Dave Van Ronk
- That Will Never Happen No More
- Gambler's Blues
Brownie McGhee & Sonny Terry
- Walk On

rec. July 26-28, 1963 live at the Newport Folk Festival in Newport, Rhode Island

Newport Folk Festival discography

notes by Stacey Williams

Vanguard VRS-9145 (mono)
(US 5/1964)

notes by Stacey Williams

= Vanguard VSD-79145
(stereo) (US 5/1964)

notes by Stacey Williams

= Fontana TFL 6037
(stereo) (UK 1964)

4 page insert





= Vanguard/King SR-660
(Jp 1971)

= Vanguard VSD 79145
(stereo) (US 4/2013)
(Record Store Day)

12
1964
DAVE VAN RONK WITH THE RED ONION JAZZ BAND

- Ace In The Hole
- If I Had To Do It All Over

from Prestige/Folklore FL 14001 "In The Tradition"







Prestige PR 45-288
13
1964
DAVE VAN RONK WITH THE RED ONION JAZZ BAND

- Cake Walking Babies From Home
- St. Louis Tickle

from Prestige/Folklore FL 14001 "In The Tradition"



Prestige PR 45-297
14
3/1964
Dave Van Ronk And The Ragtime Jug Stompers

- Everybody Loves My Baby @ youtube
- Stealin' @ youtube
- Take It Slow And Easy @ youtube
- St. Louis Tickle @ youtube
- Sister Kate @ youtube
- Mack The Knife @ youtube

- Diggin' My Potatoes @ youtube
- Temptation Rag @ youtube
- Shake That Thing @ youtube
- K.C. Moan @ youtube
- Georgia Camp Meeting @ youtube
- You're A Viper @ youtube

rec. September 1963 at Rudy van Gelder's studio in Englewood Cliffs, New Jersey; Dave Van Ronk, voc, g; Danny Kalb, g; Barry Kornfeld, banjo; Artie Rose, mandolin; Samuel Charters, jug, washtub bass, backing voc

Mercury MG 20864 (mono)






Mercury SR 60864 (stereo)


= DOL DOL1473 (EU 2014)

15
6/1964

Mercury MG 20908 / SR 60908, enclosed leaflet
photographer: Robert Brenner





Just Dave Van Ronk

- Candy Man @ youtube
- Frankie's Blues @ youtube
- Bad Dream Blues @ youtube
- Pastures Of Plenty @ youtube
- Didn't It Rain @ youtube

- Wanderin' @ youtube
- God Bless The Child @ youtube
- Blue Monday @ youtube
- Baby, Let Me Lay It On You @ youtube
- House Of The Rising Sun @ youtube

rec. 1964 by Rudy Van Gelder; Dave Van Ronk, voc, g; prod. by Frank Fried

"I met Dave well over six years ago, while I was in college. He was just back from sea and getting started in folk music professionally. There was virtually no way for a young folksinger (we didn't think of singers as performers then) to earn a living, but David felt that he had something to say via his music and his singing. He loved the music, and through it he could express a whole range of emotions and experiences.
At that time he was angry about the state of the world and at people, although deeply committed to a conception of people as being basically good and, given a chance to make their own decisions, able to almost instinctively know what the right choices are. Personally he was insistant that he was going to support himself by doing something he loved -- singing and playing guitar. Musically he was entering what we now call his shouting period. He's got strong vocal chords and was determined to use them. Back then Dave lived folk music and politics. For over a year there were endless folk music parties, sessions, hoots, discussions, and every small concert was an event. We helped to form a group called the Folksingers' Guild which tried to organize folksingers (but nobody was working so there was nothing to organize for or against), and we produced some good small concerts and ars.
About a year later word filetered in from California that there was work out there. Dave went west for a few months, and he got some unique hospitality on the way. Our friend's car broke down in Cheyenne, Wyoming, where the sherriff decided the best accomadation for two bearded young men was the city jail so he marched them off at gunpoint for the night. But they did reach the coast, where Dave worked steadily and started developing as a performer.
He came back feeling more optimistic about everything -- life, himself. Dave was developing a logical, comprehensive analysis of world politics. I'd always admired the scope of his knowledge, the inciciveness of his mind, and his compassion for people. These were all being applied to a cohesive world outlook, coupled with a totally irreverent sense of humor.
As far as music went, this was the blues guitar stage. I've always liked Lightnin' Hopkins, but after a while his guitar style was coming out of my ears. Luckily Dave passed through that fairly quickly and entered into a phase that's still developing.
He's always loved traditional jazz and played in jazz bands when he was in his teens. We've got a good jazz record collection which we prize along with our baroque. renaissance, and Indian records. This influence really began developing, leading David to concentrate more on singing. He started discovering all kinds of new vocal techniques to make his music more interesting.
This album is representative of much of David's current thinking. It's an amalgam if musical styles and techniques of more current, urban musical forms which Dave hopes will grow to represent out own generation. It's also a very personal statement...the statement of a man who finds people "weird and completely interesting"; who is active in politics because "now we have the capacity to feed every man, woman, and child on earth and then man can start to face his greatest challenge -- himself."; and whose music, interests, and whole approach to life show a fully developed, independent, sometimes exasperatingly principled person.

-- Terri Van Ronk

notes by Terri Van Ronk







Mercury MG 20908 (mono)

notes by Terri Van Ronk











Mercury SR 60908 (stereo)

= Mercury 704571 (US 2012)
(MP3 files)

16
6/1964
the BLUES project
A compendium of the very best on the urban blues scene

- Fixin' To Die (Dave Ray)
- Blow Whistle Blow (Eric von Schmidt)
- My Little Woman (John Koerner)
- Ginger Man (Geoff Muldaur)
- Bad Dream Blues (Dave van Ronk) @ youtube
- Winding Boy (Ian Buchanan)
- I'm Troubled (Danny Kalb)
- France Blues (Mark Spoelstra)

- Don't You Leave Me Here (Dave van Ronk) @ youtube
- Devil Got My Woman (Geoff Muldaur)
- Southbound Train (John Koerner)
- Downtown Blues (Geoff Muldaur)
- Leavin' Here Blues (Dave Ray)
- Hello Baby Blues (Danny Kalb)
- She's Gone (Mark Spoelstra)
- Slappin' On My Black Cat Bone (Dave Ray)

assisting musicians: Bob Landy [Bob Dylan], Doug Pomeroy, Fritz Richmond, John B. Sebastian, Tony Glover; prod. by Jac Holzman & Paul A. Rothchild
cover artwork by Eric Von Schmidt
back cover notes plus
5 page foldout booklet
by Barry Hansen, Harold
Courlander & Paul Nelson













Elektra EKL-264 (mono)
Elektra EKS-7264 (stereo)

5 CD set





(=) Elektra CD 8122795661-2
(EU 2015) "The Greenwich
Village Folk Scene"
(five original Elektra albums from the
1960s, including "The Blues Project")

17
1964
Folklore Jamboree

Bill Keith And Jim Rooney - Livin' On The Mountain
Tom Rush - Diamond Joe
Bonnie Dobson - Dear Companion
Eric Von Schmidt - Champagne Don't Hurt Me Baby
Ramblin' Jack Elliott - Howdido
Jesse Fuller - San Francisco Bay
Dave Van Ronk - Ace In The Hole

Bonnie Dobson - She's Like A Swallow
Brownie McGhee & Sonny Terry - You Don't Know
Dave Van Ronk - He Was A Friend Of Mine
Ramblin' Jack Elliott - Roll In My Sweet Baby's Arms
Peggy Seeger - The Chickens They Are Crowing
Geoff Muldaur - Sleepy Man Blues
Charles River Valley Boys - Rocky Island

prod. by Samuel B. Charters
notes (Jan. 1964)
by John D. Monroe





Prestige/Folklore FL 14023
18
10/1964
Inside Dave Van Ronk

- House Carpenter @ youtube
- The Cruel Ship's Captain @ youtube
- Sprig Of Thyme @ youtube
- Talking Cancer Blues @ youtube
- I Buyed Me A Little Dog @ youtube
- Lady Gay @ youtube

- Fair And Tender Ladies @ youtube
- Brian O'Lynne @ youtube
- Shanty Man's Life @ youtube
- Silver Dagger @ youtube
- Kentucky Moonshiner @ youtube
- He Never Came Back @ youtube

Dave Van Ronk, voc, g, 12-str g, bj, dulcimer, auto-harp; supervision: Samuel Charters
cover photo by Don Schlitten
notes (June 1964)
by Dave Van Ronk









Prestige/Folklore 14025

notes (June 1964)
by Dave Van Ronk







= Stateside SL 10153
(UK 1965)

notes (June 1964)
by Dave Van Ronk







= Prestige 7716 (1972)


(=) Fantasy DLP/CD 24710
(along with Prestige FL 14012
"Dave Van Ronk Folksinger")

19
12/1966
Dave Van Ronk: No Dirty Names

- One Meatball
- One Of These Days
- Song Of The Wandering Aengus
- Keep It Clean
- Zen Koans Gonna Rise Again
- Freddie

- Statesboro Blues
- Midnight Hour Blues
- Bout A Spoonful
- Mean World Blues
- Blues Chante
- The Old Man
- Alabama Song

Dave Van Ronk, voc, g; Barry Kornfeld, org; Dave Woods, g; Chuck Israels, b; Terri Van Ronk, scream; John Court, scream

"Q: Mr. Van Ronk, it seems that every time we do an interview, you have a hangover.Would you care to comment on that?
(Mr. Van Ronk cared to do nothing but look pained.)

Q. Well then, do you have any statement to make about music?

DVR: (brightening almost imperceptibly) I'm glad you asked me that question.

Q: I'm glad you asked me to ask it.

DVR: Last night we went to still another new discotheque with blinking lights and freakout films, and I realized that people require stronger and stronger outside stimuli. People talk about feeling and soul -- and act as if they don't really believe they have any.
It's the new numbness, and it's very scary. The thing is, we are going through an unbelievable technological revolution that is disorienting people intensely. The human race has to deal with some braintwisting things now.
The changes in music are braintwisting too, because technology always determines the forms of music. The bow and arrow HAD to precede the first stringed instruments. The bellow principles HAD to precede the organ. You can't have an organ without smelting, right? You couldn't have a fugue without math. Or math without a concern for who owns how much of what.
The technology behind the space race is fantastic, and it has cultural repurcussions: the science of sound is on its way in. Musical instruments today are being superceded. Today they design sound the way you'd design a building.
I'm not saying it's a bad thing; the first cat that came along and invented the trumpet, I'm sure everybody said, 'Man that thing ain't got no soul -- give me the old conch shell anytime'.
Anyway the main thing isn't soul, it's intelligence. You use intelligence, the soul will take care of itself. What I'm saying is that a lot of things have happened to music lately. Some people think Robert Johnson sings the blues, but Lester Young or Charlie Parker or Lee Konitz don't. People who think like that are wrong, stupid, and sectarian
The important thing isn't to go from bag to bag and call it progress; the important thing is not to throw the baby out with the bathwater. I was singing, 'Goodbye My Coney Island Baby' with a banjo group when I was fourteen years old. It was bad music, but I learned something from it. If you don't retain something from each of your previous stages, you won't grow. All my changes are right there on this record.

Q: Mr. Van Ronk, why don't you sing topical songs?

Q: Do you think pop music has hurt folk music?

DVR: Only when it laughs.

One Meatball -I've only heard it sung by Josh White. The scat singing-- well, let me put it this way. A big chalk blues buff roasted me in an article someplace for singing that song at Newport. He was disturbed because he thought I was getting attention that rightly belonged to Skip James. In the first place I was never aware that I was in competition with Skip James and in the second place Cab Calloway is as much a part of the American heritage as Skip or Booker White. If I sang like Skip, then any attention I got would rightfully belong to Skip. Maybe it should all go to Cab Calloway.

One of These Days That's Dave Woods again. He's back in town-such fun to work with. I copped 'Come Back, Baby' from him eight years ago. About this arrangement: I have the aspirations of a classicist and the instincts of a Gaudi. Above Mose Allison: he's the best songwriter of his type since Hoagy Carmichael and Johnny Mercer. I'm not putting them down, but he's funkier.

Song of the Wandering Aengus. Lyrics by W.B. Yeats. I have a very rough voice; I learned a rough voice can convey beauty from Walter Huston's singing 'September Song'. Incidentally, the song has nothing to do witti a lost cow. It deals with an Irish mythology cycle. If you are confused, consult your friendly neighborhood cop.

Keep It Clean is a traditional tune, but I wrote about half of it. I am especially proud of this guitar arrangement. The moral of the story is, V.I.D. cannot be cured.

Zen Koans Gonna Rise Again I wrote this song because I believe you have to write about something you know, and I know something about MacDougal Street. I can't begin to tell you what that street does to me. When I wrote that song I could still get near to it. Now, I'm afraid my personality would disintegrate. Enough time on that street would disintegrate anyone.

Freddie. Mance Lipscomb wrote it. My arrangement. -The drum consists of Dave Woods sitting on the floor beating on a bass drum that says 'Arthur Godfrey and His Friends' with a Coca Cola bottle.. It's something like 'Frankie and Johnny', except the woman gets killed. Turnabout is fair play.

Statesboro Blues. There are two ways you can do a song soniebody's already done: your way or his way. Then there are certain songs that certain artists have done so definitively you can do them his way, or the wrong way. I learned that from Blind Willy McTell. Either I could do it his way or give it up entirely, and I like it too much to give it up entirely.

Midnight Hours Blues. Sparseness is a good thing if you want to be pretty. Silence - a pause - is as important to music as a note. Silence is a part of music. All those nice big fat thirds I got from Leroy Carr. The guitar is as close as I can get to a transcription of his lead piano part.

'Bout A Spoonful. I got it from Gary Davis. I mean I learned it from Gary; I play it Eastern seaboard style of Gary Davis, Blind Boy Fuller and Blind Blake. Not everybody knows what a spoonful means. But they know what a pause means.

Mean World Blues. Mostly my own arrangement, written by an old friend, Niela Horn. She writes very strange stuff. I was working at The Commons - where the Feenjon is now - and by a pure fluke I was put in charge of hiring. Two weeks after I was hired, everyone who'd been there when I'd come had left, and I had seniority. So I hired Niela because it was an opportunity to learn her songs.

Blues Chanti. That's Terri's yell; she's got real soul. I always tell lies about this song: Lie 1. I learned it from a fallen missionary from Uganda who had gone native. Lie 2. I wrote it myself-under the influence of cabbage leaves smoked nasally. Lie 3. It just grew. -The truth is, I learned it from a Dizzy Gillespie record.

The Old Man. The quality of compassion in this song ... The song doesn't moralize-that's what makes it as strong a statement as it is. Just: this happened.

Alabama Song is from 'The Rise and Fall of the City of Mahagonny' by Kurt Weill. This is one of those songs that are very obscure to most people. The more confused a person is by this song, the more likely it is to pertain to him. Why did I pick it? Because I think we're living in the Weimar Republic riglit now. I think Hitler and the Nuremberg Laws are just around the corner. Only our Nuremberg laws will be against the Negroes, not the Jews. Unless we fight against it, it'll certainly happen. This business about the Negro being on the offensive is not true. The Negro's back is to the wall. All this talk about ghetto riots, so-called; there've been riots in this country against the Negro for 400 years, and it's still going on. Frankly, Charlie Brown, I'm scared."








Verve/Forecast FTS-3009
20
1967
Take A Trip With Me
Psychedelic Hits

Lightnin' Hopkins
- Take A Trip With Me [Bluesville 1029/1081]
Dave Van Ronk
- Cocaine Blues [Prestige INT 13056 / FL 14012]
Eric von Schmidt
- Champagne Don't Hurt Me
Holy Modal Rounders
- Black Eyed Suzie
Eric von Schmidt
- Lolita
- Edward Teller

Eric von Schmidt
- Acne
Dave Van Ronk
- Talkin' Cancer Blues [Prestige/Folklore 14025]
Holy Modal Rounders
- Euphoria
Eric von Schmidt
- Kay Is The Month Of May
Tom Rush
- Cocaine
Holy Modal Rounders
- Junko Partner

cover design by Irving Riggs







Prestige PR 7539 (mono)
21
10/1967
DAVE VAN RONK & THE HUDSON DUSTERS

- Dink's Song [Verve/Forecast FT/FTS-3041] @ youtube
- Head Inspector (2:06) [Verve/Forecast FT/FTS-3041] @ youtube



Billboard November 11, 1967





Verve Forecast KF 5070
22
2/1968
DAVE VAN RONK AND THE HUDSON DUSTERS

- Clouds (From Both Sides Now) [Verve/Forecast FT/FTS-3041]
- Romping Through The Swamp (1:58) [Verve/Forecast FT/FTS-3041] @ youtube





Verve Forecast KF 5080
23
4/1968
Dave Van Ronk And The Hudson Dusters

- Alley Oop (D. Frazier) (3:38)
- Head Inspector (Dave Van Ronk) (2:06) [Verve Forecast KF 5070]
- Swinging On A Star (Johnny Burke - Jimmy Van Heusen) (2:37) @ youtube
- Mr. Middle (I. Bogardus - Dave Woods) (3:02)
- Chelsea Morning (Joni Mitchell) (2:33)
- Clouds (From Both Sides Now) (Joni Mitchell) (4:37) [Verve Forecast KF 5080]

- Keep Off The Grass (Dave Woods - Doris Woods) (2:08)
- Dink's Song (Bess B. Lomax - John A. Lomax) (3:34) [Verve Forecast KF 5070]
- New Dreams (Dave Woods - Doris Woods) (2:22)
- Cocaine (Rev. Gary Davis) (4:58) @ youtube
- Romping Through The Swamp (Peter Stampfel) (1:58) [Verve Forecast KF 5080]

Dave Van Ronk, voc, g; Dave Woods, g; Phil Namenworth (aka Pot), keyb; Ed Gregory, b; Rick Henderson, dr; prod. by Barry Kornfeld; all songs arr. by David Woods except Head Inspector by Dave Van Ronk
cover photo by Harry Schwartz; liner photos by Chuck Stewart







Verve/Forecast FT/FTS-3041
24
1971
Van Ronk

- Bird On The Wire (Leonard Cohen) (3:55) @ youtube
- Fox's Minstrel Show (Michael Small) (3:05) [Polydor ML 008] @ youtube
- Port Of Amsterdam (Jacques Brel / E. Blau / M. Schuman) (3:25) @ youtube
- Fat Old John (Peter Stampfel) (1:06) @ youtube
- Urge For Going (Joni Mitchell) (4:37) @ youtube

- Random Canyon (Peter Stampfel) (2:05) @ youtube
- I Think It's Going To Rain Today (Randy Newman) (3:50) @ youtube
- Gaslight Rag (Dave Van Ronk) (2:55) @ youtube
- Honey Hair (Van Ronk) (3:15) @ youtube
- Legend Of The Dead Soldier (Bertolt Brecht / Eric Bentley) (4:05) @ youtube
- Ac-Cent-Tchu-Ate The Positive (Johnny Mercer, Harold Arlen) (2:30) @ youtube









Polydor 24-4052

= Polydor 2425 048 (1972)

25
1971
DAVE VAN RONK

- Fox's Minstrel Show (mono)
- Fox's Minstrel Show (stereo) [Polydor 24-4052]



Polydor ML 008
26
1972


Dave Van Ronk

LP 1 [previously "Folksinger"]
- Samson And Delilah
- Cocaine Blues
- You've Been A Good Old Wagon
- Fixin' To Die
- Hang Me, Oh Hang Me
- Long John
- Chicken Is Nice

- He Was A Friend Of Mine
- Motherless Child
- Stackerlee
- Mr. Noah
- Come Back Baby
- Poor Lazarus

LP 2 [previously "Inside Dave Van Ronk"]
- House Carpenter
- The Cruel Ship's Captain
- Sprig Of Thyme
- Talking Cancer Blues
- I Buyed Me A Little Dog
- Lady Gay

- Fair And Tender Ladies
- Brian O'Lynne
- Shanty Man's Life
- Silver Dagger
- Kentucky Moonshiner
- He Never Came Back




Fantasy DLP 24710 (1972, brown labels!)


Fantasy DLP 24710 (1974, blue labels!)


Fantasy DLP 24710 (197?, light blue labels!)


DLP
notes by Ira Mayer

Fantasy DLP 24710 (1972)

DLP
notes by Ira Mayer

Fantasy DLP 24710 (1974)

27
1972
Blues Selection

LP 1:
Jimmy Whitherspoon - Ain't Nobody's Business (6:25)
Lightnin' Hopkins - The Howling Wolf (3:50)
Furry Lewis - Goin' To Kansas City (2:50)
Rev. Gary Davis - I'll Fly Away (4:32)
Memphis Slim - Beer Drinking Woman (3:24)

John Lee Hooker - Boogie Chillun (2:43)
Jesse Fuller - San Francisco Bay Blues (2:54)
Sonny Terry & Brownie McGhee - Betty And Dupree's Blues (5:50)
Tom Rush - Duncan And Brady (3:35)
Dave Van Ronk - Cocaine Blues (4:10)

LP 2:
Holy Modal Rounders - Blues In The Bottle (3:25)
Jimmy Whitherspoon - Every Day (2:36)
Lightnin' Hopkins - Too Many Drivers (3:30)
Furry Lewis - I'm Going To Brownsville (3:27)
Rev. Gary Davis - When I Die I'll Live Again (3:28)
Memphis Slim - Fast And Free (1:56)

John Lee Hooker - Driftin' And Driftin' (4:02)
Jesse Fuller - Red River Blues (3:25)
Sonny Terry & Brownie McGhee - Freight Train (2:40)
Tom Rush - Drop Down Mama (4:05)
Dave Van Ronk - He Was A Friend Of Mine (3:29)
Holy Modal Rounders - Euphoria (1:30)


DLP











Bellaphon/Fantasy BJS 4071
(Germany 1972)

= Bellaphon/Fantasy BBS 2502

28
1973
Dave Van Ronk: Songs For Ageing Children
(on label: Let The Feeling Talk To You)

- Duncan and Brady (trad. arr. Van Ronk) @ youtube
- Green Green Rocky Road (Len Chandler)
- As You Make Your Bed (Brecht/Weill) @ youtube
- Teddy Bear's Picnic (Bratton & Kennedy) @ youtube
- Song For Joni (Dave Van Ronk)

- Work With Me Annie (Henry Ballard)
- River (Joni Mitchell)
- My Little Grass Shack (in Kealakekua, Hawaii) (Cogswell, Harrison & Nobel)
- Sail Away (Randy Newman)
- Candy Man (Rev. Gary Davis)
- Last Call (Dave Van Ronk) (3:07)

rec. at Advantage Studios, New York; Dave Van Ronk, voc, g; "Many thanks to all the fine musicians without whose talents this recording could not have been made, & special thanks to Mitch Greenhill, Barry Kornfeld, & Patti Bown"; arr. by Barry Kornfeld & Dave Van Ronk; engineered by Martin Nyles Lennard; prod. by Michael Brovsky for GRT Corporation
front cover woodcut by Luke Faust

"Oh, I do like that phrase. Not only because it captures the collective echo of the album's songs, but also because it provides something of an excuse for me to be writing these lines. For while i know precious little about music in general, or these songs in particular, I do know the singer. I know him well and I have known him long. We met in the summer of 1956. We were ageing children then and we are ageing children now. Most things don't change.
There have been a few changes, of course. In those days the draft ale at the Old Landmine was a dime a glass. Richard Nixon was a retrospectively reassuring heartbeat away from the Presidency. ("Race you up the stairs, Ike!") Nobody knew anybody who admitted to liking any popular songs. Everybody had an elaborate scheme for avoiding the draft; we never realized that the Peacetime Army emphatically did not want us in the first place!
There was singing every Sunday afternoon at Washington Square. For all I know there still is; the greatest measure of change lies in the fact that I do not know one way or the other. I do know the park didn't have a fence around it then.
I don't know if the world was better or worse, although, at the time, I hardly suspected we were then living through our Good Old Days.
I don't think our personal lives were a hell of a lot different. We make more money now, but don't hang onto it any longer. We drink a better grade of whiskey, and it takes a little more to get us off than it used to, but we do our drinking in the same sort of bars.
We have gotten married and unmarried. We have lived a few lines into our faces. The years have made us a little wiser or a little more foolish, and I am not at all certain which. It seems to me that we have fewer answers than we once had, but that may be balanced out by our having forgotten some of the questions. I find it rather more difficult, albeit more pertinent, to write about Van Ronk as a musician. Since the first time I heard him sing I have been so unabashedly a fan of his that it is embarrassing. I have never been in a mood that I did not want to listen to him.
There is an enormous temptation for any artist in any medium to give a little less than his best. There is considerable security in so doing; when you fail, you can succor yourself with the knowledge that your talent is greater than your imperfect display of it. Most people never even realize they're doing it. I'm thus very much partial to those artists who always give you the very best they've got, who always put the throttle on the floor. There is an unmistakable quality in their performances, to the point where one could list a few who are not enormously talented to begin with, but whose commitment transcends their lack of talent. When they are also talented, and knowledgable, and aware, and sensitive, they really make it all work.
Seventeen years. We've been to a few of the same schools since then, for whatever good they did us. We have seen one another in every imaginable condition, occasionally even including sobriety. I trust it will properly embarrass David to read that I deem him a gentleman and a scholar in every sense of both words."

- Lawrence Block (1973)

notes by Lawrence Block







Chess/Cadet CA 50044
29
197?
The 50 Greatest Folk Singers: Legendary Folk Songs

LP 1:
Ian & Sylvia - Nova Scotia Farewell
Odetta - Come All Ye Fair And Tender Ladies
The Weavers - Kisses Sweeter Than Wine
Woody Guthrie - Gypsy Davie
Hedy West - 500 Miles
Clara Ward - Twelve Gates To The City

Alfred Deller - Three Ravens
Ronnie Gilbert - Meeting At The Building
The Greenbriar Boys - Little Birdie
Joan Baez - Hush Little Baby
Will Holt - The Streets Of Laredo
The Rooftop Singers - Shoes

LP 2:
Joan Baez - When You Hear Them Cuckoos Hollerin'
Leadbelly - John Hardy
The Rooftop Singers - Cool Water
Cisco Houston - Old Dan Tucker
Ian & Sylvia - Texas Rangers
The Weavers - John B Sails

Buffy Sainte-Marie - Cripple Creek
Doc Watson - Sitting On Top of the World
The Greenbriar Boys - Other Side of Jordan
Odetta - I Know Where I'm Going
Bob Gibson - Lily Of The West
The Weavers - Fight On

LP 3:
The Weavers - Michael Row The Boat Ashore
Erik Darling - Shady Grove
The Greenbriar Boys - Nine Pound Hammer
Ronnie Gilbert - Johnny Has Gone For A Soldier
The Rooftop Singers - HA HA Thisaway
Jack Elliott - More Pretty Girls

Milton Okun - Come To The Fair
Lightnin' Hopkins - I Wish I Was A Baby
Bob Gibson - There Was An Old Woman
Josh White - One Meatball
Will Holt - Blow That Candle Out
Woody Guthrie - Rangers Command

LP 4 - Newport Folk Festival:
Tommy Makem/Pat Clancey - Mountain Dew
Mike Seeger - When First Unto This Country I Came
Barbara Dane - Little Maggie
Sonny Terry & Brownie McGhee - Pick a Bale of Cotton
Jean Ritchie - Pretty Saro
Oscar Brand - Which Side Are You On

Alan Mills & Jean Carignan - La Basttingue
John Lee Hooker - Hobo Blues
Frank Warner - Old Raccoon
Leon Bibb - Every Night When The Sun Goes In
Ewan Maccoll & Peggy Seeger - Ballad Of Springhill
Lester Flatt & Earl Scruggs - Before I Met You

LP 5:
Sonny Terry & Brownie McGhee - Walk On
Martha Schlamme - Hole In The Bucket
Tom Paxton - My Rambling Boy
Mississippi John Hurt - Candy Man
Leon Bibb - Sinner Man
The New Lost City Ramblers - Foggy Mountain Top

Peggy Seeger - Willie Moore
Ed McCurdy - Tell Me My Little One
Jackie Washington - One Man's Hands
Dave Van Ronk - Gambler's Blues (St. James Infirmary)
Frank Hamilton - Lady Gay
Pete Seeger - One Grain Of Sand


5 LP box set

Longines Symphonette
Recording Society/Vanguard
LONGIN LWS-176-181

30
1976
Dave Van Ronk: Sunday Street

- Sunday Street (Van Ronk) (3:27) @ Spotify
- Jesus Met The Woman At The Well (trad.) (5:34) @ youtube @ Spotify
- Nobody Knows The Way I Feel This Morning (trad.) (3:51) @ Spotify
- Maple Leaf Rag (Scott Joplin) (3:59) @ Spotify
- Down South Blues (trad.) (4:35) @ Spotify
- Jivin' Man Blues (trad.) (3:03) @ Spotify

- That Song About The Midway (Joni Mitchell) (3:33) @ Spotify
- The Pearls (Jelly Roll Morton) (4:29) @ Spotify
- That'll Never Happen No More (trad.) (3:48) @ Spotify
- Mamie's Blues (trad.) (4:19) @ Spotify
- Swinging On A Star (Johnny Burke, Jimmy Van Heusen) (2:38) @ Spotify









Philo 1036


= Rounder CD PHIL1036 (1986)

31
1977
Bread & Roses

LP 1:
Mimi Fariña - Intro (1:04)
Jesse Colin Young - Sugar Babe (3:56)
Dave Van Ronk - Swinging On A Star (2:31)
Malvina Reynolds - Little Boxes (2:43)
Pete Seeger - Sailing Down My Golden River (3:12)
The John Herald Band - Ramblin Jack Elliott (3:29)
Ramblin' Jack Elliott - San Francisco Bay Blues (2:54)

Hoyt Axton - Boney Fingers (3:34)
Hoyt Axton - Evangelina (6:07)
Arlo Guthrie - Al The Goose (1:56)
Boys Of The Lough - General Guinness / Irish Reel (4:00)
Mickey Newbury - San Francisco Mabel Joy (5:15)
Dan Hicks - I Got Mine (2:58)

LP 2:
The Persuasions - Another Night With The Boys (3:36)
Richie Havens - What About Me? (6:30)
Buffy Sainte-Marie - Universal Soldier (2:33)
Country Joe McDonald - Save The Whales! (3:25)
No Artist - Committee Rap - 0:33)
Joan Baez - There But For Fortune (4:15)

Toni Brown & Terry Garthwaite - Beginning Tomorrow (4:37)
Maria Muldaur - Walkin' One And Only (3:13)
Tom Paxton - Last Thing On My Mind (4:12)
Jackson Browne & David Lindley - For Everyman (5:42)
Finale (All) - Just A Closer Walk With Thee (5:10)

rec. October 1977 at the Festival of Acoustic Music, Greek Theater, U.C. Berkely, CA; The House Band: Jim Rothermel, Banana, Richard Greene, Peter Welker, Freebo, David Lindley, Brian Rohan
photography by Jim Marshall
Fantasy FT 572 (US 1977)

= Fantasy F-79009 (US 1979)

= Fantasy F-5943 (Fr 1979)

DLP





Fantasy 0081.101 (Ger 1979)

= Fantasy BLS 5579
(Ger 1979)

= Fantasy FTSP 57, OC 156-63 176/7 (UK 1979)

= Fantasy L 45857/8
(Australia 1979)

= Fantasy LDP 1003 (It 1979)

= Fantasy FAN 96-10
(Portugal 1979)

= Fantasy FCD-79009-2
(US 1990)

= Big Beat CDWIK 103
(UK 1992)

32
1978
Philadelphia Folk Festival@ youtube

Bruce Martin - Scots Piping (fragment) (0:42)
Tom Paxton - Did You Hear John Hurt? (3:34)
Norman Blake - Jerusalem Ridge (2:37)
Michael Cooney - Lady Isabel And The Elf King (4:51)
De Danann - Irish Dance Medley: The Boys Of Ballisodaire / The Longford Collector (3:54)
Kate Wolf - Then Came The Children (3:41)
John Jackson - Step It Up And Go (2:36)

Odetta - I Gotta Be Me (2:15)
Dave Van Ronk - Green, Green Rocky Road (5:27) @ youtube
Lou Killen - All For Me Grog (3:08)
Roger Sprung, Hal Wylie & The Progressive Bluegrassers - Wild Goose Chase (4:04)
Debbie McClatchy - A Little Piece Of Wang (2:01)
Lew London Trio - The Glory Of Love (4:15)
Highwood String Band & The Green Grass Cloggers - Dance All Night (4:20)

rec. August 26, 27, 28, 1977 at the Old Poole Farm in Upper Salford, PA







Flying Fish FF-064
33
1980
Dave Van Ronk: Somebody Else, Not Me

- Michigan Water Blues (Jelly Roll Morton)
- Somebody Else, Not Me (Bert Williams)
- Old Hannah (trad.)
- The Entertainer (Scott Joplin)
- John Hurt [aka "Did You Hear John Hurt?"] (Tom Paxton)

- Old Blue (trad., arr. & adapted by Dave Van Ronk)
- Sportin' Life (Brownie McGhee)
- Casey Jones (Furry Lewis)
- Pastures Of Plenty (Woody Guthrie)
- Song To Woody (Bob Dylan)

rec. during the month of May, 1979 at Earth Audio Techniques in North Ferrisburg, Vermont; Dave Van Ronk, voc, g; prod. by Mitch Greenhill
photography by Andrew Kline
song notes by
Dave Van Ronk







Philo PH 1065

notes by Elijah Wald; song
notes by Dave Van Ronk









= Rounder CD PHIL1065 (1999) "Someone Else, Not Me"

34
1982
Your Basic Dave Van Ronk

- God Bless The Child @ youtube
- Sunday Street
- In The Midnight Hour
- Stagolee
- Sporting Life Blues
- Cocaine Blues

- St. James Infirmary
- Good Old Wagon
- Spike Driver Blues
- Gaslight Rag
- Candy Man

rec. 1981 at Livingstone Studios in London, UK by Nick Kinsey; prod. by Karl Dallas
Sonet 885 photo by Dave Peabody
Aural Tradition ATR-104 photos by Fred Rosenberg
Kicking Mule KM 177 photos by ED Denson

"We were sitting listening to Rocket 88 in Islington. Jack Bruce (my man on bass), Don Weller, Bob Hall, Danny Adler and the rest were blowing up a storm -- Charlie Watts was off somewhere with some rock band or other. I was listening, and when I'm listening, I don't have room for much expression on my face.
'Whassamatter?' demanded Dave. 'Dontcha like the band?'
'The band is fine', I said. 'But I'm working'.
Dave Paused.
'Didja ever think of takin' up some other kind of work?' he asked. And his big face creased up in a laugh that almost drowned the band's front line.
Dave Van Ronk goes back almost as long as me on this here folk-blues-rags-and-hollers revival scene, was playing in London when it consisted basically of Alexis Korner, Ewan MacColl, Humphrey Lyttleton and a few acolytes like me, who later turned a hobby into some kind of a nice racket, becoming music critics. And when I heard that record company red tape was preventing him from recording during his rare visit to London, I talked the best engineer in town into giving up his midnight hours that very day and we recorded this great album, finishing the last take as the whiskey, his bleeding fingers and the night gave out. I've recorded rock n' rollers in Soho, East Anglian traditional singers in Suffolk, and Cajuns in Louisiana, but none of it has pleased me as much as this album, which I think is really an instant overview of the salty, irrepressible, incorrigable, unique human being who is Your Basic DAVE VAN RONK.

-- Karl Dallas




The Dave Van Ronk London Sessions
by Dave Peabody




Dave Van Ronk had not been in London for 15 years when, at a drop of his brown corduroy hat, he accepted an invitation to be flown across the Atlantic and appear as a surprise guest on "This is Your Life" on TV. The sixteen bars of 'Don't You Leave Me Here" that he got to sing on the programme might have been all we heard from Dave this time round had it not been for the quick intervention of Karl Dallas. Dave let it be known that he was interested in making a recording for European release while he was here, but the problem was obviously one of time as Dave was only in town for a week. Although certain record companies were interested, the cautious climate that currently prevails in the industry prevented any from making an instant decision. Not wishing to let such an opportunity slip away, Karl contacted Livingstone Studios to find that the only free period available was after 9 PM on the night before Dave was due to fly back to America.
Amazingly, Dave agreed to take the one shot at getting an album down in a single session, a task that would have daunted a man of lesser talents, and so a small congregation gathered on the evening of March 10 at a local public house in preparationfor the night to come. karl had the foresight to bring a half-bottle of Glenmorangie single malt (a full bottle might well have slowed proceedings) and, as a sensible chaser, a supply of Ruddle's Country Bitter -- excelent choices for a man who doesn't drink alcohol. Nic Kinsey engineered above and way beyond the call of duty and was ably assisted by 'Nicko', who kept the tape rolling and the coffee coming. The Cincinatti Kid, guitarist Danny Adler, and myself, lent moral support while Karl kept a sharp ear attuned to the sounds coming from the studio and generally oversaw the event. Dave Van Ronk just got his head down and played and sang his heart out. Working from a list (not necessarily adhered to) in his old black notebook, Dave reshaped, remodelled, and redefined a classic collection of his personal favourite songs. Some Dave had learnt from old records, some from the original singers, and some are his own. All now bear the indelible stamp of the Van Ronk personality.


1. God Bless the Child
The simplicity of the guitar arrangement serves to frame and set off the magnificently expressive vocals. A connection between Dave and Billie Holiday is the way both use the voice as an instrument. The scat chorus could be a Roy Eldridge or a Charlie Shavers taking a solo, and when Dave returns to the words, the nature of his voice has changed so that it sounds as though a band is right there, riffing away in unison.

2. Sunday Street
My favourite of Dave's recent compositions. A logical free-flowing of exploration of word and finger-picking progressions. The song was the title track of the excellent Philo album of the same name. Included here because this really is the basic Dave Van Ronk.
3. In the Midnight Hour
Slow, powerful, faultless, Leroy Carr would have been happy to play piano accompaniment to Dave's expansion of his blues classic.

4. Stagolee
The rolling guitar work makes this version a close relative of Furry Lewis' 1927 classic, 'Billy Lyons and Stack O' Lee', but here the storyline goes further. Stagolee learns the moral, "When you lose your money, learn to lose," only to use it, after his demise at the hands of the law, to turn the tables on the devil. Ha! The Furry Lewis record was the first black traditional song that Dave ever heard.

5. Sportin' Life Blues
Brownie McGhee has never heeded the advice of his own song, so why should Dave? There is a sincerity in this performance that tells you the singer has lived every word.

6. Cocaine Blues
Pure joy. Philosophical advice spiked with wry humour. Take this song at your own peril.

7. St. James Infirmery (Gambler's Blues)
Down to old Joe's bar room once more, where Dave is familiar with every speck of sawdust on the floor and has looked into the bottom of every one of the chipped glasses. The request for a jazz band on the hearse wagon has the word "jazz" slurred into a whole phrase -- remarkable. Blind Willie McTell continually reworked "St. James Infirmary" into various versions of 'Dying Crap-Shooter's Blues'. Van Ronk carries on the worthy tradition (which began, Karl tells me, in Ireland in 1790).

8. You've Been a Good Old Wagon
If a Billie Holiday is included in a basic Van Ronk collection, then a Bessie Smith must also find a way in. The power and rasp of Bessie's voice is easier to identify in a full-flight Van Ronk vociferation. It's anybody's guess as to which side of the song Dave sympathises with.

10. Gaslight Rag
A personal historical view of a certain Greenwich Village haunt.

11. Candyman
Forget all other interpretations of Rev. Gary Davis' rabelaisian hymn: Dave has just redefined it as he has done (and as the Reverend did before him) through many years of performance. Rev. Davis said that the song came out in 1905, so it has stood the test of time exceedingly well. Dave manages to inflect two separate personalities into his vocalising without being over-emphatic, and the scat has Buddy Bolden heading the street parade. The last note reverberates like no other note you've ever heard.

--Dave Peabody

notes by Karl Dallas
and Dave Peabody







= Sonet SNTF 885 (UK 1982)








= Aural Tradition Records
ATR-104 (Ca 1983)

notes by Karl Dallas
and Dave Peabody







Kicking Mule KM 177
(US 1984)


= Guimbarda GS-11.185
(Sp 1984)


(=) Fantasy FCD-24772-2
(2002) "The Two Sides Of
Dave Van Ronk"
(along with "In The Tradition")

35
1982
the CooP - The Fast Folk Musical Magazine (February 1982)

- Where Were You Last Night? - Frank Christian
- For The One Who Loves Me - Susan Brewster
- Howard Hughes' Blughes - Erik Frandsen
- Cracking - Suzanne Vega
- Down Below The James - Brian Rose
- The King Of Hearts - Paul Kaplan

- The Greatest Part Of Love - Ansel Matthews
- The Jersey State Stomp [The Garden State Stomp] - Dave Van Ronk @ youtube
- On The Road To Fairfax County - David Massengill
- Joined In Laughter - Ilene Weiss
- Kneeling By Your Chair - Skip Barthold
- When Soldiers Die On Battlefields - Ed McCurdy
- Last Night I Had The Strangest Dream - Ed McCurdy







Fast Folk CooP SE 101
(Vol. 1, #1)
36
1982
the CooP - Fast Folk Musical Magazine (November 1982)

- I Shot Jack LaLane – Erik Frandsen
- Woman Of A Calm Heart – Ilene Weiss and Mark Dann
- Another Time And Place – Dave Van Ronk @ youtube
- Night Moves – Suzanne Vega
- Dig For The Gold – Charlie Chin
- The Children – Jack and Jeff Hardy

- Where Is The Love – Frank Mazzetti
- The Policeman Is My Friend – George Gerdes, Bill Bachman, and Mark Dann
- Nicaragua Vencio (A Song of Liberation from El Salvador) – Janet Stecher, Marci Boyd, and Susan Lewis
- Like The Seasons – Ansel Matthews
- Champion At Keepin' 'Em Rollin' / Alman (medley) – Frank Christian and Mark Dann
- Sailor's Prayer – Rod MacDonald







Fast Folk CooP SE 108
(Vol. 1, #8)
37
1983
Dave Van Ronk: St. James Infirmary

- Intro
- Green Rocky Road
- Jesus Met The Woman At The Well
- Somebody Else But Me
- Come Back Baby (Let's Talk It Over One More Time)
- Boll Weevil Song
- St. James Infirmary @ youtube

- Blood Red Moon @ youtube
- Baby Let Me Lay It On You
- Statesboro Blues
- Dry Land Blues
- Keep It Clean
- Left Bank Blues

side 1 rec. April 5, 1983 live at the Théâtre du Forum des Halles in Paris, France by Jean-Jacques Boutard; Dave Van Ronk, voc, g; prod. by Larry Martin
side 2 rec. April 6, 1983 at Anagramme Studios in Paris, France by Daniel Boujon; Dave Van Ronk, voc, g; prod. by Larry Martin







Paris Album DKB 3359
38
1983
Dave Van Ronk in Rome

- Kansas City Blues (trad.)
- Down South Blues (Carr - Blackwell)
- Bad Dreams Blues (D. Van Ronk)
- Losers (D. Van Ronk)
- Long John (trad.)
- He Was A Friend Of Mine (B. Dylan)

- Another Time And Place (D. Van Ronk)
- Loving Spoonful (Rev. Gary Davis)
- Hoochie Coochie Man (Willie Dixon)
- The Old Man (Bob Dylan)
- Frankie's Blues (trad.)
- Honey Hair (D. Van Ronk)

Folkstudio
Roma Via G Sacchi 3
Tel. 06/5892374-314150
Folkstudio founder & owner Giancarlo Cesaroni † January 1998

cover design and artwork by Carlo Mauti







Folkstudio FK 5017
(It 1983)


= Alcazar CD ALC 120
(Ca 1995) "from ... another
time & place"

39
1984
Bleecker and MacDougal - The Folk Scene of The 1960's
The Jac Holzman Years

LP 1:
- Bleecker and MacDougal - Fred Neil
- White Winged Dove - Mark Spoelstra
- Rompin' Rovin' Days - Bruce Murdoch
- Don't You Leave Me Here - Dave Van Ronk [Elektra EKL-264 / EKS-7264]
- Ginger Man - Geoff Muldaur
- Blow Whistle Blow - Eric von Schmidt
- Girl from the North Country - Hamilton Camp
- Many a Mile - Patrick Sky

- One Meat Ball - Josh White
- Johnny Has Gone for a Soldier - Josh White
- Free and Equal Blues - Josh White
- On The Road Again - The Even Dozen Jug Band
- Hello Baby Blues - Danny Kalb
- Good Time Charlie - Koerner, Ray & Glover
- Titanic - Koerner, Ray & Glover
- John Hardy - Koerner, Ray & Glover

LP 2:
- Talking Atomic Blues - Oscar Brand
- Great Selchie of Shule Skerry - Oscar Brand
- M T A - Will Holt
- Who's Going to Shoe Your Pretty Little Foot - Tom Paley & Peggy Seeger
- Buck Dancer's Choice - Tom Paley
- The Cuckoo - Tom Paley
- Devil's Dream - Eric Weissberg
- Nine Hundred Miles - Eric Weissberg
- Nine Hundred Miles to Go - Dick Rosmini
- Picker's Medley - Dick Rosmini

- If I Had A Hammer - The Limeliters
- Lonesome Traveller - The Limeliters
- House of the Rising Sun - Glenn Yarbrough
- Pretty Polly - Erik Darling
- Salty Dog - Erik Darling
- Peter Gray - The Folksingers
- Marcella Wahine - The Travellers 3
- Sinner Man - The Travellers 3
- Wade in the Water - Judy Henske

LP 3:
- I Can't Help But Wonder Where I'm Bound - Tom Paxton
- What did you Learn in School Today - Tom Paxton
- The Last Thing on my Mind - Tom Paxton
- Daily News - Tom Paxton
- Ramblin' Boy - Tom Paxton
- Lyndon Johnson Told The Nation - Tom Paxton
- Bottle Of Wine - Tom Paxton

- Power And The Glory - Phil Ochs
- I Ain't Marchin' Anymore - Phil Ochs
- Here's To The State Of Mississippi - Phil Ochs
- Changes - Phil Ochs
- Love Me I'm A Liberal - Phil Ochs
- When I'm Gone - Phil Ochs

LP 4:
- Maid Of Constant Sorrow - Judy Collins
- Fannerio - Judy Collins
- The Bells Of Rhymney - Judy Collins
- Daddy You've Been On My Mind - Judy Collins
- Urge For Going - Tom Rush
- Panama Limited - Tom Rush

- Blues On The Ceiling - Fred Neil
- Other Side To This Life - Fred Neil
- A Little Bit of Rain - Fred Neil
- House Un- American Blues Activity Dream - Richard Fariña
- Birmingham Sunday - Richard Fariña
- Midnight Through Morning - David Blue
- So Easy She Goes By - David Blue


notes (20 page booklet)
by Lenny Kaye





Elektra 60381 (stereo)
40
1984
Crossroads
White Blues In The 1960s - The Jac Holzman Years

LP 1:
Koerner, Ray And Glover
- Linin' Track
- Hangman
- One Kind Favor
- Banjo Thing
- Jimmy Bell
- Corrina
- Fannin Street
- Black Dog

Koerner, Ray And Glover
- Poor Howard
- Black Betty
- Broke Down Engine
- Rent Party Rag
- Don't Let Your Right Hand Know What Your Left Hand Do
- Can't Get My Rest At Night

LP 2:
Dave Van Ronk - Bad Dream Blues [Elektra EKL-264 / EKS-7264]
Geoff Muldaur - Downtown Blues
Mark Spoelstra - France Blues
Danny Kalb - I'm Troubled
Al Kooper - I Can't Keep From Cryin' Sometimes
Tom Rush - You Can't Tell A Book By The Cover

The Lovin' Spoonful
- Good Time Music
- Almost Grown
- Searchin'
- Don't Bank On It Baby
Eric Clapton & The Powerhouse
- Steppin' Out
- Crossroads
- I Want To Know

LP 3:
The Paul Butterfield Blues Band
- Born In Chicago
- Shake Your Money-Maker
- Blues With A Feeling
- I Got My Mojo Working
- Mellow Down Easy
- Look Over Yonders Wall
- Good Morning Little Schoolgirl

The Paul Butterfield Blues Band
- Walkin Blues
- I Got A Mind To Give Up Living
- Work Song
- Pity The Fool

compiled by Danny Kaye; cover art by Romare Bearden
3 LP set
notes (29 page booklet)
by Danny Kaye





Elektra 60383 (stereo)
41
1984
Fast Folk Musical Magazine: The Blues (June 1984)

- Ain't Nobody Home But Me - Paul Geremia and Del Lord (3:14)
- Worried Blues - Bob Guida (2:35)
- Walkin' Blues - Tucker Smallwood (2:33)
- Viper's Drag - Howie Wyeth (2:22)
- 1919 Influenza Blues - Bob Zaidman (3:09)
- Drop Down Mama - John Hammond Jr. (5:12)

- Hot Time in Old Town Tonight - Ari Eisinger and Joe Lauro (1:55)
- I Like You Fine - Rhythm & Romance (5:03)
- April Blues - Peter Spencer (3:12)
- Country Rag - The Otis Brothers (1:45)
- Motherless Children - Dave Van Ronk (3:12) @ youtube
- What Are They Doing in Heaven Today - Pat Conti [sic] (2:54)




<!A HREF="fastfolk/grafik/106b4.jpg">


Fast Folk FF 106 (Vol.1, No.6)
42
1985
Dave Van Ronk: Going Back To Brooklyn

- Losers (Dave Van Ronk) (3:10) @ youtube
- Blood Red Moon (Dave Van Ronk) (4:05) @ youtube
- Honey Hair (Dave Van Ronk) (3:18) @ youtube
- Head Inspector (Dave Van Ronk) (2:27) @ youtube
- Luang Prabang (Dave Van Ronk) (1:34) @ youtube
- Antelope Rag (Dave Van Ronk) (5:20) @ youtube
- Tantric Mantra (Dave Van Ronk) (0:38) @ youtube

- Gaslight Rag (Dave Van Ronk) (2:06) @ youtube
- Last Call (Dave Van Ronk) (2:31) @ youtube
- Garden State Stomp (Dave Van Ronk) (3:30) @ youtube
- Zen Koans Gonna Rise Again (Dave Van Ronk) (3:42) @ youtube
- The Whores of San Pedro (Dave Van Ronk) (0:31) @ youtube
- Left Bank Blues (Dave Van Ronk) (3:38) @ youtube
- Another Time and Place (Dave Van Ronk) (4:42) @ youtube

rec. by Chuck Ellis at the Barn, Ferrisburg, VT; Dave Van Ronk, voc, g; "Luang Prabag" and "Left Bank Blues" rec. by Alan Mattes & Bruce Bartone
front cover art by Andrea Vuocolo, photographed by John W. Serafin
Dave Van Ronk photo by Andrea Vuocolo

It's no small trick to write about your own songs without seeming to brag or complain. Probably the best way to go about it is to avoid any comment that edges on aesthetics and stick to technical and chronological data, and, of course, the inevitable odd anecdote.
The role of singer-songwriter has never much appealed to me. As Leonard Cohen once told me, the critical faculties develop acuity much more quickly than the ability to write. Very discouraging, especially in the beginning. The only thing to do is to keep at it, knowing that you are no Cole Porter or Wille Dixon, but knowing also that you are no judge of your own material, either. Some of this junk you are grinding out might have some value after all.
Eventually, things start to fall together ... at least I hope so.

Losers
Mostly written on a bus trip from Redding to Eureka circa '82. If I hate buses so much, why do I always seem to be on one?

Blood Red Moon
This one was supposed to be a serious, even scary, song a la Robert Johnson. I got a verse or two off in this manner and started to giggle...rewrite time. I guess serious and scary just isn't my long suite.

Honey Hair
I wrote this in '68 and recorded it around then, with very unsatisfactory results, in 4/4 time. Here it is in 5/4 (more or less), the way it should be.

Head Inspector
I'm not sure when I wrote this. The early '60's, I think. Air raid drills, for God's sake.

Luang Prabang
An imperialist love song, also a protest against wimpy anti-war songs.

Antelope Rag
As a sometimes (not at present) guitar teacher, I have been trying to get ragtime fingerpickers away from the current heavy emphasis on transcription from piano arrangements, and into composing rags directly on the guitar. This is my most recent attempt to practice what I preach.

Tantric Mantra
An excuse to use one of the most God-awful puns I've ever come up with.

Gaslight Rag
Written in '69 or '70 while the Gaslight on MacDougal Street was still a going concern. The sheer volume of talent that passed through that place was astounding: Dylan, Paxton, Ochs, Mississippi John Hurt, Buffy Saint-Marie, Bill Cosby, Ian and Sylvia, Lightnin' Hopkins, Wavy Gravy...the list is endless. There was an espirit there that I have never seen before or since. To the people who worked there, the Gaslight was a club in every sense of the word. Not to mention the 6th Precinct, who would have loved to beat us over the head with it.

Last Call
The result of an all-night shop talk-cum-bull session with Leonard Cohen and Joni Mitchell, assisted by a good deal of wine and a truly loathsome fluid called Byrh. Next morning I awoke with this beside me, in my handwriting. If Leonard or Joni dictated it to me, they have kept mercifully mum.

Garden State Stomp
If some of these place names seem a bit unlikely, there is a publication called Towns and Municipalities in New Jersey, published by the New Jersey Highway Department. Like Casey Stengel said, 'you could look it up'.

Zen Koans Gonna Rise Again
The hard-drug epidemic in tht in the Village in the mid-sixties. Written partly in the hipster/carny argot then in use thereabouts.

The Whores of San Pedro
Written during a short stint with the Merchant Marines. Any fuller explanation would be longer than the song, and that's a bad policy.

Left Bank Blues
A year or so ago I was stuck in Paris for a week, very low on funds, and needing to keep alive until a tour began and money started to come in. I found a cheap pension on Rue de I'Ancienne Comedie, in the Latin Quarter. A genuine garret, by God: cold, damp and musty, with a bed that looked like a relief map of the Pyranees and was every bit as comfortable. April in Paris! When you tired of rain, you could wait awhile and go out for a stroll in the sleet. Anyway, I wrote this in the garret to keep my fingers from freezing together. The guy who wrote that other song must have been hanging out in Mazatlan.

Another Time and Place
Sometimes a song seems to fall out of the sky and right into your lap. The first three verses of this one came out as if I'd been planning them for years...one draft with almost no revisions, in 45 minutes flat. The last verse took a year. I finally got it together while driving throug Utah with Dave Massengill. Dave was memorizing he had just written by reciting it over and over (silently, he thought) to himself. In sheer self-defense I had to write something."

-- Dave Van Ronk

"Some performances leave you really feeling like you know the artist...like an old drinking buddy or a childhood friend...but Dave Van Ronk? Anybody who can make New Jersey charming and stick a giggle in it, then turn around and write a song like 'Another Time and Place' and sing it with such tenderness and power is far too complicated for me to analyze or comprehend at anything but gut level.
Long ago, a mutual friend of Dave's and mine told me that to call someone your friend you must have visited their home (residence, shelter, tipi, flat, homestead, sod-shanty, hovel, pad, cottage, 1957 Chevy station wagon, penthouse, mansion, chicken coop, hideout, lair, etc., etc). I have called Dave friend through two lairs and many crossed paths...and you may feel familiar with this larger than life folk hero you encounter on the road and on the stage when he takes on life and turns it into the stuff of legend right before your very eyes, but let me describe a room to you in New York City on the human side of 14th Street. You go down a hall, passing a small kitchen that is clearly much in use, to get to it. You first see a number of exotic Zulu-Omoo looking artifacts on the wall...spears...and a six-foot pterodactyl of Polenesian extraction, framed by wall-to-wall books...an oak dining table proportioned appropriately to someone who intends to dine in company..equipment for listening to the tapes and records you also see and an arrangement of couch and chairs that puts everyone in the room face-to-face. If you're lucky, you're invited to dinner...David is a fantastic and inventive cook...next some wine, or maybe the Irish whiskey comes out and he becomes the cosmic DJ...old jazz...Louis Armstrong...Jack Teagarden...Groucho Marx...Bing Crosby...Sam Cooke...Mahagonny (in German with Lotte Lenya)...Balkan Women in Chorus...Russian Men (they sing so low the room vibrates) and if you have the stamina after the food, the wine, the whiskey, the conversation, the laughter, arguments, and politics, you'll get a second wind and start with Vivaldi at four in the morning.
This album is all original material by the man who lives in that room. His writing is potent and finely crafted...his performances are good theater, more like the great European cabaret singers (Bruant, Brel, Piaf, Aznavour) than any American I can think of...his guitar work sounds more and more like a piano and he sings more and more like a horn....hell, when I grow up, I think I'd like to be like Dave Van Ronk."

-- Rosalie Sorrels

notes by Rosalie Sorrels
and Dave Van Ronk







Reckless RK 1916
43
1988
Blues In The Bottle

Holy Modal Rounders - Blues In The Bottle
Tom Rush - Baby Please Don't Go
Ramblin' Jack Elliot - Pretty Boy Floyd
Dave Van Ronk - Sometimes I Feel Like A Motherless Child
Eric Von Schmidt - He Was A Friend Of Mine
Tracy Nelson - The House Of The Rising Sun
Dave Van Ronk - House Carpenter
Holy Modal Rounders - Junco Partner

Tom Rush - Duncan & Brady
Geoff Muldaur - Aberdeen Mississippi Blues
Tracy Nelson - Candy Man
Hold Modal Rounders - Fiddle In A Dram
Eric Von Schmidt - Joshua Gone Barbados
Dave Van Ronk - Death Letter Blues
Tom Rush - Barbry Allen
Ramblin' Jack Elliot - So Long It's Been Good To Know You

CD bonus tracks:
Dave Van Ronk - Long John
Eric Von Schmidt - Down On Me
Hold Modal Rounders - Sail Away Ladies
Tom Rush - Alabama Bound
Ramblin' Jack Elliot - The Cuckoo
Geoff Muldaur - Good Gin Blues

compiled by Brian Hogg





Big Beat WIK 71 (Ger)
44
1988
Dave Van Ronk: Hesitation Blues

- Samson And Delilah [Folksinger]
- Fixin' To Die [Folksinger]
- Long John [Folksinger]
- Motherless Children [Folksinger]
- I Buyed Me A Little Dog [Inside]
- Poor Lazarus [Folksinger]
- The Cruel Ship's Captain [Inside]
- Kansas City Blues [In The Tradition]
- House Carpenter [Inside]
- Fair And Tender Ladies [Inside]
- Hesitation Blues (3:28) [In The Tradition]
- Hang Me, Oh Hang Me [Folksinger]
- Come Back Baby [Folksinger]
- Sprig Of Thyme [Inside]
- Silver Dagger [Inside]
- Death Letter Blues [In The Tradition]

compilation out of Prestige's "Folksinger", "In The Tradition" and "Inside" albums; compiled by Brian Hogg
notes by Brian Hogg







Big Beat WIK 84
45
1988
Fast Folk Musical Magazine: Sixth Anniversary Issue (Fall 1988)

Fast Folk FF 405
- Number One In America - David Massengill (7:59)
- The Marching Dream - Suzanne Vega (3:09)
- I Need You - Paul Kaplan (3:37)
- Godzilla - Erik Frandsen (2:03)
- Bawdy Songs: A Love Song / A Travel Tale / A Line Oon Brotherhood (Medley) - Ed McCurdy (3:41)
- Three Flights Up - Frank Christian (3:50) @ youtube

- Before You Sing - The Roches (5:45)
- Somebody To Do That For - Ilene Weiss (3:07)
- The World Turned Up-Side Down - Brian Rose (5:15)
- Problem Child - Steve Jensen (3:55)
- Losers - Dave Van Ronk (3:18) @ youtube
- Down The Highway - Germana Pucci (3:43)

Fast Folk FF 406
- Heart Of Tthe Working Man - The Tom Russell Band (2:56)
- Now That The Rain Has Gone - Rod MacDonald, Margo Hennebach, and Mark Dann (3:53)
- Shotgun Down The Avalanche - Shawn Colvin, Lillie Palmer, John Leventhal, and Mark Dann (4:36)
- Restless Youth In Chinatown - Peter Spencer and Mark Dann (3:59)
- Remodeling The Pentagon - Michelle Shocked (2:16)
- Heart On The Run - Tom Intondi and Mark Dann (3:25)

- Hills Of Tuscany - Eric Andersen and Mark Dann (4:49)
- Uneasy Nights - Richard Meyer, Mark Dann, and Akiva Wharton (5:34)
- Brothers - Hugh Blumenfeld and Mark Dann (2:59)
- Realities - Christine Lavin (3:08)
- The Hawk's Song - Josh Jeffen and Mark Dann (5:41)
- I'm Gonna Buy A New Outfit - Judith Zweiman and the Gyrls on the Busse (3:14)





Fast Folk FF 405/406
(Vol. 4, No. 5/6)
46
1989
Frankie Armstrong / Dave Van Ronk: Let No One Deceive You
Songs of Bertolt Brecht

- Mack the Knife (Theme from "The Threepenny Opera") # @ youtube
- The Love Market * @ youtube
- We All Make The Bed That We Lie In # @ youtube
- Song Of A German Mother * °° @ youtube
- Lullabies I, II, III / To My Countrymen / Lullaby IV *
- A Man Is A Man # || @ youtube
- The Song Of The Little Wind *
- Let No One Deceive You # @ youtube

- Song Of The Moldau *
- The Legend Of The Dead Soldier #
- Pirate Jenny *
- Alabama Song # @ youtube
- What Keeps Mankind Alive? *
- Tango-Ballad # []

rec. at Ocean Sound Studios, Vancouver; except "Tango Ballad" rec. in New York; prod. by Gary Cristall
# Dave Van Ronk, voc, g; || Elijah Wald, 2nd g; [] Eric Frandsen, g; [] Paul Blaney, b; [] J. Douglas Dodd, p
* Frankie Armstrong, voc; Leon Rosselson, g, p

°° omitted from Flying Fish CD FF 70557!

notes by Roy Bailey (back
cover) and John Brazier
(12 page booklet)





Aural Tradition Records
ATR-107 (Ca 1989)

24 page booklet with
notes by Roy Bailey
and John Brazier







= Flying Fish CD FF 70557
(US 1990)

47
1989
American Children

Richie Havens - American Children
Rory Block - Papaya People
Dave Van Ronk - I'm Proud To Be A Moose
Happy Traum - Jambonee
Maria Muldau - Daydream
Peter Schickele - Tyrannosaurus Rex

Taj Mahal - Deva-Devalita
Rick Danko - Blue Tail Fly
Rory Block - Lucky Ol' King
Fred Koller - Relax
Maria Muldaur - I'll Be Your Baby Tonight
Jamie Black - Kumbaya / American Children - Reprise





Alacazam ALA 1002
(Ca 1989)
48
1990
Dave Van Ronk presents
Peter and the Wolf
with Uncle Moose and the Kazoo-O-Phonic Jug Band

- Peter and the Wolf
- Swing On A Star
- I'm Proud To Be A Moose
- Foolish Frog
- Mairzy Doats
- Teddy Bears' Picnic (3:04) @ youtube
- Green, Green Rocky Road



Alacazam ALACAZAM1004
(Ca 1990)
49
1990
Hummin' To Myself
Dave Van Ronk sings an American Songbook

- Wrap Your Troubles In Dreams
- Making Whoopie
- I Can't Give You Anything But Love
- Sweet Georgia Brown
- Hummin' To Myself
- Hong Kong Blues
- Lucky So And So
- The Fresno Shuffle
- Gee Baby Ain't I Good You
- Two Sleepy People
- It Ain't Necessarily So
- Do You Know What It Means To Miss New Orleans
- Jack You're Dead


notes by Sam Charters









Gazell GPCD 2004
50
1990
The Greenwich Village Folk Festival 1989-1990

- Don't Get Killed - Andy Breckman
- All Nite Long - Frank Christian
- I'll Make A Deal With You - Hugh Pool
- Please Be My Umbrella - Ilene Weiss
- My Dad's Face - 5 Chinese Brothers
- Did You Hear John Hurt? - Dave Van Ronk

- When the Circus Comes to Town - Cliff Eberhardt
- Another Song About Paris - Erik Frandsen
- Forget-Me-Not - Jack Hardy
- Walking Blues - Guy Davis
- The Hold Of Your Arms - Mark Johnson
- Yuppies In The Sky - Tom Paxton

rec. October 1, 1989 and October 21, 1990 live at the Eisner And Lubin Auditorium of New York University, New York City


Gadfly 222


= Gadfly CD 100591 (10/1994)

51
1991
Blues At Newport
Recorded live at the Newport Folk Festival 1959-64

Mississippi John Hurt
- Candy Man
- Coffee Blues
- Stagolee
Brownie McGhee & Sonny Terry
- Long Gone
- Key To The Highway
Reverend Gary Davis
- Samson And Delilah
- I Won't Be Back No More
Reverend Robert Wilkins
- The Prodigal Son
- (I Wish I Was In) Heaven Sitting Down
Skip James
- Devil Got My Woman
Sleepy John Estes, Yank Rachel & Hammy Nixon
- Clean Up At Home
Robert Pete Williams
- On My Way From Texas
- Bulldog Blues
Jesse Fuller
- I Double Double Do Love You
- San Francisco Bay Blues
John Hammond
- Me And The Devil
John Lee Hooker
- Sometimes You Make Me Feel So Bad
- Hobo Blues
Dave Van Ronk
- That Will Never Happen No More



Vanguard CD 70115-2
52
1991
Dave Van Ronk: The Folkways Years 1959 - 1961

- Duncan and Brady
- Hesitation Blues
- In the Pines
- Willie The Weeper
- Twelve Gates To The City
- River Come Down
- Careless Love
- Betty And Dupree
- Bed Bug Blues
- Leave Her Johnny
- Yas, Yas, Yas
- Please See That My Grave Is Kept Clean
- Winin' Boy
- Just A Closer Walk With Thee
- Gambler's Blues (from Folkways 3805 "The Unfortunate Rake")
- Spike Driver's Moan
- Georgie On The IRT
- Come Back Baby
- Black Mountain Blues
- My Baby's So Sweet

compiled by Kip Lornell and Dave Van Ronk
cover photo (Dave Van Ronk portrait) by David Gahr

notes by Kip Lornell
and Dave Van Ronk









Smithsonian Folkways
CD 40041
53
1991
Folk Song America Volume Three
A 20th Century Revival

- Lonesome Traveler - The Limeliters
- Santy Anno - Ewan MacColl / A.L. Lloyd
- The Lion Sleeps Tonight (Wimoweh) - The Tokens
- Yas-Yas-Yas - Dave Van Ronk
- Portland Town - Ramblin' Jack Elliott
- Salty Dog Blues - Lester Flatt
- Whiskey You're The Devil - The Clancy Brothers
- We Shall Not Be Moved - The Freedom Singers
- Peggy Seeger - The First Time Ever I Saw Your Face
- Candy Man Blues - Mississippi John Hurt
- Walk Right In - Rooftop Singers
- Little Boxes - Pete Seeger
- Blowin' In The Wind - Bob Dylan
- Duncan And Brady - "Spider" John Koerner
- Pans Of Biscuits - Hedy West
- Tom Rush - I Don't Want Your Millions Mister
- Ramblin' Boy - Tom Paxton
- St. James Hospital - Doc Watson
- I Am A Pilgrim - The Kentucky Colonels
- Captain Woodstock's Courtship - Ian & Sylvia
- The Ballad Of Ira Hayes - Patrick Sky
- Pack Up Your Sorrows - Mimi Farina / Richard Farina
- Mr. Tambourine Man - The Byrds
- Now That The Buffalo's Gone - Buffy Sainte-Marie
- Jug Band Music - Jim Kweskin
- Last Night I Had The Strangest Dream - Simon & Garfunkel
- There But For Fortune - Phil Ochs



The Smithsonian Collection
of Recordings.- Sony Music
Special Products RD 046-2
54
1992
Dave Van Ronk: A Chrestomathy

CD 1:
- Tell Old Bill [... Sings]
- Cocaine Blues [Folksinger]
- Motherless Children [Folksinger]
- Poor Lazarus [Folksinger]
- Mr. Noah [Folksinger]
- Come Back Baby [Folksinger]
- If I Had To Do It All Over Again (I'd Do It All Over You) [In The Tradition]
- Kentucky Moonshiner [Inside]
- Fair And Tender Ladies [Inside]
- Alley-Oop [Hudson Dusters]
- Chelsea Morning [Hudson Dusters]
- Clouds (From Both Sides Now) [Hudson Dusters]
- Swinging On A Star [Hudson Dusters]
- Dink's Song [Hudson Dusters]
- Romping Through The Swamp [Hudson Dusters]


CD 2:
- My Little Grass Shack In Kealakekua, Hawaii [Ageing Children]
- You's A Viper [Ragtime Jug Stompers]
- Temptation Rag [Ragtime Jug Stompers]
- Stealin' [Ragtime Jug Stompers]
- John Hurt [Somebody Else]
- Sunday Street [Sunday Street]
- Entertainer [Somebody Else]
- Candy Man [Ageing Children]
- Teddy Bear's Picnic [Peter & The Wolf]
- Mack The Knife [Let No One]
- Tango Ballad [Let No One]
- Losers [Brooklyn Bridge]
- Garden State Stomp [Brooklyn Bridge]
- Two Sleepy People [Hummin']
- The Fresno Shuffle [Hummin']

compilation out of diverse early and recent (1960 until 1991) records; compilation prod. by Sam Charters

CHRES-TO-MA-THY: A selection of choice passages








Gazell GPCD 2007/8
55
1992
The Tenth Anniversary Fast Folk Revue Part 1 - Live at the Bottom Line 1992 (October 1992)

- Home For The Holidays / The Boats Are Rolling Out - Jack Hardy, Eddy Lawrence, Wendy Beckerman, and Greg Anderson (6:29)
- Guinnevere - Lucy Kaplansky, Rachel Polisher, Robin Batteau, Mark Dann, and Jeff Hardy (5:53)
- Record Time - Steve Key, Tom Meltzer, Josh Joffen, Judith Zweiman, Pierce Pettis, Eddy Lawrence, Lisa Gutkin, and Jeff Hardy (3:17)
- Marie - Jim Allen, Richard Julian, Greg Anderson, Brian Mitchell, Howie Wyeth, and Mark Dann (3:40)
- The Blue Whale - Eddy Lawrence, Jack Hardy, Richard Meyer, Jeff Wilkinson, Richard Shindell, David Massengill, and Brian Mitchell (3:37)
- Fisherman - Wendy Beckerman and Greg Anderson (3:32)
- Before the Country Moved to Town - Michael Jerling, Richard Meyer, and Eddy Lawrence (4:00)
- Shining Brow - Jeff Wilkinson, Richard Meyer, Judith Zweiman, Frank Tedesso, Jack Hardy, Wendy Beckerman, and Richard Julian (4:09)
- Blood Sings - Suzanne Vega (3:24)

- Man On A Ledge - Rod MacDonald, Greg Anderson, and Craig Harris (6:33)
- The Child - Jack Hardy, Wendy Beckerman, Rachel Polisher, Nikki Matheson, Jeff Hardy, Lisa Gutkin, Greg Anderson, and Mark Dann (4:42)
- I've Got Nothing To Hide - The Roches (3:57)
- In The Mirror - Brian Rose, Greg Anderson, and Howie Wyeth (3:50)
- Back in the Depression - Pierce Pettis, Nikki Matheson, Josh Joffen, Rachel Polisher, Hugh Blumenfeld, and Mark Dann (3:13)
- Are You Happy Now? - Richard Shindell, Nikki Matheson, Lucy Kaplansky, Brian Mitchell, Greg Anderson, and Jeff Hardy (4:22)
- The Last Time - Rachel Polisher and Richard Julian (4:12)
- The Garden State Stomp (2:55) - Dave Van Ronk
- Rise From The Ruins - Richard Julian, Richard Meyer, Eddy Lawrence, Greg Anderson, Lisa Gutkin, Brian Mitchell, Mark Dann, Jeff Hardy, and Howie Wyeth (3:27)



Fast Folk FF 603 (Vol. 6, No. 3)
56
1993
Blues with a feeling

CD 1:
- Introduction - Various
- Preachin' Blues - Son House
- Death Letter - Son House
- Empire State Express - Son House
- Devil Got My Woman - Skip James
- Aberdeen Mississippi Blues - Bukka White
- Levee Camp Blues - Robert Pete Williams
- Louise Louise - Mississippi Fred McDowell
- Don't Let Nobody Turn You 'Round - Rev Robert Wilkins
- Keep Your Lamp Trimmed And Burning - Rev Pearly Brown & Mrs Christine Brown
- What Do You Think About Jesus - Mississippi Fred McDowell & Rev Robert Wilkins
- The Woman I'm Loving, She's Taken My Appetite (Monkey Faced Woman) - Lightnin' Hopkins
- Come On Baby - Lightnin' Hopkins
- Baby Please Don't Go - Lightnin' Hopkins
- Freddie - Mance Lipscomb
- So Different Blues - Mance Lipscomb
- God Moves On The Water (The Sinking Of The Titanic) - Mance Lipscomb

CD 2:
- Freight Train - Elizabeth Cotten
- Here I Am Lord, Send Me - Mississippi John Hurt
- Make Me A Pallet On The Floor - Mississippi John Hurt
- San Francisco Bay Blues - Jesse Fuller
- I Can't Quit You Now Blues - John Lee Hooker
- Walkin' Blues - Muddy Waters
- I Can't Be Satisfied - Muddy Waters
- Five Long Years - Willie Dixon & Eddie Boyd
- Wrinkles - Willie Dixon & Lafayette Leake
- Cocaine - Dave Van Ronk
- Drop Down Mama - John Hammond
- Grizzly Bear - Eric Von Schmidt
- Traveling Blues - John Koerner
- See See Rider - The Chambers Brothers
- Blues With A Feeling - Paul Butterfield Blues Band
- Look Over Yonders Wall - Paul Butterfield Blues Band
- Born In Chicago - Paul Butterfield Blues Band

rec. live at the Newport Folk Festival
2 CD set

Ace/Vanguard VCD2 77005
57
1994
Dave Van Ronk: To All My Friends In Far-Flung Places
Dave Van Ronk...Sings A Gathering Of Songs By A Great Many Friends...

CD 1:
- Subterranean Homesick Blues
- Where Were You Last Night
- Simon Smith And The Amazing Dancing Bear
- Ramblin' Boy
- My Name Joe
- Outside Of A Small Circle Of Friends
- Entering Marion
- The Drinking Song
- Amoeba Hop
- Things
- Stone Sober Blues
- Joshua Gone Barbados
- Soon My Work Will All Be Done
- To All My Friends In Far Flung Places

- Wrap The World Around Your Finger (Judy Mayhan)
CD 2:
- Jersey Girl
- Punky's Dilemma
- I'm Hip
- Harbour Of Love
- Awful Kind Of Blues
- Why The Blues Don't Worry Me
- A Sailor's Prayer
- Many A Mile
- Four Strong Winds
- The Simple Things We Said (Les choses les plus simple)
- Song To A Seagull
- Heart On The Run
- To All My Friends In Far Flung Places (Reprise)

rec. between June 1993 and August 1994 in New York City at The Magic Shop by Steve Rosenthal and at Kampo Studio by Arthur Steuer with Jovan Djorjevic, assistant

"One of the major problems of the current songwriting renaissance is the dearth of discrimnating interpreters. Except for writers whose material is C & W compatible, it is next to impossible to get someone, anyone, to sing a song he or she didn't personally compose. To make matters worse, the prevailing climate among acoustical performers is very discouraging for interpreters. Not long ago, a singer-songwriter acquaintance of mine remarked of a contemporary (who is, by the way, a fine singer), 'Oh, she only does 'covers'!' (I had a sudden prophetic vision of a CD which will appear in the near future - 'Pavarotti 'Covers' Puccini'.) Record companies and the people who book clubs and concerts share this prejudice, and indeed the situation has become so grotesquely unbalanced that I suspect the pendulum is about to swing back the other way. Let's hope it doesn't swoop over to the opposite extreme where songwriters feel it necessary to fob off their tunes as 'Folk Songs', as did John Jacob Niles and others in the '30s and '40s.
The flip side of this state of affairs is the vast pool of first-rate songs available to any singer with open ears - untouched material (except by its authors) just begging for an intelligent and appreciative reading. Selecting the pieces for this album has been one of the most difficult and frustrating chores I have undertaken since I gave up ballet. Finally, I hit on the notion of only doing songs by people I know. This narrowed the A-list down to a mere 120 songs (no kidding), as well as automatically selecting for me Jane Vass' lovely song for the title song and theme.
Let me hasten to add - not every author represented here is a close personal friend. A few of them I have only met briefly and casually, but it comforted me to think that if I got stuck I could, at least in theory, get on the horn and ask the songwriter, 'What the hell is this line supposed to mean?' Only later did it occur to me that conversely the songwriter could just as easily get on the horn and ask,'What have you done to my song, schmuck?' Which just goes to show that if we really thought through the consequences of our actions, we'd probably never do anything.
So at last, with the help of my kindly producer, Sam Charters, ('Yeah, it's a great song, but you can't sing it'.), I managed to pare the program down to a mere 27 songs. If time and the budget had allowed, it could just as easily been double that, but at least I hope it gives some idea of how much great stuff is out there. Before taking my leave, I would like to especially thank Frank Christian, guitarist and songwriter of the first chop; Keith Ingham, a pianist and arranger of almost unbelievable versatility, Dakota Dave Hull, arranger extraordinare, and man of a thousand guitars, and the aforementioned Sam Charters, who got me into this thing in the first place.
My thanks also to Andrea Vuocolo (my wife), whose idea for the Friendship Quilt cover helped pull the whole concept together.
Finally, I would like to dedicate this album to my boon companion Tom lntondi, whose songwriting, always good, kept getting better and better until his untimely death last May, a great loss to all of us."
-- Dave Van Ronk

THE MUSICIANS -

Dave Van Ronk does the singing and plays the guitar on tracks 5, 1 0, 1 1, and 12 on Disc 1, and tracks 4, 6, 8, and 13 on Disc 2.

Frank Christian is the electric guitarist, and plays acoustic on tracks 3, 6 (including the solo), 7, 9 on Disc 1, tracks 2, 5, 7, 9, and 13 on Disc 2. Keith lngham is the pianist and also did many of the arrangements. He is the organist on THINGS.

Dakota Dave Hull plays acoustic guitars on tracks 4 (both guitars), 6, and 10 (rhythm and solo) on Disc 1, tracks 4, 6 and 13 on Disc 2, and helped set the arrangements. The guitarist on SOON MY WORK is Erik Frandsen. Murray Wall plays the acoustic bass, David Conred, electric bass. Drums, Arnie Kinselle, harmonica, Bill Ferns, accordion. Anne De Marinis, jug and washboard, Sam Charters.

Special thanks to Paul Geramia for his half of the guitar duet on his STONE SOBER BLUES, Tom Paxton for singing the harmony on his RAMBLIN' BOY, and Christine Lavin for her scat chorus on her AMOEBA HOP. (Thanks to Andrea Vuocolo for 'For them it's a monster song.')

The voices on WRAP THE WORLD and TO ALL MY FRIENDS IN FAR FLUNG PLACES are Brift Savage (single harmony voice on ALL MY FRIENDS), Ado Dyer, and Shelly Thompson, vocal arrangements by Sam Charters. The voices on THINGS are Christine Lavin and Eve Silber, vocal arrangement by Dave Van Ronk and Andrea Vuocolo.

Our thanks to the singers on SOON MY WORK, and THE SAILORS PRAYER: Heather Wood, Christine Lavin, Peri Lyons, Frank Christian, Chris Lowe, Eric Frandson, Dove Massengill, and Sam Charters. For THE DRINKING SONG they are joined by Andrea Vuocolo, Mallay Charters, and Jenny Schuessler

2 CD set





Gazell GPCD 2011/12
58
1994
The Fast Folk Review 1994: Live At The Bottom Line (November 1994)

- Foolish Game - Buddy Mondlock, Jack Hardy, and Richard Julian (3:40)
- Three Kinds Of News - Jack Hardy, Louise Taylor, and Wendy Beckerman (4:16)
- Gillianna - Wendy Beckerman and Louise Taylor (2:22)
- Cats Of The Colosseum - Buddy Mondlock, Louise Taylor, and Richard Julian (5:02)
- The Viennese Drinking Song - Camille West (4:16)
- Troubled Mind - Catie Curtis (4:03)
- Losers - Dave Van Ronk (2:45) @ youtube
- Sex and Consequenses - Wendy Beckerman, Louise Taylor, and Catie Curtis (4:53)
- Dachau - Jack Hardy and Wendy Beckerman (6:17)

- Blow 'em Away - Richard Julian and the Cast (4:10)
- Last Chance Dance - Louise Taylor (4:34)
- Hole In The Sky - Richard Julian, Buddy Mondlock, and Catie Curtis (3:15)
- Rider On An Orphan Train - David Massengill (4:14)
- Dyslexia - Camille West (3:03)
- Thin Ice - Louise Taylor, Wendy Beckerman, and Catie Curtis (4:18)
- Wedding Song - Richard Julian (3:11)
- Judy - Wendy Beckerman (4:36)
- Hole In The Bucket - Catie Curtis and Cast (4:47)



Fast Folk FF 802
(Vol. 8, No. 2)
59
1994
Christine Lavin Presents: Follow That Road
Highlights of the Second Annual Martha's Vineyard Singer / Songwriter' Retreat Held at the Wintertide Coffeehouse

CD 1:
Al Petteway - Wintertide
Susan Werner - Born A Little Late (The Baby Boomer Song)
Pierce Pettis - Chase The Buffalo
Kristina Olsen - Hard Day Yesterday
Tom Paxton - Did You Hear John Hurt? (with Dave Van Ronk)
Cathy Fink - Speculator
Buddy Mondlock - Magnolia Street
Barbara Kessler - Deep Country
Red Grammer - These Are The Times
Frank Christian - From My Hands
Diane Zeigler - Cog In The Wheel
Tom Prasada-Rao - Ashes Of Love
Sally Fingerett - Home
David Buskin - Heaven Is Free Tonight
Tom Paxton - Ramblin' Boy

CD 2:
Jonathan Edwards - One Day Closer
Dave Van Ronk - Green Green Rocky Road
Ellis Paul - King Of Seventh Avenue
Megon McDonough - If Love Is A Dream
Bob Franke - Great Storm Is Over
Christine Lavin - Ballad Of A Ballgame
Robin Batteau - Cover Me
Kate Taylor - Flying In The Face Of Mr. Blue
Tom Paxton - Getting Up Early
Susan Graham White - Wearing The Time
Tom Intondi - Heart On The Run
Anne Hills - Follow That Road
John Forster - Feel Your Feelings
Cliff Eberhardt - Life Is Hard
Hilary Field - Menemsha


2 CD set
notes by Christine Lavin









Rounder / Philo CD 1164
60
1995
The Prestige / Folklore Years Vol. 1: All Kinds Of Folks

- New York Town - Ramblin' Jack Elliott
- Railroad Bill - Ramblin' Jack Elliott
- Roll In My Sweet Baby's Arms - Ramblin' Jack Elliott
- Duncan And Brady - Tom Rush
- Rag Mama - Tom Rush
- Barb'ry Allen - Tom Rush
- Wagoner's Lad - Peggy Seeger
- Chickens They Are Crowing - Peggy Seeger
- Green Rocky Road - Dave Van Ronk
- Whoa, Back, Buck! - Dave Van Ronk
- Maggie Lauder - Jean Redpath
- Fife Overgate - Jean Redpath
- Joshua Gone Barbados - Eric Von Schmidt
- She's Like A Swallow - Bonnie Dobson
- Irish Exile Song - Bonnie Dobson
- Long Chain - Maxine Sellers
- Single Girl - Maxine Sellers
- Jesus Met The Woman At The Well - Len And Judy
- This Life I'm Living - Len and Judy


notes by Samuel Charters

Prestige PRCD-9901-2
(US 1995)
61
1995
The Prestige / Folklore Years Vol. 2: The New City Blues

- Cocaine Blues - Dave Van Ronk
- Death Letter Blues - Dave Van Ronk
- Red River Blues - Jesse Fuller
- How Long Blues - Jesse Fuller
- San Francisco Bay Blues - Jesse Fuller
- Sleepy Man Blues - Geoff Muldaur
- Aberdeen Mississippi Blues - Geoff Muldaur
- Motherless Child Blues - Tracy Nelson
- Startin' For Chicago - Tracy Nelson
- Ramblin' Man - Tracy Nelson
- Crow Jane - Eric Von Schmidt
- Light Rain - Eric Von Schmidt
- Kennedy Blues - Eric Von Schmidt
- Orphan's Blues - Tom Rush
- If You Don't Want Me Baby - Larry And Hank
- Watchdog Blues - Larry And Hank
- Four Women Blues - Larry And Hank
- Alberta - The New Strangers


notes by Samuel Charters

Prestige PRCD-9902-2
(US 1995)
62
1995
The Prestige / Folklore Years Vol. 3: Roots And Branches

- Let Us Get Together - Rev. Gary Davis
- Twelve Gates To The City - Rev. Gary Davis
- Maple Leaf Rag - Rev. Gary Davis
- Bound To Lose - The Holy Modal Rounders
- Euphoria - The Holy Modal Rounders
- Crowley Waltz - The Holy Modal Rounders
- Blues In The Bottle - The Holy Modal Rounders
- St. Louis Tickle - Dave Van Ronk
- Goodbye Maggie - The Lilly Brothers
- I'm Coming Back, But I Don't Know When - Harry and Jeanie West
- I'd Like To Be Your Shadow In The Moonlight - Harry and Jeanie West
- Beautiful, Beautiful Brown Eyes - The Charles River Valley Boys / Tex Logan
- Sally Goodin' - The Charles River Valley Boys / Tex Logan
- Uncle Penn - The Charles River Valley Boys / Tex Logan
- Salty Dog - Keith And Rooney
- Teardrops In My Eyes - Keith And Rooney
- The Maggie Rag - Mitch Greenhill
- Blues, Just Blues, That's All - The True Endeavor Jug Band
- Jug Band Blues - The True Endeavor Jug Band
- She's Gone - The True Endeavor Jug Band / Artie Traum
- High Society - The Folk Stringers
- I Don't Feel At Home In This World Any More - The New Strangers


notes by Samuel Charters

Prestige PRCD-9903-2
(US 1995)
63
1995
Dave Van Ronk: from ... another time & place

- Another Time & Place
- Lovin' Spoonful
- Hoochie Coochie Man
- The Old Man
- Frankie's Blues
- Honey Hair
- Kansas City Blues
- Down South Blues
- Bad Dream Blues
- Losers
- Long John
- He Was A Friend Of Mine

re-release of 1983 Folkstudio LP FK 5017 "Dave Van Ronk In Rome"









Alcazar CD ALC 120
(Ca 1995)
65
1996
Smithsonian Folkways American Roots Collection

- Penitentary Blues - Lightnin' Hopkins (2:56)
- Sweet Old Chicago - Roosevelt Sykes (2:58)
- Blue Moon Of Kentucky - Bill Monroe (2:02)
- If I Had A Hammer (Hammer Song) - Pete Seeger (2:13)
- Lafayette - Lucinda Williams (3:45)
- Bosco Stomp - Nonc Allie Young, Bessyl Duhon & Rodney Balfa (3:04)
- Better Day - Sonny Terry and Brownie McGhee (3:04)
- Long Road To Travel - Lonnie Johnson (2:22)
- The Cuckoo Bird (The Coo-Coo Bird) - Doc Watson & Clarence Ashley (2:35)
- Pretty Saro - Doug & Jack Wallin (2:32)
- Freight Train - Elizabeth Cotten (2:46)
- Old Joe Bone - The New Lost City Ramblers (2:00)
- Have A Feast Here Tonight - Bill Monroe & Doc Watson (2:24)
- Freedom Road - Josh White (2:21)
- This Land Is Your Land - Woody Guthrie (2:19)
- Two Good Men (Sacco and Vanzetti) - Woody Guthrie (3:49)
- Black Girl (In The Pines) - Lead Belly (2:10)
- Irene (Goodnight Irene) - Lead Belly (2:18)
- Somebody's Been Fooling #1 - Big Joe Williams (2:52)
- Hesitation Blues - Dave Van Ronk (2:34)
- I'm Gonna Be An Engineer - Peggy Seeger (4:31)
- Delgadina - Mercedez López - (2:16)
- I Was Standing By The Bedside Of A Neighbor - Michele Lanchester & Sweet Honey in the Rock - (3:22)
- Virgo - Mary Lou Williams (2:29)
- Syl-O-Gism - Mary Lou Williams (3:31)
- We Shall Overcome - The Freedom Singers, Dorothy Cotton & Pete Seeger (2:42)



Smithsonian Folkways
CD 40062
66
1996
Christine Lavin Presents Laugh Tracks Volume 2
Two Evenings of Music & Madness, Live at the Bottom Line

Cliff Eberhardt - what is bothering Cliff Eberhardt now? (0:46)
Cliff Eberhardt - Good For Nothing Saint (Mr. Christopher) (2:25)
Lou & Peter Berryman - Double Yodel (3:12)
Rob Carlson - ... demonstrates the art of the international insult (0:55)
Rob Carlson - God Loves The Irish (2:31)
Sally Fingerett - TV Talk (3:40)
David Buskin - ... goes out on a limb (0:30)
David Buskin - Hotline (7:07)
Betty - Slap Bang (2:25)
Dave Van Ronk - ... gives himself advice (0:04) @ youtube
Dave Van Ronk - Garden State Stomp (2:57) @ youtube
Christine Lavin - I'm Bored 3:28)
The Foremen - Every Man For Himself (4:03)
Debi Smith - ... on the bodhran, The Hags, and Irish Pizza (0:15)
Debi Smith - Sleep (2:47)
Tom Paxton - ... explains the '80s (0:34)
Tom Paxton & Company - Yuppies In The Sky (3:35)
secret bonus cuts:
Tom Paxton - The Jackie O Auction (0:33)
WFUV laughers - Laugh Track (0:07)



Shanachie CD 8023
67
1996
The Bluesville Years Vol. 7: Blues Blue, Blues White
Blues in the Sun Vol. 7

- Fixin' To Die - Dave Van Ronk (2:52)
- Come Back Baby - Dave Van Ronk (3:49)
- Jesus Met The Woman At The Well - Dave Van Ronk (4:40)
- Statesboro Blues - Dave Van Ronk (1:52)
- Baby Please Don't Go - Tom Rush
- Alabama Bound - Tom Rush
- Nobody Knows You When You're Down And Out - Danny Kalb
- Jelly Roll Baker - Geoff Muldaur (3:10)
- Trouble Soon Be Over - Geoff Muldaur (3:48)
- Motherless Chile Blues - Geoff Muldaur (3:11)
- Everybody Ought To Make A Change - Geoff Muldaur (3:16)
- Grieving Hearted Blues - Tracy Nelson
- Ramblin' Man - Tracy Nelson
- House Of The Rising Sun - Tracy Nelson
- Long Old Road - Tracy Nelson
- Champagne Don't Hurt Me, Baby - Eric Von Schmidt
- Gulf Coast Blues - Eric Von Schmidt
- Light Rain - Eric Von Schmidt
- Just To See You Stand That Way - Eric Von Schmidt
- Ramblin' On My Mind - The New Strangers
- Keys To The Highway - The New Strangers

rec. between April 1962 and May 1963
notes by Samuel Charters

Prestige PRCD-9915-2
68
1997
Dave Van Ronk Live at Sir George Williams University

- Gambler's Blues
- That Will Never Happen No More
- The Old Man
- St. Louis Tickle
- Frankie And Albert
- Down And Out
- W.C. Fields Routine
- Mack The Knife
- Song Of The Wandering Angus
- Mean World Blues
- Keep It Clean
- Statesboro Blues
- Cocaine


notes by Michael Nerenberg









Just A Memory CD 9132
(Ca 1997)
69
1997
Blues with a feeling part two

- Freight Train - Elizabeth Cotten
- Here Am I, Oh Lord, Send Me - Mississippi John Hurt
- Make Me a Pallet on the Floor - Mississippi John Hurt
- San Francisco Bay Blues - Jesse Fuller
- I Can't Quit You Baby / Stop Now Baby - John Lee Hooker
- Walkin' Blues - Muddy Waters
- I Can't Be Satisfied - Muddy Waters
- Five Long Years - Eddie Boyd / Willie Dixon
- Wrinkles - Willie Dixon / Lafayette Leake
- Cocaine - Dave Van Ronk
- Drop Down Mama - John Hammond, Jr.
- Grizzly Bear - Eric Von Schmidt
- Traveling Blues - "Spider" John Koerner
- See See Rider - The Chambers Brothers
- Blues With a Feeling - The Paul Butterfield Blues Band
- Look Over Yonders Wall - The Paul Butterfield Blues Band
- Born in Chicago - The Paul Butterfield Blues Band

rec. live at the Newport Folk Festival

Vanguard CD 73134-2
70
1997
Big League Babe
The Christine Lavin Tribute Album Vol. 1

- Attainable Love - Barbara Kessler
- The Kind Of Love You Never Recover From - David Wilcox
- Artificial Means - Cliff Eberhardt / Julie Gold
- Jane - Vance Gilbert
- Fly On A Plane - Richard Shindell
- Victim / Volunteer - Kristina Olsen
- The Amoeba Hop - Dave Van Ronk / Frank Christian
- Replaced - Susan Werner
- Good Thing He Can't Read My Mind - Megon McDonough
- You Think You Got Problems - David Roth
- Biological Time Bomb - Judith Zweiman
- Christine Lavin Could Do It (Intro) - Cheryl Wheeler
- Christine Lavin Could Do It - Cheryl Wheeler



Prime CD 37
71
1998
What's That I Hear - The Songs Of Phil Ochs

disc 1:
Magpie - Power And The Glory (3:06)
David Buskin - Boy In Ohio (5:01)
Sammy Walker - Jim Dean Of Indiana (5:40)
Agnelli - Rave And The Charmers - Chords Of Fame (3:49)
Peter Yarrow - There But For Fortune (4:12)
Iain Matthews - Flower Lady (4:58)
Arlo Guthrie - I Ain't Marching Anymore (2:42)
Sonia Rutstein - Is There Anybody Here? (4:04)
Tom Paxton - Draft Dodger Rag (2:53)
Nancy Tucker - Changes (4:53)
The Roches - The Bells (2:45)
Rod MacDonald - Pleasures Of The Harbor (5:27)
Greg Greenway - Tape From California (6:36)
John Wesley Harding - Another Age (3:58)
Eric Andersen - When I'm Gone (5:45)

disc 2:
Kim & Reggie Harris - What's That I Hear (3:12)
Pat Humphries - Hands (5:43)
John Gorka - Bracero (4:20)
Sid Griffin, Billy Bragg - Sailors And Soldiers (3:58)
Steve Gillette, Cindy Mangsen - The Highwayman (6:01)
Megon McDonough, Christine Lavin, Frank Christian - Gas Station Women (3:08)
Dave Van Ronk - Outside Of A Small Circle Of Friends (3:31)
David Massengill - Crucifixion (8:18)
Katy Moffatt - Here's To The State Of Mississippi (7:11)
Kim & Reggie Harris, Magpie - Freedom Riders (3:27)
Anne Hills - Iron Lady (5:00)
Rex Fowler - There But For Fortune (4:08)
Karen Savoca - No More Songs (3:37)

compiled by Gene Shay
2 CD set; notes by
Michael Schumacher
& David Cohen



Sliced Bread CD 71176
72
1998
The Harry Smith Connection: A Live Tribute To The Anthology Of American Folk Music

- East Virginia Blues - Roger McGuinn, Jeff Tweedy and Jay Bennett
- I'm On The Battlefield For My Lord - Ethel Caffie-Austin
- John Henry - John Jackson
- A Lazy Farmer Boy - Greg Hooven String Band
- Old Dog Blue - Lonnie Pitchford
- Home Sweet Home - The New Lost City Ramblers
- The Butcher Boy - Ginny Hawker
- John The Revelator - Ethel Caffie-Austin
- His Tapes Roll On - Peter Stampfel
- Minglewood Blues - John Sebastian and The J-Band with Geoff Muldaur
- The Coo Coo Bird - Ella Jenkins
- Frankie And Johnny - John Jackson
- Sugar Baby - Roger McGuinn, Jeff Tweedy and Jay Bennett
- Le vieux soulard et sa femme - Balfa Toujours
- Spike Driver Blues - Dave Van Ronk
- Darling Corey - Greg Hooven String Band
- The Coo Coo Bird - Toshi Reagon
- James Alley Blues - Jeff Tweedy, Roger McGuinn and Jay Bennett
- Nothing - The Fugs


notes by Jeff Place







Smithsonian Folkways
SFW40085
73
1998
Live From The Mountain Stage Lounge

Dan Hicks - Bottoms Up (4:19)
Mose Allison - Your Mind's On Vacation (2:45)
Hadda Brooks - Anytime, Anyplace, Anywhere (3:17)
Bob Thompson - Lover Man (5:37)
The Bobs - - Lonely At The Top (3:19)
The Winston Walls Trio - Rock Candy (4:24)
Jane Siberry - Nature Boy (3:16)
Dave Van Ronk - Where Were You Last Night (5:06)
Jill Sobule - (Theme From) The Girl In The Affair (3:43)
NRBQ - Yes, Yes, Yes (2:53)
Holly Cole - Jersey Girl (4:30)
Ann Baker - Someone To Watch Over Me (4:54)



Blue Plate Music 312
74
1998
Folk Classics
36 All-Time Favorites

CD 1:
- Pretty Boy Floyd - Woody Guthrie
- Goodnight Irene - Lead Belly
- Roll On Columbia - The Weavers
- Shady Grove - Doc Watson
- House Of The Rising Sun - Miriam Makeba
- Rock Island Line - Lead Belly with The Golden Gate Quartet
- Nine Hundred Miles - Odetta
- You Can Tell The World - Gibson & Camp
- San Francisco Bay Blues - Ramblin' Jack Elliott
- God Bless The Child - Leon Bibb
- Banana Boat (Day-O) - Harry Belafonte with Tony Scott's Orchestra & Chorus
- Where Have All The Flowers Gone - Pete Seeger
- There But For Fortune - Joan Baez

CD 2:
- There's A Meetin' Here Tonight - The Limeliters
- Tom Dooley - Kingston Trio
- Greenfields - The Brothers Four
- Cindy O Cindy - Vincent Martin & The Tarriers
- Risin' Of The Moon - The Clancy Brothers
- The Unicorn - The Irish Rovers
- The Lion Sleeps Tonight (Wimoweh) - The Tokens
- Marianne - Terry Gilkyson & The Easy Riders
- Green, Green - The New Christy Minstrels feat. Barry McGuire
- Blowin' In The Wind - The Chad Mitchell Trio
- He Was My Brother - The Travelers 3
- The Last Thing On My Mind - The Brandywine Singers

CD 3:
- Just Like a Woman - Bob Dylan
- Thirsty Boots - Eric Andersen
- Universal Soldier - Buffy Sainte-Marie
- Morning Dew - Bonnie Dobson
- Baby The Rain Must Fall - Glenn Yarbrough
- Reno Nevada - Dick & Mimi Farina
- Wanderin' - Dave Van Ronk
- We'll Sing In The Sunshine - Gale Garnett
- If I Were A Carpenter - Tim Hardin
- C.C. Rider - The Youngbloods
- Light My Fire - Jose Feliciano
- The Dolphins - Fred Neil


3 CD set

BMG Special Products
75
1999
A Story To Tell
Starbucks Presents Powerful Songs from the Coffeehouse

Tim Hardin - Reason To Believe
Joan Baez - There But For Fortune
Ron Sexsmith - Thinking Out Loud
Mimi & Richard Farina - Bold Marauder
Tom Paxton - Morning Again
Jude - I Do
Odetta - Down On Me
Donovan - Hey Gyp (Dig The Slowness)
Tim Buckley - Once I Was
Dave Van Ronk - Song To Woody
Fred Neil - Other Side To This Life
Mary McCaslin - My World Is Empty Without You
Stephan Smith - Now's The Time
Gordon Lightfoot - The Way I Feel
Tom Rush - The Circle Game



Rhino Special Products
CD R2 7477
76
1999
Blues At Kerrville

Dave Van Ronk
- Another Time And Place @ youtube
Clarence "Gatemouth" Brown
- Sometimes I Feel Myself Slippin'
Roy Book Binder
- Kentucky Blues
Marcia Ball
- My Man Is A Two Timer
Josh White Jr.
- I Can Be Had
Angela Strehli
- Telephone Blues
Marcia Ball
- Under Love's Spell
Tom Ball/Kenny Sultan
- Honey Bee
Mance Lipscomb
- Texas Blues
Robert Shaw
- Put Me In The Alley
Juke Boy Bonner
- I've Had The Blues
Spider John Kelmer
- Midnight Special
Kenneth Threadgill
- Mississippi Delta Blues



Silverwolf CD 1016
76a
1999
Ramblin' Jack Elliott: The Long Ride
- Connection
- Cup Of Coffee (with Tom Russell)
- Ranger's Command
- Pony
- St. James Infirmary (with Dave Van Ronk)
- Picture From Life's Other Side (with Maria Muldaur)
- East Virginia Blues (with Dave Alvin)
- The Sky Above And The Mud Below (with Tom Russell)
- Take Me Back And Try Me One More Time (with Tom Russell)
- Now He's Just Dust In The Wind
- True Blue Jeans
- Diamond Joe
- With God On Our Side


Hightone CD 8107

77
2000
Dealin' With The Devil
Songs of Robert Johnson

- Walkin' Blues - Corey Harris
- When You Got A Good Friend - Debbie Davies
- Dust My Broom - Eddie Kirkland
- Ramblin' On My Mind - Kris Wiley
- Last Fair Deal Gone Down - Dave Van Ronk #
- I'm A Steady Rollin' Man - Kenny Neal
- From Four Until Late - Sue Foley
- Come On In My Kitchen - Josh White Jr.
- 32-20 Blues - Paul Geremia
- Sweet Home Chicago - Pinetop Perkins
- Stones In My Passway - Guy Davis
- Preachin' Blues - Colin Linden

compiled by Randy Labbe
# rec. at The Studio in Portland, Maine; Dave Van Ronk; voc, g; Luke Faust, banjo

Cannonball CBD 29117
78
2001
Dave Van Ronk: Sweet & Lowdown

- I'll See You In My Dreams
- Comes Love
- Zoot Suit
- As Time Goes By
- Some Of These Days
- Thanks For The Memory
- Puttin' On The Ritz
- Blues In The News
- I'd Rather Charleston
- I Can't Get Started
- Sweet And Lowdown
- I Wonder Where Our Love Has Gone
- Your Feet's Too Big
- Bye Bye Blackbird
- A Cottage For Sale









Justin Time Records CD
JUST 166-2
79
2001
Washington Square Memoirs: The Great Urban Folk Boom (1950-1970)

- He Was A Friend Of Mine - Dave Van Ronk
- You'se A Viper - Dave Van Ronk


3 CD box

Rhino R2 74264
80
2002
The Two Sides Of Dave Van Ronk

In The Tradition
- Cake Walkin' Babies From Home
- Ace In The Hole
- St. Louis Tickle
- Death Letter Blues
- All Over You
- Whoa Back Buck
- Sister Kate
- Kansas City Blues
- Green, Green Rocky Road
- See See Rider
- Rocks and Gravel
- Hesitation Blues
Your Basic
- God Bless The Child
- Sunday Street
- Sportin' Life
- Cocaine
- St. James Infirmary
- You've Been A Good Ole Wagon
- Spike Drive Blues
- Gaslight Rag
- Candy Man

CD re-issue of "In the Tradition" and "Your Basic Dave Van Ronk" (omitting "In The Midnight Hour" and "Stagger Lee")
notes by Mitch Greenhill

Fantasy FCD-24772-2
81
2004
Dave Van Ronk: ...and the tin pan bended and the story ended...

- Down South Blues @ youtube
- Dave speaks @ youtube
- You've Been A Good Old Wagon @ youtube
- Dave speaks @ youtube
- Don't You Leave Me Here @ youtube
- Dave speaks @ youtube
- Did You Hear John Hurt? @ youtube
- Dave speaks @ youtube
- Green, Green Rocky Road @ youtube
- Dave speaks @ youtube
- Jelly Jelly @ youtube
- Nobody Know You When You're Down And Out @ youtube
- Dave speaks @ youtube
- One Meat Ball @ youtube
- Buckets Of Rain @ youtube
- Dave speaks @ youtube
- Sometime (Whatcha Gonna Do) @ youtube
- Sportin' Life Blues @ youtube
- Dave speaks @ youtube
- Ace In The Hole @ youtube
- Dave speaks @ youtube
- St. James Infirmary @ youtube
- Thank You @ youtube
- Urge For Going @ youtube

rec. October 22, 2001 live in Adelphi, MD by David Elsner (Van Ronk's last concert)
notes by Andrea Vuocolo,
David Eisner, Elijah Wald
and Tom Paxton





Smithsonian Folkways
CD SFW40156
82
2005
Dave Van Ronk: The Mayor of MacDougal Street
Rarities 1957-1969

- New Orleans Hop Scop Blues @ youtube
- On Top Of Old Smoky @ youtube
- All My Trials @ youtube
- Buddy Bolden's Blues @ youtube
- The Butcher Boy @ youtube
- Salty Dog @ youtube
- Two Trains Running @ youtube
- Way Down In Lubyanka Prison @ youtube
- Willie The Weeper @ youtube
- Shaving Cream @ youtube
- The Cruel Ship's Captain @ youtube
- As You Make Your Bed @ youtube
- Bird On The Wire @ youtube
- Both Sides Now @ youtube
- In Conditional Support Of Beauty @ youtube
- W.C. Fields Routine (spoken) @ youtube
- Romping Through The Swamp @ youtube

all tracks previously unissued; compiled & prod. by Elijah Wald in association with Multicultural Media and Lyrichord Discs

Companion CD to Dave Van Ronk's memoir of the Greenwich Village folk revival, "The Mayor of MacDougal Street" (DaCapo Press, 2005)

notes by Elijah Wald









Rootstock MCM-4005
83
2007
Dave Van Ronk: On Air

- Down South Blues
- Good Old Waggon
- Sportin' Life Blues
- John Hurt
- Spike Driver's Moan
- Rock Me Mama
- He Was A Friend Of Mine
- Green Rocky Road
- Mamie's Blues
- Stack-O-Lee
- Goin' Down Slow
- Kansas City Blues
- God Bless The Child
- House Of The Rising Sun
- Swingin' On A Star

rec. January 19, 1993 live at the Packhaus-Theater, Bremen, Germany; Dave Van Ronk, voc, g; prod by Petra Hanisch
notes by
Harald Moenkedieck



Tradition & Moderne
T&M 041 (Germany)
84
2013
Dave Van Ronk: Bluesmaster

Complete 1959 original debut recordings:
- Duncan And Brady
- Black Mountain Blues
- In The Pines
- My Baby's So Sweet
- Twelve Gates To The City
- Winin' Boy
- If You Leave Me, Pretty Mama
- Backwater Blues
- Careless Love
- Betty And Dupree
- KC Moan
- Gambler's Blues
- John Henry
- How Long

1961 studio bonus tracks:
- How Long
- Georgie And The IRT
- Willie The Weeper
- Sweet Substitute
- River Come Down
- Dink's Song
- Please See That My Grave Is Kept Clean



Esoteric
85
9/2013
Live At Caffè Lena: Music From America's Legendary Coffeehouse, 1967-2013

disc one:
Intro by Lena Spencer / Guy Carawan - Cripple Creek (1970)
Hedy West - Shady Grove (1968)
Intro by Lena Spencer / Sleepy John Estes - Holy Spirit (1974)
Frank Wakefield and Friends - Will The Circle Be Unbroken (1971)
Jean Ritchie - West Virginia Mine Disaster (1969)
Billy Faier - Hunt The Wren (1967)
Greenbriar Boys - Hit Parade of Love (1968)
Mike Seeger - O Death (1971)
Jacqui and Bridie - Hello Friend (1974)
Tom Paxton - Morning Again (1968)
David Amram - Little Mama (1974)
Patrick Sky - Reality Is Bad Enough (1971)
Rosalie Sorrels - Travelin' Lady (1974)
Smoke Dawson - Devil's Dream (1968)
Utah Phillips - The Green Rolling Hills of West Virginia (1974)
Michael Cooney - Thyme It Is A Precious Thing (1974)
Kate McGarrigle and Roma Baran - Caffè Lena (1972)

disc two:
Intro by Lena Spencer / Dave Van Ronk - Gaslight Rag (1974)
Jerry Jeff Walker - Mr. Bojangles (1968)
Barbara Dane - Mama Yancey's Advice / Love With a Feeling (1968)
Roy Book Binder - Ain't Nobody Home But Me (1974)
Intro by Lena Spencer / David Bromberg - The Holdup (1972)
Ramblin' Jack Elliott - Pretty Boy Floyd (1992)
Arlo Guthrie - City of New Orleans (2010)
Aztec Two Step - The Persecution and Restoration of Dean Moriarty (1989)
Happy And Artie Traum - Trials Of Jonathan (1974)
Rick Danko - It Makes No Difference (1988)
Paul Geremia - Something's Gotta Be Arranged (1989)
Robin and Linda Williams - -S-A-V-E-D (1987)
John Herald - Ramblin' Jack Elliott (1991)
Pete Seeger - Somos El Barco (We Are the Boat)
(1985)

disc three:
Sarah Lee Guthrie and Johnny Irion - Folksong (2013)
Anais Mitchell - Wedding Song (2013)
Bill Morrissey - The Last Day Of The Furlough (1990)
Patty Larkin - Island Of Time (1992)
Greg Brown - Flat Stuff (1989)
Mary Gauthier - I Drink (2013)
Sean Rowe - Old Black Dodge (2013)
Tom Chapin - Cats In The Cradle (1987)
Intro by Lena Spencer / Christine Lavin - It's A Good Thing He Can't Read My Mind (1987)
Bill Staines - Sweet Wyoming Home (1990)
Bucky and John Pizzarelli - I Like Jersey Best (1989)
Rory Block - That's No Way To Get Along (1989)
Chris Smither - Killing The Blues (1989)
Tift Merritt - Traveling Alone (2013)
John Gorka - Down In The Milltown (1990)
Lena Spencer - Dear Little Cafe (1972)

unreleased performances
3 CD box set

Tompkins Square TSQ 2967
86
10/2013
Dave Van Ronk: Down in Washington Square
The Smithsonian Folkways Collection

disc 1:
- Duncan And Brady (3:02) [Folkways FS 3818]
- River Come Down (Bamboo) (3:47) [Folkways FA 2383]
- Spike Driver Blues (3:17) [Folkways FA 2383 as "Spike Driver's Moan"]
- John Henry (2:28) [Folkways FS 3818]
- Backwater Blues (3:04) [Folkways FS 3818]
- K.C. Moan (3:04) [Folkways FS 3818]
- Haul On The Bowline (1:21) [Folkways FA 2429]
- Just a Closer Walk with Thee (3:04) [Folkways FA 2383]
- Gambler's Blues (2:30) [Folkways FS 3818]
- Sweet Substitute (2:36) [Folkways FA 2383]
- Bed Bug Blues (2:46) [Folkways FA 2383]
- Winin' Boy (2:38) [Folkways FS 3818]
- Georgie And The IRT (3:35) [Folkways FA 2383]
- Betty And Dupree (3:37) [Folkways FS 3818]
- Come Back, Baby (3:55) [Folkways FA 2383]
- My Baby's So Sweet (2:35) [Folkways FS 3818]
- Black Mountain Blues (4:02) [Folkways FS 3818]
- Yas-Yas-Yas (2:09) [Folkways FA 2383]

disc 2:
- Willie The Weeper (3:01) [Folkways FA 2383]
- Dink's Song (3:46) [Folkways FA 2383]
- Santy Ano (1:45) [Folkways FA 2429]
- Leave Her, Johnny (1:30) [Folkways FA 2429]
- Tell Old Bill (4:24 [Folkways FA 2383]
- Careless Love (2:59) [Folkways FS 3818]
- Standing By My Window (5:00) [Folkways FA 2383]
- Please See My Grave Is Kept Clean (2:56) [Folkways FA 2383]
- Had More Money (2:57) (Dave Van Ronk) #
- If You Leave Me, Pretty Mama (3:09) [Folkways FS 3818]
- Hesitation Blues (2:36) [Folkways FA 2383]
- In The Pines (3:08) [Folkways FS 3818]
- Oh, What A Beautiful City (3:15) [Folkways FS 3818 as "Twelve Gates To The City"]
- Mean Old Frisco (3:16) °°
- Stackalee (2:34) °°
- How Long (3:56) [Folkways FS 3818]
- Ain't No Grave Can Hold My Body Down (4:54) [???]
- House Of The Rising Sun (6:03) °°

disc 3:
- Hootchie Kootchie Man (3:16) [Folkways FA 2383]
- Reckless Blues (2:30) °°
- Trouble In Mind (3:48) °°
- Oh Lord, Search My Heart (1:32) °°
- God Bless The Child (3:18) °°
- Losers (3:18) [Folkstudio FK 5017 ?]
- Another Time And Place (4:31) [Folkstudio FK 5017 ?]
- Garden State Stomp (3:00) [Fast Folk FF 603 ?]
- Motherless Children (3:12) [Fast Folk FF 106 ?]
- Don't You Leave Me Here (I'm Alabama Bound) (4:35) °°
- Spike Driver Blues (6:56) [Smithsonian Folkways CD 40085 ?]
- Down South Blues (5:03) °°
- St. James Infirmary (Gambler's Blues) (4:41) # °° @ youtube
- Ace In The Hole (3:27) °°
- Going Down Slow °°
- Buckets Of Rain (3:52) °°
- Jelly Jelly (2:58) °°
- Sometime (Whatcha Gonna Do) (2:38) °°

°° previously unreleased track

featuring 16 previously unreleased recordings
# rec. 1997 live at the Barns at Wolftrap
3-disc set
40-page booklet by Jeff
Place and Andrea Vuocolo





Smithsonian Folkways
SFW40213
87
5/2014
Dave Van Ronk Live in Monterey

- You've Been A Good Old Wagon But You Done Broke Down
- Blood Red Moon
- Jesus Met The Woman At The Well
- Going Down Slow
- Losers
- Cocaine Blues
- Winin' Boy Blues
- Did You Hear John Hurt?
- Jelly Jelly
- Spike Driver Blues
- Sportin' Life Blues
- Come Back Baby
- Candy Man
- He Was A Friend Of Mine
- St. James Infirmary
- Four Strong Winds

rec. April 4, 1998 at Carleton Hall in Monterey, CA by Rick Chelew; Dave Van Ronk, voc, g; prod. by Cheryl Pawelski & Rick Chelew
photography by Cole Thompson
notes by Happy Traum
and Rick Chelew







Omnivore OVCD-83
= Elk Run 6651016020
88
2014
Dave Van Ronk: Hear Me Howl - Live 1964

disc 1:
- Stagger Lee @ youtube
- You've Been A Good Old Wagon @ youtube
- Rocks & Gravel @ youtube
- St. Louis Tickle @ youtube
- Buddy Bolden's Blues @ youtube
- He Was A Friend Of Mine (4:44) @ youtube
- Yas Yas Yas @ youtube
- Candy Man @ youtube
- Motherless Children @ youtube
- Nobody Knows You When You Are Down And Out @ youtube
- You Ain't Such A Much @ youtube
- Green Rocky Road @ youtube
- Alabama Song @ youtube

disc 2:
- That'll Never Happen No More @ youtube
- God Bless The Child @ youtube
- Baby Let Me Lay It On You @ youtube
- The Song Of Wandering Aengus @ youtube
- Frankie & Johnny @ youtube
- Two Trains Running @ youtube
- Tell Old Bill @ youtube
- Mr. Noah @ youtube
- One Meatball @ youtube
- Cocaine Blues @ youtube
- St. James Infirmary @ youtube
- He Was A Friend Of Mine (4:31) @ youtube

rec. October 20, 1964 live at Indiana University, Bloomington, IN, except "He Was A Friend Of Mine", rec. "Live 1977" at the "Phil Ochs Memorial Concert". (Note: That Concert was in May 1976 at New York City's Madison Square Garden, and aired on American PBS stations in Spring & Summer of 1977)
compiled by Mary Katherine Aldin & James Austin
2 CD set
notes (November 2014)
by Mary Katherine Aldin



RockBeat ROC-CD-3284
89
2014
Greenwich Village In The '60s
Beginnings and Branches of the New York Folk Revival

disc 1:
Bob Dylan - Talkin' New York
Dave Van Ronk - Hang Me, Oh Hang Me
Tom Paxton - The Last Thing On My Mind
Eric Andersen - Close The Door Lightly When You Go
Paul Clayton - Green Rocky Road
Fred Neil - Little Bit Of Rain
Judy Henske - I Know You Rider
Tim Hardin - I Can't Slow Down
Tom Rush - Urge For Going (single version)
Tim Buckley - Aren't You The Girl
John Jacob Niles - Go 'Way From My
Irene and Ellen Kossoy (with Erik Darling) - Bowling Green
Joan Baez (with The Greenbriar Boys) - Banks Of The Ohio
Dian & The Greenbriar Boys - He Was A Friend
Richard Fari a - House Un-American Blues Activity Dream
Phil Ochs - I Ain't Marching Anymore
Buffy Sainte-Marie - Universal Soldier
Liam Clancy - Patriot Game
The Clancy Brothers with Tommy Makem - Shoals of Herring
Mike Seeger - Fair And Tender Ladies
Pete Seeger - Turn! Turn! Turn! (To Everything There Is A Season)

disc 2:
Bob Gibson - Fare Thee Well (Dink's Song)
Hedy West - 500 Miles
Vince Martin & Fred Neil - Morning Dew
Karen Dalton - Blues On The Ceiling
Patrick Sky - Many A Mile
David Blue - The Street
Simon & Garfunkel - He Was My Brother
Ian & Sylvia - You Were On My Mind
Richard & Mimi Fari a - Bold Marauder
Joan Baez - The Death Of Queen Jane (Child No. 170)
Carolyn Hester - The House Of The Rising Sun
Odetta - Ain't No Grave Gonna Hold My Body Down
Mississippi John Hurt - Make Me A Pallet On Your Floor
Jim Kweskin & The Jug Band - My Gal
Even Dozen Jug Band - Evolution Mama
Ramblin' Jack Elliott - Roving Gambler
Cisco Houston - Deportees
Harry Belafonte - Midnight Special
Judy Collins - Farewell


2 CD set; notes by
Richie Unterberger
<!IMG SRC="antholog/grafik/1.jpg" width="120" height="120" border="0" >
Festival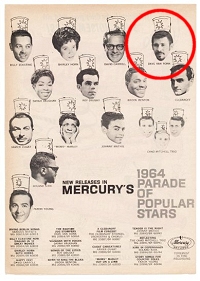 1964 Mercury advertisement
(my suspicion that the picture does not show DvR was finally confirmed by Elijah Wald today stating that Mercury even published an apology later)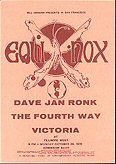 Another Mistake:
Greg Irons ticket for a midweek Bill Graham Presents concert held Monday, 10/26/70 at the Fillmore West in San Francisco, CA for a "Traveling Faire of Contemporary Acoustic Music" entitled 'Equinox', which featured Dave Van [spelled Jan here] Ronk, The Fourth Way & Victoria
(Guest) Appearances on other Artist's recordings
#
year
of release
artist / title / songs featuring Dave Van Ronk
label # / notes
1
19??
Bob Dylan: He Was A Friend Of Mine

- Car-Car (Bob Dylan and Dave Van Ronk)


<!A HREF="vanronk/grafik/justdav4.jpg">
Platinum PLP 39/24051 (Germany)
3
1967
Janis Ian

- A Grape Masher With Dirty Feet (Conversation with Richie Havens and Dave Van Ronk)



Verve Folkways FTS-3017
4
1983
Rod MacDonald: No Commercial Traffic

voc on 'A Sailor's Prayer'



Cinemagic HR-8007
5
1995
Peter, Paul & Mary: LifeLines

- Wanderin' / Nobody Knows You When You're Down and Out
(Peter, Paul & Mary and Dave Van Ronk)


<!A HREF="vanronk/grafik/justdav4.jpg">
Warner Brothers CD 9 45851-2
6
1996
Peter, Paul & Mary: LifeLines Live

- Wanderin' / Nobody Knows You When You're Down and Out
(Peter, Paul & Mary and Dave Van Ronk)



Warner Brothers CD 9-46298-2
7
1998
Anne Hills & Cindy Mangsen: Never Grow Up

- Froggy Went A-Courtin'



Flying Fish CD 671
8
1998
Peter, Paul & Mary: Around The Campfire

- River Of Jordan (chorus)



Warner Brothers CD 46873
9
1998
Tom Russell: The Man From God Knows Where

- The Outcaste
- The Outcaste (revisited)




10
1998
Nancy Griffith: Other Voices Too: A Trip Back to Bountiful




Elektra 62235-2
<!A HREF="vanronk/grafik/melbay4.jpg">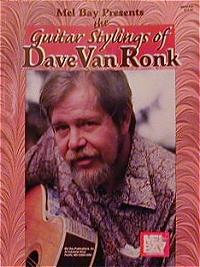 Mel Bay presents
The Guitar Stylings of Dave Van Ronk
Other artist's Covers of Dave Van Ronk songs
#
year
of release
Artist
Record Title
- featured Dave Van Ronk song
label # / notes
1
1962
Peter, Paul & Mary

- Bamboo [= 'River Come Down']

<!A HREF="vanronk/grafik/ppm4.jpg">
Warner Brothers WS-1449

1
1973
Patrick Sky: Songs That Made America Famous

- Luang Prabang

recorded 1971


Adelphi AD-R4101


re-released 1997:
Adelphi / Genes CD 4101
sound clips

Patrick Sky discography


2a
1990
Fast Folk Musical Magazine: Live At The Bottom Line 1988 (January 1990)

Jack Hardy - Up Until Then
Lillie Palmer - Danton
Tom Russell - Gall De Cielo
Cliff Eberhardt - My Father's Shoes
Frank Tedesso - Margaret And Vincent
Aztec Two-Step - Ban Vinai

Richard Meyer - Hidden In Plain Sight
Josh Joffen - Monkey See, Monkey Do
Erik Frandsen - The Rose Of Rangoon
Germana Pucci - Un Rabdomante: Incompetente
Suzanne Vega - Wooden Horse (Kasper Hauser's Song)
David Massengill - The Last Call (Dave Van Ronk) @ youtube
Shawn Colvin - Talk Around Town



Fast Folk FF 502
(Vol. 5, No. 2)
3
2000
Peter Keane: Another Kind of Blue

- Sunday Street

<!A HREF="vanronk/grafik/ppm4.jpg">
Broken White CD 6008
4
2007
David Massengill: Dave on Dave

- Tell Old Bill
- Candy Man Blues
- House of the Rising Sun
- Talkin' Dave Van Ronk Blues
- Another Time and Place
- Green Rocky Road Green
- The Old Man
- Somebody Else Not Me
- The Song of the Wandering Angus
- My Good Old Friend
- Long John
- Dink's Song
- Dave Van Ronk's Last Cigar
- Zen Koans Gonna Rise Again
- Honey Hair
- He Was a Friend of Mine
- In Conditional Support of Beauty
- Last Call



Gadfly CD 295
Sources / Further reading:
- own record collection
- http://www.discogs.com/artist/367078-Dave-Van-Ronk?page=1
- http://www.discogs.com/lists/The-Mayor-Of-MacDougal-Street-Liner-Notes-for-the-Entire-Dave-Van-Ronk-Discography/186900
- eBay auctions
source of left column drawing: Back cover of Polydor 24-4052
thanks to Foster Carder, Gerry Clarke, Robert Lyng, Elijah Wald, Alessandro Nobis, Simon Garber and Snežana Lazarević for additional info /scans
Dave Van Ronk contributed to the booklet included in the reissue of
Anthology Of American Folk Music
edited by Harry Smith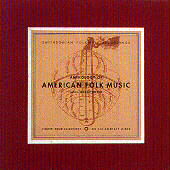 ANTHOLOGY OF AMERICAN FOLK MUSIC won the 1998 Grammy Awards for Best Album Notes and Best Historical Album !!!
Dave Van Ronk
is member of the population of
Humbead's Revised Map of the World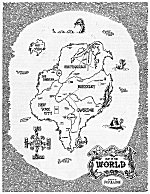 For much more info about Dave Van Ronk visit the
Unauthorized Dave Van Ronk homepage
created and maintained by Jeff Kenney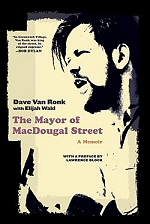 April 19th, 2005, from Da Capo Press



Please feel free
to complete,
to correct
or to comment
my writings



=
Link to own page !!!