Gordon Heath (September 20, 1918 - August 27,1991)
Lee Payant (1924 - December 14, 1976)
#
year
of release
title
label # / notes
1
1954
Gordon Heath and Lee Payant sing
Songs Of The Abbaye

- Another Man Done Gone
- Chanson De La Mariee
- The Youth Of The Heart
- Black Girl
- I Wash My Face #

- Big Rock Candy Mountain
- Jacob's Ladder
- J'ai Un Long Voyage A Faire
- We Will Break Bread Together
- Wandering #

rec. Paris, France, Dec. 27/28, 1953
prod. by Leonard Ripley and Jac Holzman

# not on Elektra EKL 119 (1957 12 inch LP release)

10 inch LP





Elektra EKL 19 (US)

2
1955
Gordon Heath and Lee Payant sing
Encores From The Abbaye

- Hill And Gully
- Au Claire De La Lune
- The Foggy, Foggy Dew
- L'Amour De Moy #
- Little David
- The Spinning Wheel

- Le Roy A Fait Battre Tambour
- En Revenant De Versailles #
- Scarborough Fair
- Linstead Market
- L'Occasion Manquée

rec. Paris, France; prod. by Leonard Ripley

# not on Elektra EKL 119 (1957 12 inch LP release)

10 inch LP



Elektra EKL 29 (US)
3
1955
Gordon Heath et Lee Payant interprètent
Chants Traditionnels Des États-Unis

- King's Highway
- All The Pretty Horses
- This Morning, This Evening, So Soon ...
- Drill Ye Tarriers
- Poor Boy
- I Wonder As I Wander
- The Ballad Of The Boll Weevil

- Miss Julie Ann Johnson
- Every Night When The Sun Goes In
- Take This Hammer
- Black Is The Colour Of My True Love's Hair
- Darling Corey
- Come All You Fair And Tender Ladies
- Pick A Bale O' Cotton / Bring A Little Water Silvy

rec. July 12, 1955 at Studio Geneix, Paris, France by Les Editions de la Boite à Musique

10 inch LP





Boite A Musique
BAM LD 313 (Fr)
liner notes in French

10 inch LP



= Argo TM 92 (UK 1957)
"The Ballad Of The
Boll Weevil and other
Traditional Songs Of The
United States"
liner notes in English

4
1956?
Gordon Heath & Lee Payant
Calypso

- Sammy Dead
- Linstead Market
- Martha

- Judy Drowned
- Cordelia Brown
- Celia

7 inch EP

RCA 76.105 (Fr)
5
1956
New Folk Sampler

Ed McCurdy - Josie
Jean Léon Destiné and Ensemble - Declaration Paysanne
Clarence Cooper - Erie Canal
Cynthia Gooding and Theodore Bikel - Coplas
Ed McCurdy - Robin Hood And The Bold Pedlar
Theodore Bikel - Ptsach Bazemer
Jean Ritchie - Nottamun Town
Cynthia Gooding - Bella Regazza
Josh White - John Henry
Los Gitanillos de Cadiz - Sevillanas
Susan Reed - Must I Go Bound
Theodore Bikel - Mangwani Mpulele
Alan Arkin - Crawdad Song
Suzanne Robert - Le Moulin De La Galette
Cynthia Gooding - The Derby Ram
Gordon Heath and Lee Payant - Au Clair De La Lune
Jean Ritchie and Oscar Brand - Keys Of Canterbury
The Funmakers - My Ain House
12 inch LP



Elektra SMP 2 (mono)
6
1956
Folksongs And Footnotes
sung, played and spoken by Gordon Heath and Lee Payant

- Red Rosy Bush
- Filles, Chantez Le Mois
- Old Bog Hole
- Aux Marches Du Palais
- Lord Randall
- Mama, Have You Heard
- Little Scothee
- Pauvre Soldat
- Develish Mary

- Ma Tendre Musette
- Venezuela
- Greensleeves
- Auprès De Ma Blonde
- Water Come A Me Y'Eye
- Prepare My Body
- Mary Had A Baby
- I Know The Lord
- Jacob's Ladder

12 inch LP




<!A HREF="heathpay/grafik/notesab4.jpg">
Abbaye 1 (Fr)

7
1957
Gordon Heath and Lee Payant
An Evening At L'Abbaye

- Another Man Done Gone
- Chanson De La Mariee
- The Youth Of The Heart
- Black Girl
- Big Rock Candy Mountain
- Jacob's Ladder
- J'ai Un Long Voyage A Faire
- We Will Break Bread Together

- Hill And Gully
- Au Claire De La Lune
- The Foggy, Foggy Dew
- Little David
- The Spinning Wheel
- Le Roy A Fait Battre Tambour
- Scarborough Fair
- Linstead Market
- L'Occasion Manquee

12 inch LP





Elektra EKL 119 (US)
8
1959
Gordon Heath & Lee Payant
Abbaye Anniversary Album

- Little Boy
- Un Petit Moulin
- The Vicar Of Bray
- Chanson Courte
- Up On The Mountain
- A La Claire Fontaine
- Pretty Little Pink

- Lou Baylero
- Gambler's Lullaby
- Nine Hundred Miles
- Nobody Knows The Troube I've Seen
- Unfortunaty Miss Bailey
- Le Roi Renaud
- Mount Zion
- La Laumariée
- Time For Man Go Home

12 inch LP





Abbaye 2 (Fr)
9
1961
Gordon Heath Sings Spirituals

- Stand Still, Jordan
- I'm Gonna Tell God All My Troubles
- Motherless Child
- I'm Gonna Ride Up In The Chariot
- Mumberlin' Word
- Go Down, Moses
- I Know Moonlight

- Lonesome Valley
- Swing Low
- Ezekiel Saw The Wheel
- Poor Me
- 'Round About The Mountain
- He's Got The Whole World In His Hands
- Were You There?

rec. August 1961at Europa-Sonor Studios, Paris, France by Jean-Michel Pou-Dubois
jacket design by Gordon Heath

10 inch LP



Abbaye 3 (Fr)
10
1961
The Ballad Of The Boll Weevil
sung by Gordon Heath and Lee Payant

- The Ballad Of The Boll Weevil
- Working Song: Drill Ye Tarriers
- Working Song: Take This Hammer

- Ballad: This Morning, This Evening
- Cotton-Picking Songs: Pick A Bale O' Cotton / Bring A Little Water, Silvy

rec. July 12, 1955 at Studio Geneix, Paris, France by Les Editions de la Boite à Musique

7 inch EP



Argo EAF 19 (UK 1961)
11
1963
Beyond The Blues - American Negro Poetry
read by Brock Peters, Vinette Carroll, Cleo Laine and Gordon Heath

- Soliloqui - Leslie M. Collins
- I'll Walk The Tight Rope - Margaret Danner
- A Moment Please - Paul Veasey
- Mea Culpa - Katherine Cuestas
- Full Moon - Robert E. Hayden
- Madness On Monday Evening - Julia Fields
- Circles In The Sand - Robert Abrams
- Calvary Way - May Miller
- Two Poems - Gordon Heath
- Poem - Katherine Cuestas
- The Chicago Defender Sends A Man To Little Rock - Gwendolyn Brooks
- The Confession Stone (A Song Cycle) - Owen Dodson

- October Journey - Margaret Walker
- The Diver - Robert Hayden
- After Winter - Sterling Brown
- Incident - Countee Cullen
- When In Rome - Mari Evans
- Stevedore - Leslie Collins
- Tell Rachel - Owen Dodson
- My Lord What A Morning - Waring Cuney
- American Gothic - Paul Veasey
- Saturday Night In Harlem - William Brown
- Hallelujah Corner - William Brown
- Now All You Children - Ray Durem
- Why Try - Ted Jones
- When Sue Wears Red - Langston Hughes
- I Too Hear America - Julian Bond
- Blow Man Blow - Charles Anderson
- The Blues - James Morris
- Charles Parker - Waring Cuney
- Elegy To A Lady - Walter Delegall
- Ma Rainey - Sterling Brown
- Trumpet Player - Langston Hughes


edited by Dr Rosey E Pool; directed by Harley J. Usill
jacket design by Gordon Heath

12 inch LP


<!A HREF="heathpay/grafik/beyondb4.jpg">
Argo RG 338 (UK)
= Argo PLP-1071
- own record collection
- http://folkcatalogue.wordpress.com/2009/05/08/1961-gordon-heath-and-lee-payant-the-boll-weevil-ep/
- http://folkcatalogue.wordpress.com/2009/05/01/1957-gordon-heath-and-lee-payant-ballad-of-the-boll-weevil/?preview=true&preview_id=522&preview_nonce=d073ca901b
- eBay auctions
- diverse internet resources
thanks to Greg Butler for drawing my attention to the RCA EP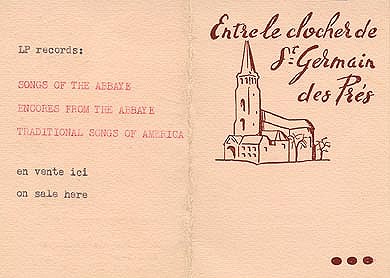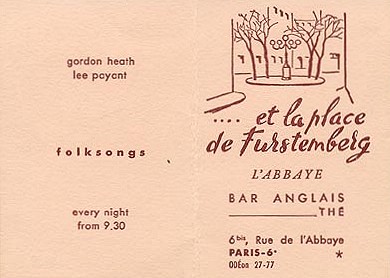 many thanks to Rose Mary Hughes
for providing scans of the card shown above
"For nine years, Gordon Heath and Lee Payant have met the challenge of being the only performers at the Abbaye. Successively inimitable comedians and tragic narrators, the duettists devote themselves tirelessly to a Negro American and 'ancien régime' French repertory which they change often enough to keep us coming back season after season. But be careful not to applaud."
PLAISIR DE FRANCE, August 1958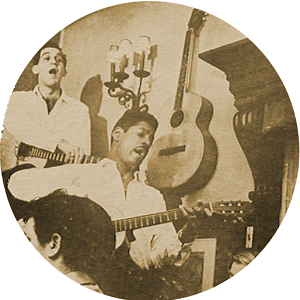 "There's a ritual here. When it comes to leave, a candle is placed on every table, and every table has a right to 'its' song. When Gordon Heath and Lee Payant have sung it, the candle is blown out. When all of them are out, it's closing time. An extraordinary atmosphere in the Abbey. An Atmosphere of poetic kindness, of warm hearts and sometimes of nostalgic sadness as well. You applaud by snapping your fingers, thumb against middle finger very softly. Charming, isn't it?"
R. J.-C. in LA SEMAINE DE PARIS, August, 1953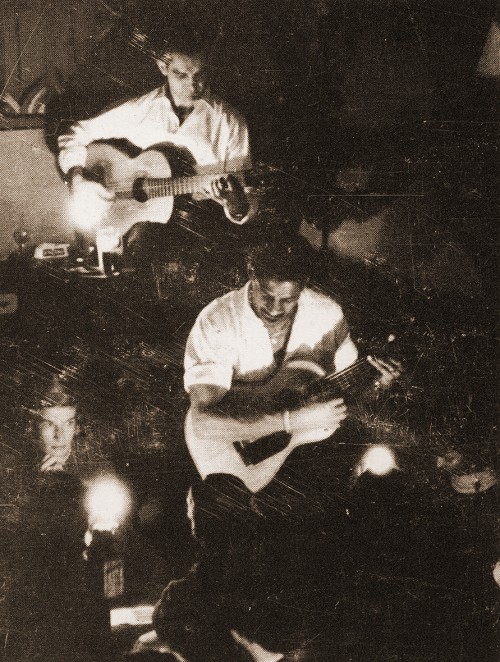 picture from back cover of Abbaye 1; photographer: Pete Palmquist

l'abbaye 6bis, rue de l'abbaye, Paris 6e France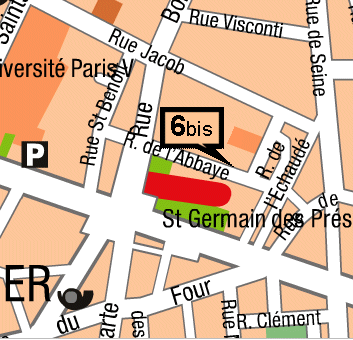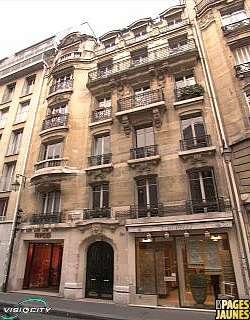 rue de l'abbaye 6bis today (lower right corner)
source: http://photos.pagesjaunes.fr
(grâce à Erik Trabant, Marseilles)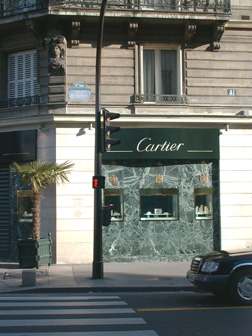 former record shop "Raoul Vidal"
(where my father bought "Chants Traditionnels Des États-Unis" in the 1950s)
today replaced ("cannibalized") by "Cartier"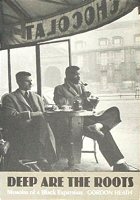 Gordon Heath: Deep Are The Roots: Memoirs of a Black expatriate. Amherst: University of Massachusetts Press, 1992



Please feel free
to complete,
to correct
or to comment
my writings



=
Link to own page !!!